What can I do for Christmas in Galway?
Galway
10 things to do around Galway this Christmas
Posted 21 December
It's beginning to look like Christmas…. everywhere you go!
As 2020 draws to an end you may probably look back and think what a rollercoaster year it has been! As we are approaching the Christmas holidays, we hope all our GCI and GBS students are getting ready to wind down and enjoy the Christmas holidays and some of you may be wondering how you're going to keep yourselves busy.
Things may be a little a bit harder and different due to Covid pandemic, but there are still some thins you can do to create some wonderful memories with your friends during your language course in Galway.
We've tried to make it a little bit easier for you, so here are some lovely ideas for this festive season from one of your GCI teachers!
As you know, from December the 18th you can travel anywhere throughout Ireland so this might be a great opportunity to explore Ireland and do some sightseeing. All of these ideas can be done in small groups while maintaining social distancing guidelines. All activities and events should comply with the latest health guidelines that are subject to change, please check before traveling.
While you may be thinking to yourself that it might be too cold or wet for outdoor activities but I can assure you that all you need are good waterproofs and a descent pair of walking shoes. Now you can visit these and many other beauty spots as well as taking the opportunity to go sightseeing in some of Ireland's towns and cities!
1. Christmas Day Swim
Do you think you could muster up the courage to put on your swim suit and jump into the sea at Blackrock in Salthill? The atmosphere will be amazing in Salthill on Christmas day morning as hundreds go for the annual Christmas dip in the sea and make sure you bring a flask of hot tea or coffee to drink afterwards. If you don't fancy a dip, head down anyway and take a few photos of the swimmers enjoying this wonderful festive atmosphere and all for charity.
Like yourself, we don't always take a dip in the cold Atlantic waters, but GCI and GBS are committed to supporting and raising funds for the local charities.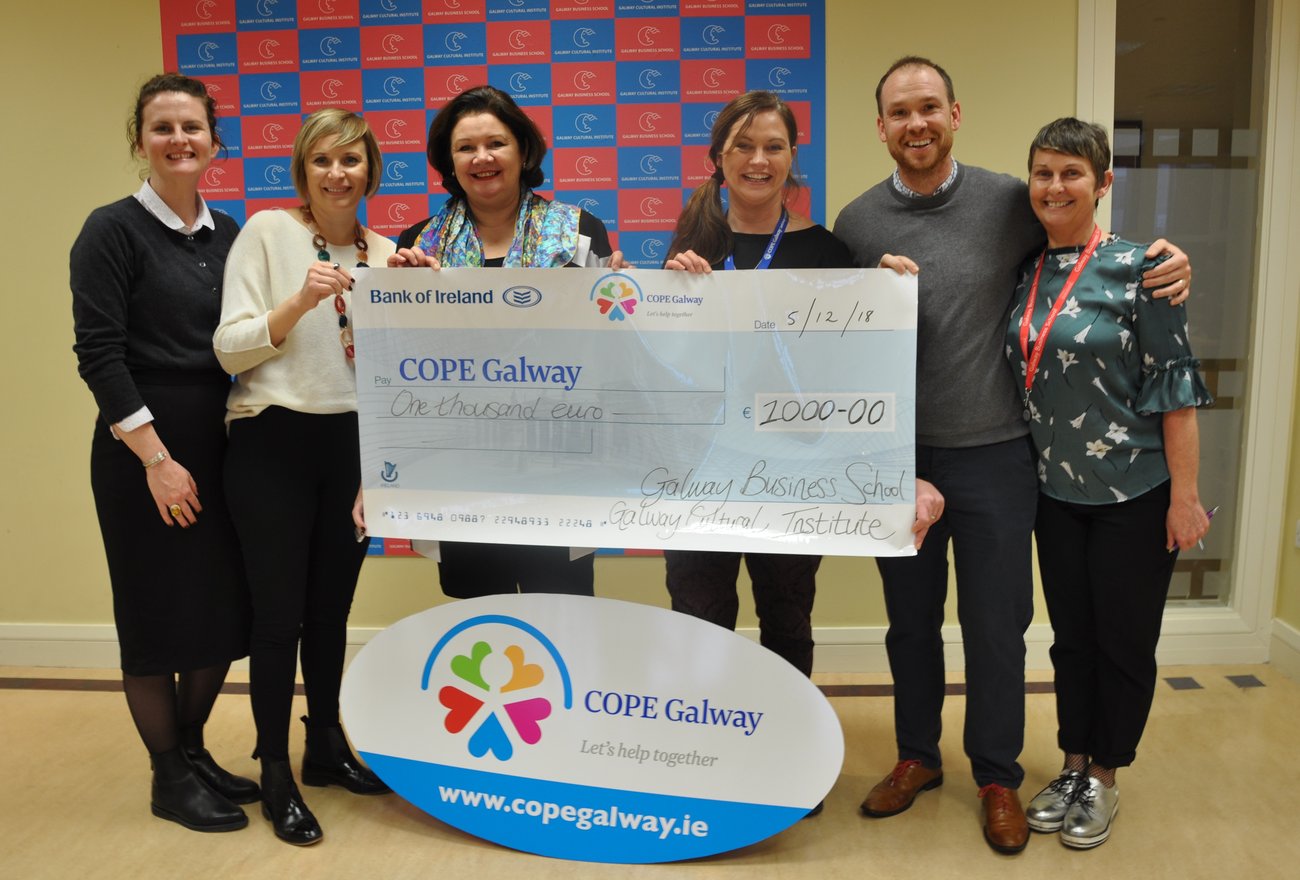 2. Barna Woods and Silver Strand
Whatever time of the year you're here in Galway studying English, this is a stunning spot to go for a walk and it's only 3 miles from Salthill. You're certain to enjoy the vibrant colours of the woods which offer perfect shelter on a wet day.
Silver Strand Beach is directly across the road from Barna woods carpark so I'd highly recommend a stroll on Galway's most picturesque beach after you've visited the woods. You'll bring back some amazing photos and memories of your language stay abroad!
3. Spiddal Beach and Village
This is a charming village with its own craft village where you can meet and see the works of many artists and crafts people. There is a beautiful costal walk a stone's throw from the village centre and listen carefully as many of the locals speak Irish as their first language so make sure you learn how to say hello (Dia Dhuit) and thank you (go raibh maith agat) in Irish before you go or ask the locals there how to say it!
In GCI, our social programmes includes a variety of weekly activities for our English language students, amongst which Irish culture and some Irish vocabulary, make sure you attend these one!

There are regular buses to and from Spiddal from Galway and Salthill and the journey is approximately 20 minutes.
4. Rinville Park, Oranmore
This is one of Galway's hidden gems and it is located in a beautiful setting right next to the marine institute and the Galway Sailing Club. The park is created around a 16th century castle and it offers an extensive network of walks through woodland and along the seafront where you can enjoy stunning views of Galway Bay and the Burren in Co Clare.
If you're studying English in Galway, it's well worth a visit and make sure you take photos of the breathtaking scenery. Rinville park is 2km from Oranmore village, which is accessible from Galway City by bus and train.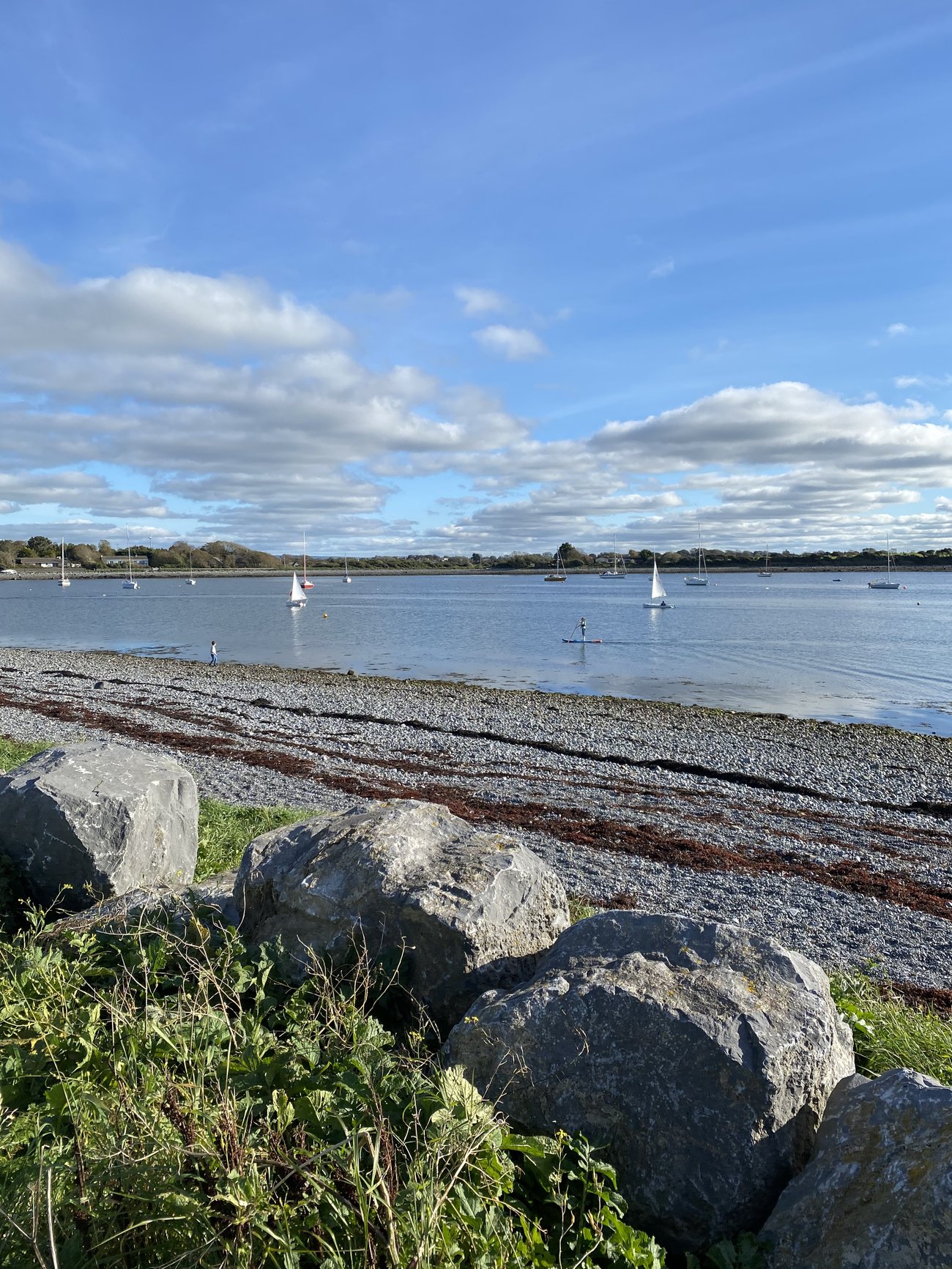 5. Walk the Salthill Promenade
Just a stroll away from our language school you can enjoy a lovely walk on the prom on a sunny winter day. Salthill's main attraction every year has been its promenade and numerous sandy beaches, with incredible views looking out to the Aran Islands.
The promenade covers approximately 3km of coastline, overlooking Galway Bay. A favourite past time for Galwegians and visitors alike, Salthill promenade is visible from your classroom here in GCI and you have to make sure not to miss a stroll on the prom especially if you're here at Christmas time so you can see the swimmers going into the freezing cold Atlantic waters for the charitable event Christmas Day Swim organised by COPE.
6. Explore Claddagh
The area of Galway known as Claddagh has primarily become famous for the well-known Claddagh ring that was named after it, but is also regarded by some as the country's oldest fishing village. The Claddagh or 'An Cladach' meaning 'the shore', is a famous and popular spot in Galway especially on a summer sunny day, but you can enjoy the lovely views of a sunrise in a frosty winter morning alike.
Situated in Claddagh, Katie's Cottage Museum and Arts Centre is a popular choice for our English language students as part of their social activities programme. The cottage is a restored authentic Claddagh traditional dwelling in the heart of one of the oldest fishing villages in Ireland.
7. Wildlands, Moycullen
If you're studying an English language course in Galway and enjoy outdoor activities, you might find the time to go and visit this lovely spot situated in a small village Moycullen, about 7 km away from Galway city.
Not only it's an opportunity to practice English with locals, but with a myriad of indoor and outdoor activities on offer, Wildlands is a place for all ages looking to have some fun, whatever the weather! It has recently launched, and it is open during Christmas. They have a restaurant on site for a quick bite to eat, so you can turn the experience into a wonderful day out with your friends from GCI. The show piece outdoor activity is the zip 'n' trek course and tower, so disconnect from the modern life and reconnect with your inner child!
If you haven't thought about studying English abroad, now it's the time. Browse all our English courses and start an amazing experience next summer!
8. Winter Wonderland Westport House
Westport House is one of Ireland's best loved heritage attractions in Ireland and it's worth visiting any time of the year. If you come to study English in Ireland, I'd recommend you having this one on your list to visit. You'll experience almost 300 years of Irish heritage in this beautiful manor home and explore our 400-acre grounds.
Winter Wonderland at Westport House is set to be a magical Christmas experience brimming with festive cheer that will leave you starry-eyed and heads-in-the-clouds about Christmas.
9. Climb Diamond Hill in Connemara National Park
If you get a dry day why not take a bus to from Galway to Letterfrack and head to Connemara National Park and climb Diamond Hill. This is a popular Christmas activity as many people want to get out and take exercise after spending several days binging on Netflix and chocolates. The view from the top of Diamond Hill is breathtaking and it takes just over an hour to reach the summit. Make sure you wear a decent pair of walking shoes and of course bring proper waterproofs in case you get caught in a shower. It's a must do if you're staying in Galway over Christmas as an English language student in GCI or simply as a tourist!
Check out www.buseireannn.com for bus timetables to Letterfrack.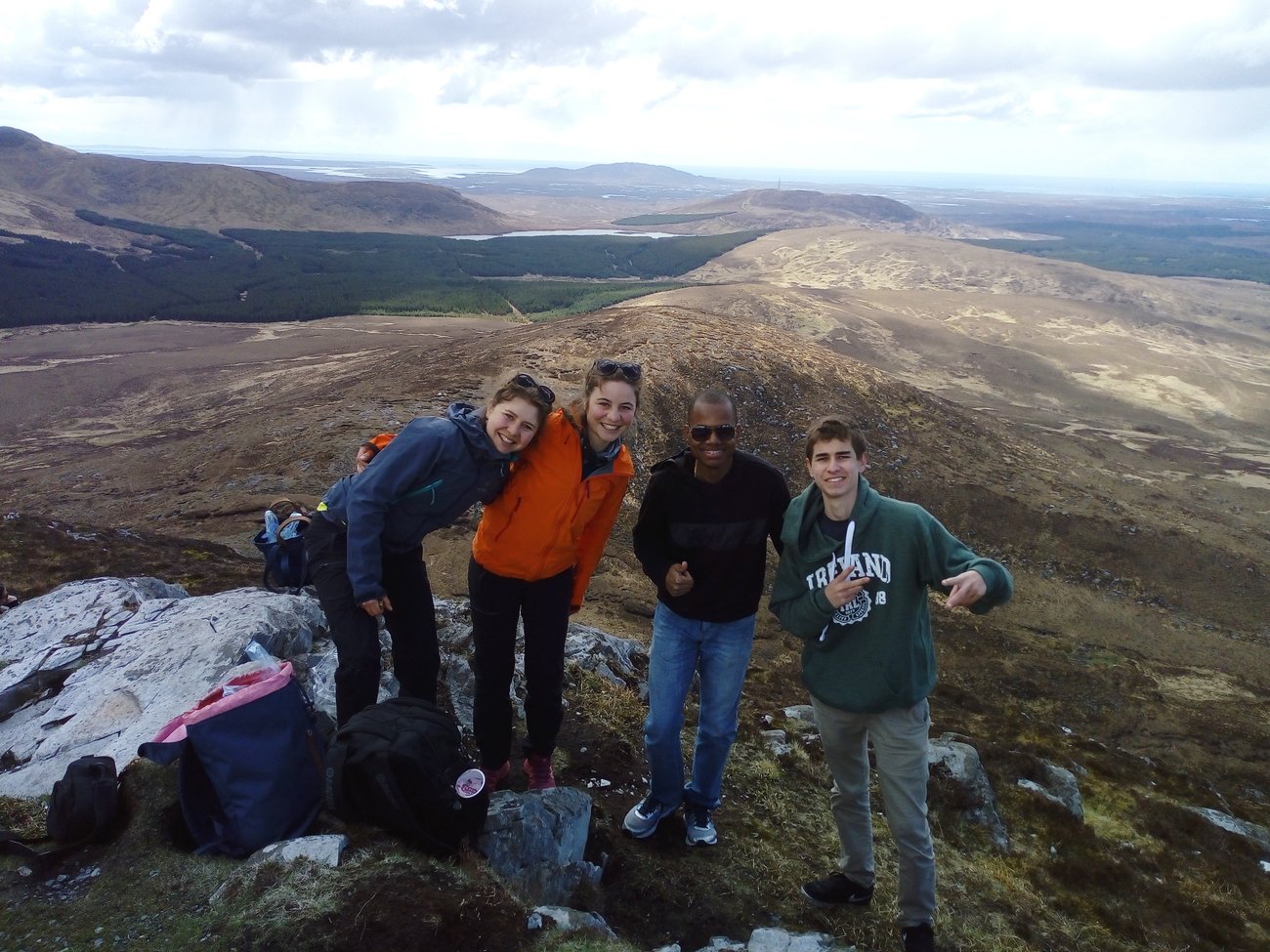 10. Go on a city break, Covid-permitting
Have you been to Dublin, Cork or Limerick?
If you're an English language student in GCI and you're with us for a longer time, I'd recommend you book a trip to one of the other famous cities around the green isle.
Galway is well connected to these cities with regular bus and train connections. You could visit Dublin Zoo, the Guinness Storehouse or one of many museums or art galleries, some of which are FREE so that could be an interesting option.
Limerick is only an hour and a half away and is a charming city to spend a day walking around and taking in the stunning views of St John's castle on the banks of the river Shannon.
Cork is approximately 3 hours by bus from Galway and is also a beautiful city to explore on foot and enjoy the sights of Ireland's second largest city. Practice your English with locals in the English Market or Blarney castle both well worth visiting. You could also pay a visit to the Historic town of Cobh and take the Titanic Trail walking tour. The Heritage Centre and the cathedral in Cobh are also worth checking out and there are regular buses to and from Cork city, which is approximately 15 minutes away.
Christmas 2021, a Christmas like no other
This Christmas will be like no other one all over the world as we're still grappling with the COVID 19 pandemic. While we should all enjoy ourselves, it is important that we remain vigilant and keep our close contacts to a minimum. We should try to stay in touch with other GCI students throughout the holiday season and support each other as Christmas can be a time when students miss their own families especially when they reside on the other side of the world.
Christmas is the season to be jolly but this year it's especially important that we are jolly careful not to let our guard down and socialize safely. Firstly, we must all adhere to the government guidelines as we are now in Level 3 restrictions so it's important that you keep yourself informed over the Christmas period and check for regular updates which you can find on HSE or government website.
Whatever you get up to, please make sure you stay safe and healthy over the Christmas break and we look forward to seeing you when the school re-opens on January the 4th in early 2021.
Nollaig Sona xx
Study in the heart of Galway, Ireland
Improve your English skills in Galway and gain an internationally recognised certificate with our Cambridge English exam preparation courses. The Cambridge English Certificates are the world's most preferred and widely-endorsed series of English language
Explore more English courses