English for School Groups & Mini Stays
What is English for Schools and Mini Stays?
The GCI School Groups programme can consist of one week or more of English study for learners at any level (A1-C1) learning how to further develop their English and how to collaborate & communicate in English. This course is suitable for school trips for English classes that wish to have an unforgettable experience in Ireland. One course objective is to maximize social interaction in English for this reason the courses centre on practical language usage & vocabulary development. GCI English for School Group courses are designed to increase students' confidence and to challenge them to use their English on a range of varied engaging topics utilising not only their English skills, but also their ability to problem solve and think critically.
English for mini groups courses may be tailored to a group's specific needs. Tuition options may include the following:
General English
Exam Focus
Global Digital Citizenship
Project Based Learning
Environmental Stewardship
GCI can incorporate any specific project-based elements you require for your group. Past projects with GCI English courses for small groups focused on Global Digital Citizenship, English for University, Academic Writing, Marketing and Entrepreneurship, and Exam Preparation.
GCI can also offer English courses for small groups online. With our English for mini-groups courses you can learn English remotely from the convenience of your own home at a time which suits you – this has been a popular option during school holidays. GCI has an extensively resources e-learning platform which builds learners digital skills and prepares them for the kind of tools they will encounter in further education.
Our school trips for English programmes and mini-stay English programmes are available to book between October to May every year.

All GCI English courses for small groups take place on our spacious campus based in the beautiful seaside location of Salthill – a midway point along the Wild Atlantic Way, where you can enjoy your classes in beautiful surroundings and views of the Atlantic Ocean. The building is a 15-minute walk from the city centre of Galway and the school itself is in Salthill, which is a very central and safe area - easily accessible on foot & well-serviced by buses.
On your breaks, you can relax with at Chef Laura Rosso's café restaurant which is situated on the ground floor of the school. Other options for lunch include a packed lunch organised by the school/host family or perhaps your group will prefer to explore the many eateries and restaurants in Salthill.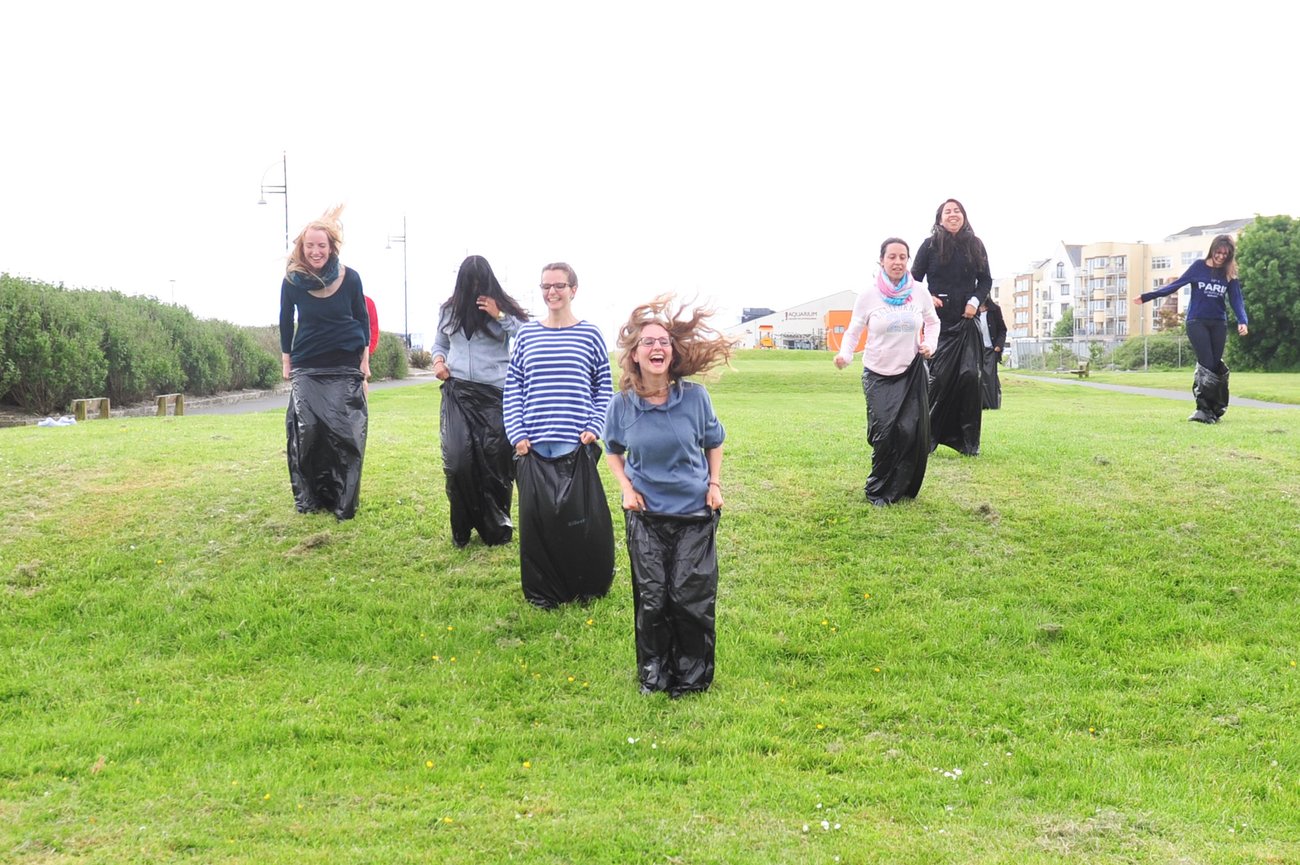 Who are our English Courses for Mini Groups for?
Our English courses for small groups are designed for school trips for English classes for junior groups aged 12 to 17. English for mini groups is a dynamic programme suitable for students with an English level from A2 to C1. Our course is designed specifically for small school groups of students travelling together and looking for a programme combining intensive language experience with a fun-filled activity and social programme.
We understand that all school trips for English classes are unique and each group of students visiting GCI has different requirements. We can tailor your English course for mini groups to suit your requirements. Tuition can be tailored to include global education opportunities, while the activity programme can be built around your budget.
What is included in the English for Schools and Mini Stays course?
20 lessons/15 hrs closed groups per week (morning or afternoon timetable subject to availability)
1 week language experience
Dynamic programme from A2 to C1 level
Accommodation in host family, full board (2/3 students per family)
Class content to suit needs
Class size 15 (Unless 16/17 acceptable)
Arrival dates: Saturday or Sunday
Benefits of mini groups learning English abroad in Ireland
School trips for English classes at GCI enjoy a wide range of activities in line with their preferences and budget. We organise both in-house activities and activities in the local area, free walking tours of Galway, museum visits, afternoon boat trips, bowling, kayaking, soccer, and basketball along with a taste of Irish sports of Gaelic football and hurling! Weekend group excursions are included to destinations such as the popular landmarks: the Cliffs of Moher, Kylemore Abbey, Connemara, and The Aran Islands. Your group can also take part in our wide range of Irish culture lessons on the Irish language, and history along with more practical workshops such as CV building and academic workshops

They are a great way to explore Ireland with your school friends and teachers
A perfect way to learn English in a fun, innovative and technology-led environment
Bespoke class content to suit the individual group request
Engaging and varied social activity programme

Live with an Irish host family, get to know the culture and experience the Irish way of living
Why should you chose Galway for an English for Schools and Mini Stays course?
Apart from being the home town to our amazing English language school, Galway is renowed all over the world for a myriad of reasons. We'll hope to convince you with a short summary below.
Safe city
Proximity to amazing natural sites: The Burren, Cliffs of Moher, Aran Islands & Connemara
Ideal location on the Atlantic West coast & on the Wild Atlantic Way
Friendliest city in the world (Travel & Leisure Magazine US)
Easy access from Dublin & Shannon
Vibrant cultural city
Close to the main tourist attractions in the west, easily accessible