We believe that quality is the most important factor in your education.
Galway Cultural Institute is accredited by QQI/ ACELS, the Irish Department of Education, IALC (International Association of Language Colleges), EAQUALS (Evaluation and Accreditation of Quality Language Services), ACELS (Accreditation and Coordination of English Language Services), IELTS (The International English Language Testing System), Cambridge English and is a member of the Galway Chamber of Commerce.
ELE Ireland

GCI is a founding member of ELE Ireland established in 2021 to offer risk free benefits to learners and agents in relation to Protection for Enrolled Learners and protection and transparency in payments and refunds.
QQI / ACELS
GCI has been recognised since our foundation by QQI / ACELS; the Irish Department of Education and Science as a school for the teaching of English as a foreign language.
IALC
140 English Language schools and centres of excellence around the world are members of the IALC, the International Association of Language Centres. To join IALC, a school must pass the IALC accreditation scheme. Membership of IALC is the highest level of recognition, in the language-learning sector, of quality service provision.
In the event of a dispute, GCI / GBS will endeavour to resolve the issues in a fair and ethical manner. Once this process has been exhausted, GCI / GBS will follow the Dispute Resolution Procedure/Complaints Procedure of IALC/EAQUALS, and the complaint will be referred to the appropriate Ombudsman.
EAQUALS
EAQUALS is a pan-European association of language training providers. It is international association of language schools and has a formal inspection scheme to verify the quality offered by its accredited members.
Eaquals is an association whose primary aim is to promote and develop high quality in language teaching and language training services, and all Eaquals members undergo rigorous and regular inspection to ensure that they abide by the Eaquals Charters.

Cambridge
GCI is a Cambridge English language testing centre and we run several Cambridge exams throughout the year, such as B1 Preliminary (PET), B2 First (FCE) and C1 Advanced (CAE). Our teachers have put together this guide for a better understanding of Cambridge examinations. We also run regular BULATS tests. BULATS is a flexible online tool that assesses English language skills for business, industry and commerce so it is ideal for business professionals.

IELTS
We offer several IELTS exam preparation courses throughout the year in GCI. IELTS exam can be taken in Galway as there are two IELST exam venues in the city. This blog article will offer more insights into the variety of ILES exam preparation courses available in our school.

Protection for enrolled learners

Galway Cultural Institute is part of a unique group of schools which provides protection for enrolled learners which has ILEP approval. In the unlikely event that, through the fault of ALL, you are unable to complete your programme with us, you will be able to complete your course without any additional cost at another ACELS recognised designated school.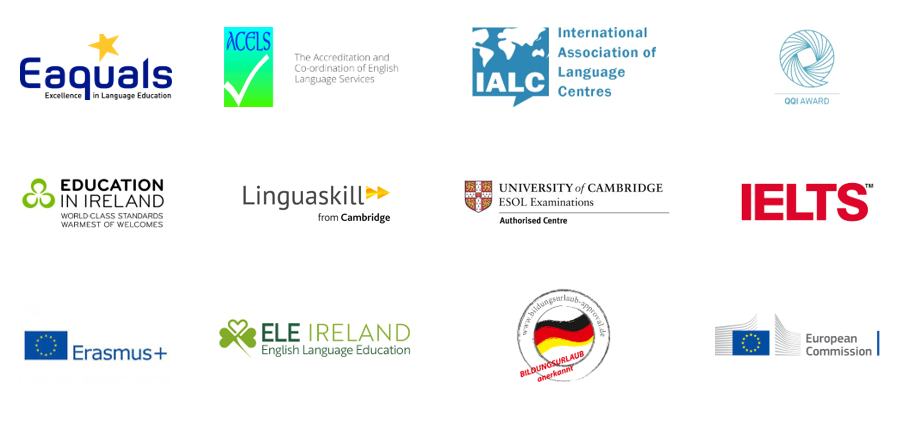 Study in the heart of Galway, Ireland
Galway is one of Ireland's greatest treasures. Situated on the Atlantic west coast, this vibrant city – like its people – is warm, friendly and welcoming.
Explore more English courses