Is it possible to improve English fluency by staying in Ireland? Top 7 tips
English Language
7 Tips to improve your English fluency by staying in Ireland
Posted 05 December
If you're just beginning your English learning journey, there are lots of ways to study the language - university short courses, summer school weekly stays, once a week classes at local education centres and even free online tutorials or smartphone apps.
Many of these methods are likely to help you learn a little bit of English and give you confidence using some words and phrases. But what about totally immersing yourself? Would living and studying on an English course in Ireland be a more successful way of improving your English language fluency?
How can I improve my English speaking fluency?
Academic research into immersion programmes and living amongst locals while you study has shown that students who spend fifty percent minimum of their day communicating, listening and surrounding themselves with English will develop skills in the language at a far faster rate and reach fluency in a much shorter time period.
The study showed that immersion learning may be one of the most effective ways of reaching your fluency goal. So if you have chosen to live and study in Ireland for an extended period of time, what steps can you take to improve your English language fluency?
Socialise!
The Irish are famously friendly people - Ireland itself has been voted the friendliest country in Europe by the readers of Condé Nast magazine. You really can't fail to have fun while spending time with the locals, who will give you a warm welcome and plenty of opportunity to practise your English skills. You will find it is incredibly easy to lose yourself in the people, and all the wonderful things the country - and in particular the city of Galway - has to offer.
Ireland is bursting at the seams with things to see and do, offering you huge opportunities to mix with locals and socialise at various events. Galway, home to Galway Cultural Institute, is packed with bars, cafes and restaurants, along with a busy calendar of events with everything from the famous Galway Races to the city's International Oyster Festival, as well as an excellent choice of live music evenings and weekends.
Making new friends in Galway is easy, be it at a lively pub, while dining al fresco at a Latin Quarter restaurant or even over a simple coffee in a cafe on one of the city's winding medieval streets. You will be able to listen to and talk with these new friends, as well as with your fellow students, if you come to study and stay in Ireland - practising your English skills in this way will help you take huge steps towards fluency with the language.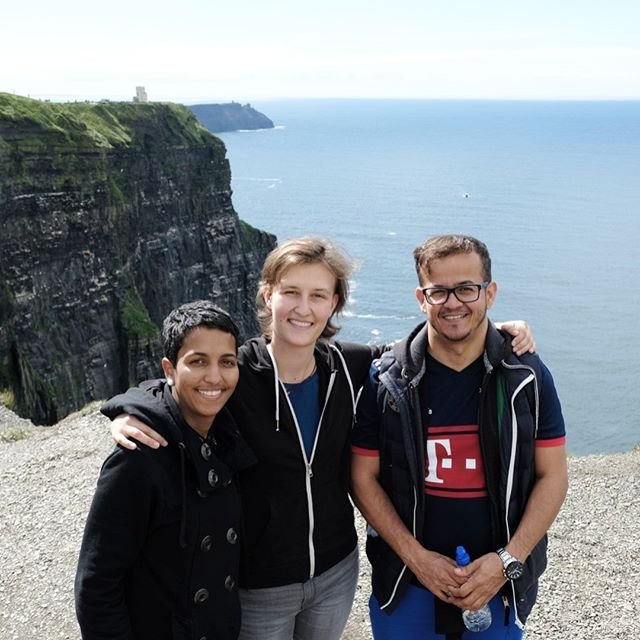 Become Part of a Family
Living, eating, sleeping and generally losing yourself in an Irish family's way of life is the perfect way to really immerse yourself and soak up all those tiny language details. It can be hugely helpful for your English language development - you will be surrounded by native speakers from the moment you wake!
At Galway Cultural Institute (GCI) we understand the importance of a safe and comfortable 'home away from home' when you come to study with us, so we provide Homestay Accommodation for overseas students. This is a scheme where international learners who are on a course at GCI are placed with a suitable local household, and where you will be welcomed as part of the family - you will live with them and you can help out with day-to-day activities such as preparing meals, which can be as sociable as sitting down to eat together.
This means you will be able to listen to their conversations, join in with their jokes and slang and frequently hilarious stories, and further develop your English language skills. At Galway Cultural Institute, 80% of our students choose to use Homestay Accommodation and many will keep in touch with their host family - even returning to Ireland to visit them after their course has finished!
Create Your Own 'Family'
If Homestay Accommodation doesn't appeal to you and you'd prefer to strike out on your own and stay with fellow students, we still want you to feel at home while you're studying with us. This is where our Residential Accommodation can help: it provides you with a taste of independence, yet even though you will be away from family you will still be surrounded by your fellow students - your very own 'Galway family'.
As a 'family' of housemates sharing accommodation carefully selected by Galway Cultural Institute, it gives you the perfect opportunity to learn English with friends, practise your language with like-minded overseas students, share your life experiences with them, teach them about your culture, cuisine, background and real family back home - and you can learn about theirs. You can eat, study and socialise together while running the house as a team. It all adds to the rich experience of living in a different country and will help enormously with your English skills, while also broadening your knowledge of other countries and their people.
Study with Us!
We have a wide range of English courses at Galway Cultural Institute at Galway Cultural Institute, from short term to long term core General English programmes to evening Online English classes, so studying with us means you have an excellent chance of really improving your level of English fluency.
Longer stays are always available too, such as our Summer English courses where we offer General English programmes with a choice of 20, 26 or 30 lessons per week, as well as Cambridge and IELTS exam preparation modules. An English summer course in Ireland is the ideal option to gain fluency fast and improve your communication skills.
For an even longer stay, our Study English Abroad Year course is a programme aimed at students from outside the European Economic Area (EEA) who want to improve their General English on a long-stay immersive English course in Ireland. All students on the programme complete their course by taking an internationally recognised English exam such as Cambridge PET, FCE or CAE or IELTS. This is a fantastic way to reach fluency because you will live and breathe English for an entire year!
At Galway Cultural Institute we have been providing tuition to thousands of overseas students since 1989, so our experience will prove invaluable to your English language learning journey. Our school in Galway's Salthill is bright, modern and well-equipped, and our teaching staff are committed to providing education of the highest standard.
Popular Courses
Popular Courses
Become a Local
Wherever you travel in the world, local people will appreciate it when you try to speak their language. The Irish are no different, and a great tip for improving your English fluency while you stay here is to 'become' a local. Wherever you are, whatever you are doing: think, talk and speak in English as much as possible. No matter how mundane the task - even if it's buying some milk from a nearby shop, or ordering food over the phone - use English.
English is the lingua franca of the world, and it's important that you reach fluency in order to develop and ultimately achieve success in your chosen field. To improve your English speaking skills while you are in Ireland:
Try to think in English as often as possible.
Talk in English as often as possible, with whoever you can. Even to yourself in the mirror!
Practise. And keep practising. Every day, even if it's just for ten minutes.
Be happy to make mistakes. Just relax and keep trying - don't forget that you make mistakes in your own language too!
Listen and repeat. Listen to other people, to movies, to radio broadcasts and TV shows and anything that is in English – then try the words and sentences for yourself.
Create a 'store' of regular phrases and sayings. This means you will never be short of things to say.
Get Out and About!
As the saying goes, travel broadens the mind - and this means your ability to use English too! Travelling around Galway and greater Ireland means you will encounter lots of locals, tourists and other students, all of whom will engage you in conversation about where you are, where you're from, and why you're staying in this amazing country.
Ireland is beautiful and ripe for exploration. Its Wild Atlantic Way tourist trail is 2,600 kilometres in length from north to south, with countless things to see and do in between. The Neolithic monuments of Brú na Bóinne are one of the world's most important prehistoric landscapes, while Skellig Michael – refuge of Luke Skywalker in the Star Wars sequels – is a UNESCO World Heritage site.
Its larger towns and cities – of which Galway is one – are vibrant, cosmopolitan places that thrum with culture. Travelling around and stopping to talk to the people you meet will indeed broaden your mind - and quickly improve your English!
Become a Culture Vulture
If you can't travel, there are still places your mind can go to - books, films, and TV shows offer a great escape, while also offering the perfect chance to absorb the English language.
While staying in Ireland - either with a host family, in shared accommodation or even on your own - there are lots of ways to keep yourself occupied outside of study time, and they will all help with your English learning journey too.
Streaming apps such as Netflix and HBO are ideal for watching shows and films in English, while you can download English language versions of books and read UK newspapers online all day every day - most are free to access. Local TV will have a huge choice of English channels, while music streaming allows you to sing along to English language groups and solo artists.
And of course there's Galway - the city boasts theatres and a handful of cinemas that range from multiplexes to independent arthouses such as the Pálás, so you can while away an afternoon or evening watching big screen blockbusters or a local amateur dramatic production, listening to the dialogue and learning even more about the English language.