Does immersion education really offer the best method to learn English?
English Language
Does language immersion really offer the best way to learn English?
Posted 06 July
Is an English immersion programme really the best way to learn the language? Is living and breathing the local culture, spending lots of time with native speakers and generally jumping right in and surrounding yourself with English a guaranteed way to become fluent?
As the world moves out of the Covid-19 pandemic, travel opportunities are returning to normal levels and now is the perfect time to find out if a one-year English course in Ireland is the best choice for you. At Galway Cultural Institute (GCI) we offer you the chance to travel to and stay in the beautiful city of Galway, embarking on a long-term learning journey where you will become completely immersed in the customs and cultures of Ireland and Europe.
What is English language immersion?: Definition
Imagine lowering yourself into a full bath – except instead of water the bathtub is filled with words! This is what it might feel like when you take an English language immersion course. Learning by immersion means you will spend most of your day hearing, speaking, writing and learning English. Lessons will usually be provided in English, and in your free time outside class you will be surrounded by the people, places and culture – all of which will be in English too!English language immersion is where you live your life in the context of another language - everything you would normally see, hear, say and experience in your own language is flipped into English. English language immersion therefore gives you the chance to experience everyday situations, communicate with people in their mother tongue, and – because of your prolonged exposure to the language – quickly improve your fluency, skills and understanding of English.

What is the difference between immersion English and bilingual education?


Even though both teaching methods include the introduction of English as a new language to you and your fellow students, there are big differences between immersion English and bilingual education.
Immersion is where you will completely surround yourself with as many aspects of the language as possible – written word, conversations, listening, enjoying the people and the culture, regardless of your level of English. In fact, your level of English when you start your immersion experience will determine how easy and how comfortable you will be with this approach. As we discuss below, you do advance quickly, but we think it's useful to have completed at least a beginner level course before arriving. This will ensure you have all the basics of communication so that you don't feel too isolated.
Regardless of your level, you will spend your classes being taught, and speaking or writing, in English at the level which is exactly right for you. Time away from the classroom will be where you can be exposed to uses of English, phrases, vocabulary, people talking at different speeds, for example when you attend events such as concerts or cinema trips, group activities and cultural visits, or even work – many immersion students obtain part-time or full time jobs while they learn. The good thing about taking an English immersion course with a quality school is that there is always someone on hand to support you, explain things to you, and bridge the gap between your current level of English and the language you're encountering out and about.
All of these experiences help improve your fluency. As you live and breathe the English language, day by day, some things you'll focus on and quickly add to your own vocabulary and range of phrases, whilst other things will form part of your wider comprehension skills and maybe won't be language that you actively use, but that you come to understand. This is one of the great features of immersion, that a lot is happening in the background, and your brain processes much more that you think! That's why before long, you'll find yourself dreaming in English as your mind works it all out for you!
Bilingual education is slightly different, and nowhere near as immersive. You will still learn plenty of English, but it will be within a separate English class. The rest of your academic studies will be taught in different classes and in your native language. For example, if you are a Portuguese student you will learn English in an English class, and other subjects – such as maths, sciences or arts – will be taught in Portuguese. Bilingual education basically refers to lessons delivered in both native and second languages.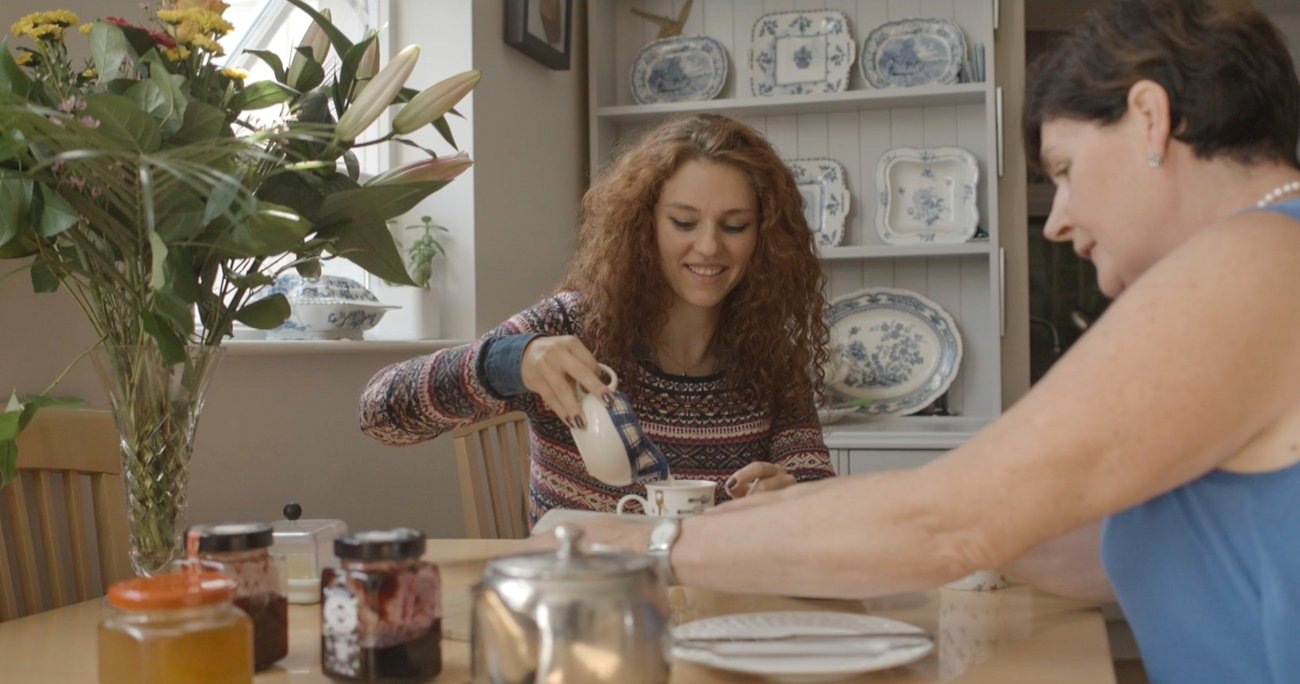 Can an adult learn a language such as English through immersion?
You are never too old to learn a new skill, including the ability to speak English fluently. There used to be a school of thought that the older you got, the less likely it was that you could master a new language – but more recent research has shown that is not the case.
A 2012 study by Georgetown University Medical Centre in the US discovered that an adult can learn to use his or her brain in the same way as a native speaker, and that how you are taught can determine if you achieve 'native language brain-processing'. The study showed that immersion learning may be one of the most effective ways of reaching your fluency goal.
As an adult you are also more mature, aware of your strengths and weaknesses, and what works for you when you are studying. Immersion is perfect because there is no escaping the language – you are living with it each and every day. However as you are an adult you still get to choose what is best for you – who and what you surround yourself with as you navigate your learning journey. For example, you decide what restaurants you visit, the friends you make, the films, TV shows and music you enjoy, as well as what slang and local expressions you can pick up and use while communicating. All of this will improve your language skills, boost your confidence and help you gain true English fluency.
If anything, as we get older, we tend not to learn as many new things, and we often feel like we've mastered enough to cope with life. Learning a language is a great way of keeping those neural pathways forming - it might hurt a bit at first, but you'll be amazed at how quickly you get into the swing of things.
What are the benefits of an English immersion programme?


An English immersion programme can be an intensive but extremely satisfying course. You will live amongst native English speakers, learn alongside like-minded students, and generally submerge yourself in the local customs and way of life.
The main benefits of taking an English immersion programme are:
The cultural experience – living amongst native speakers, in their own country, makes for a deeply rewarding experience. Immersing yourself in their lives, spending time with them, listening and communicating all day, every day means you will learn so much about them, their customs and the language.
Making lots of new friends – not only will you meet lots of new local people in your chosen home away from home, you will be on a course with like-minded individuals who, through your shared learning experience, will go on to become close friends for many years to come.

Personal growth – travel broadens the mind, and travelling – and learning – alone in a foreign country means you will develop the skills to look out for yourself, grow in independence and maturity, and learn to be self-sufficient. It also means you will develop empathy for, and the skills to communicate with, people of diverse linguistic and cultural backgrounds.
Faster learning – as mentioned above, immersion courses can be lengthy and intensive, with considerable amounts of input, and where you will be saturated with the English language. This may sound daunting, but it is a proven method of quickly learning English and developing your fluency. By being exposed to so much language in so many contexts, simply by living your life in the country, your brain processes more than you think, so that you're learning simultaneously on many levels of consciousness.
Improve your confidence – as with your personal growth, an immersion course will increase your self-assurance in other ways, too. It will mean you can speak, write and listen to English with complete confidence in your own abilities.
Your brain will start thinking in English – strange as it may sound, an immersion course will gear your brain to think in another language. You will spend so much time surrounded by English language speakers, as well as English books, TV shows, films, music and coursework that it become almost natural for you to think in the language. Wait for those vivid dreams in English!
How long does English immersion education take before noticing results?
Studies have shown that it can take on average a full year or more to learn English to a sufficient level where you can, for example, gain employment and interact with native speakers – but it doesn't happen purely by you being there. Expect to spend at least five hours of practice a day every day within that year to reach a good level.
Don't forget it all depends on your starting point. As we mentioned earlier, the higher your level when you start, the sooner you'll be able to fully interact in all situations.
A Stanford University study in the US showed that with normal learning input, "oral proficiency takes three to five years to develop, and academic English proficiency can take four to seven years." That's a long time to reach the level that you want or need in order to improve your career prospects or improve your communication skills.
Research into immersion programmes has shown that students who spend fifty percent minimum of their day communicating, listening and surrounding themselves with English will develop skills in the language at a far faster rate and reach fluency in a much shorter time period.
Our Study English Abroad Year course at Galway Cultural Institute (GCI) takes place over twenty-five weeks during a full academic year, and is specifically designed for students from outside the European Economic Area who wish to develop their skills and fluency in English. We recognise that fully immersing yourself in the English language, at both the Institute and in the city of Galway, will provide a rewarding, unique experience. If you would love to live, work and study an English course, Ireland and the GCI will improve your language abilities at an impressive pace.
Within four weeks you can make more progress than students in traditional classes where the level of input is far lower, and you should be able to converse with fellow students and faculty staff, read uncomplicated books, and watch English language films or TV shows. In short, you should be well on your way to learning English as a second language.
Can you learn English effectively without the immersion method?
Of course! There are many other methods of learning another language, from private face-to-face tuition with a native speaker to smartphone apps, YouTube videos and paid online Zoom lessons. As with most things you have to choose what is best for you. But your rate of learning will depend on:
Your current level of English
How quickly you can learn new languages
How much time you can commit to study
How much time you will spend practising
The level of English you want to reach or need
Our course at Galway Cultural Institute provides lots of student interaction and varied lesson materials which help you build up useful vocabulary and grammar, all with a focus on real-life communication.
As a student at Galway Cultural Institute, you'll take a review test every Friday morning to ensure you are making good progress and to see if you need more help in any particular areas. You receive regular feedback from your teachers who will discuss and analyse your study pathway with you. The classes really help to improve your fluency and confidence outside the classroom.
Is English immersion education appropriate for all students?
Anyone is welcome to apply for an English immersion programme, but as always you must choose what the best fit is for you as an individual and for your personal goals.
Some students won't want to live away from home for a year or more, or be dropped into a foreign culture away from friends and family. Others might not have the time or resources due to, for example, work or childcare commitments. For these students there are plenty of shorter, less intensive courses that will still get you where you want to go, but via a different route.
Galway Cultural Institute's Study English Abroad (SAY) course is offered to students who are looking to improve their English skills and fluency. It also provides the opportunity to find employment in Galway, which will only increase your immersion in the local culture as you will be working alongside native speakers, picking up a huge range of vocabulary, and enjoying the local sights and sounds while you are here.
This is a great full immersion English course where you'll enjoy a unique experience of living, working and studying on the West coast of Ireland.