English courses and sports activities in Galway, Ireland
Activities and events
English courses and sports activities in Galway
Posted 19 March
Why sports matter?
Beyond the wellbeing benefits of playing sports or the transversal skills acquired through participation in sporting events such as teamwork effort, social skills, responsibility or work ethic, sports in general brings people together whether as fans or participants. Whether is rugby, soccer, Gaelic football, camogie, athletics or golf, it builds communities; it fosters diversity; creates lifelong friendships; and gives us skills that help guide us in life and business.
Soccer, or football as it is known abroad, is the most popular sport in the world with over three billion followers. It is absolutely no surprise that it ranks as one of the most popular sports in Ireland.

There is no more heated debate in the classroom among students than a discussion on football. More than once as a teacher I wish in the class there existed a mute button (just like on Zoom) to put a stop to a 'conversation' on football. Alas, it doesn't exist…yet! Never have I seen such passion in debates over who was the better player; Messi or Ronaldo (Messi) Maradona or Pele (Maradona).
However, this does show how much football (and sports in general) can be so engaging for students. A student from Brazil once told me that there are three things that you should never talk about: Religion, Politics and Football. For just this once, I am going to break that rule!
When students come to Galway to learn English, sport is not at the forefront of their mind. The majority of their attention is placed on studying hard during the week, and then deciding where to have their party at the weekend! However, sport can be a great way to improve your English. You get the chance to meet loads of new people from Ireland and all over the world and put your English into practice in a real-life situation. GCI offers many activities for students to do after classes and one of them is playing football. During GCI's 'Health Week', there was a football tournament that pitted Students against Teachers! It was an intense battle!
Check out our English language courses here!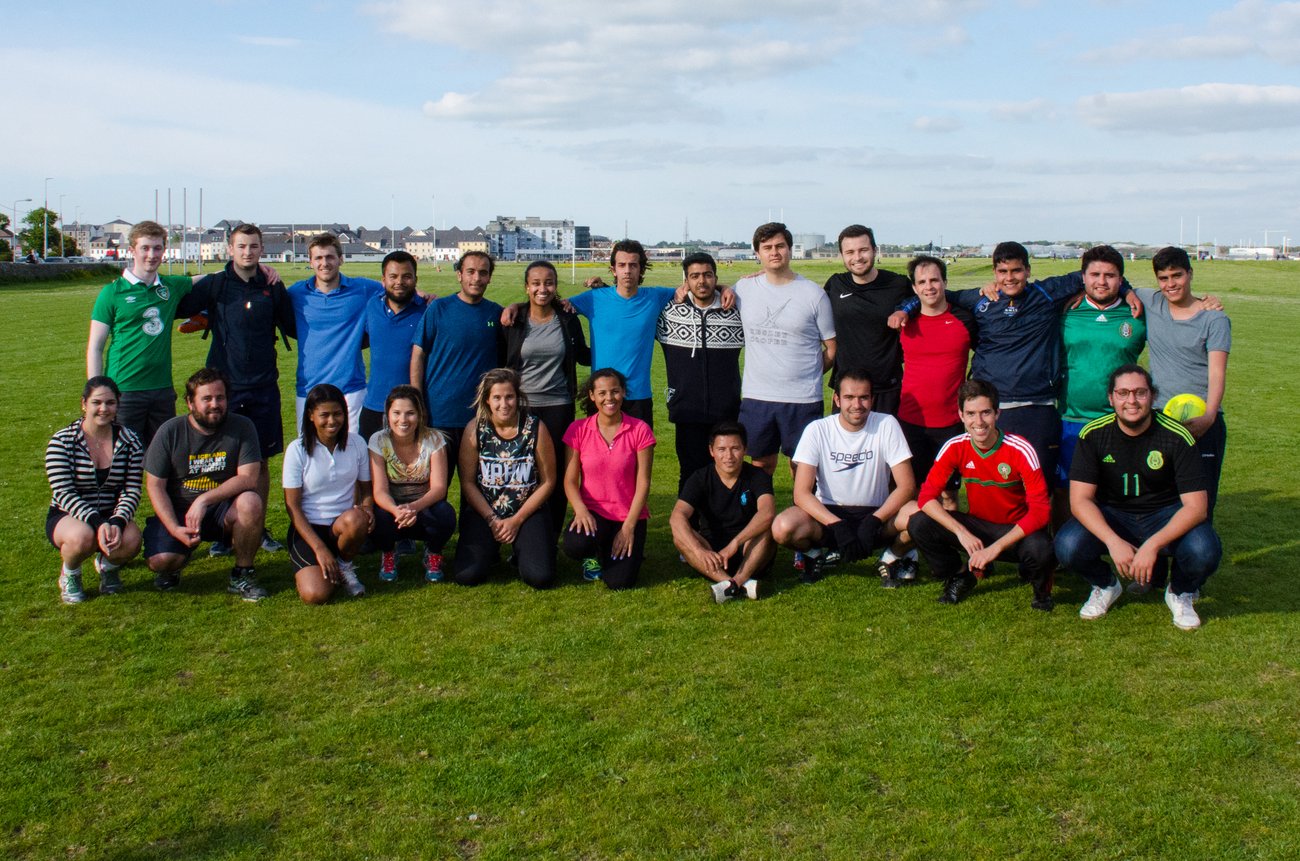 If you're not getting enough football in school, you can also play football outside the school. Students often gather together after class when the weather is good and organize games together, or alternatively if you want something more serious there are numerous football clubs around Galway that you can join! Wherever you play, there are some expressions that you need to know before you step onto the field:
"Good Luck" Whether you mean it or not, it's a nice way to begin the match!
"Hard Luck" When your teammate has missed an open goal and you don't want to be cruel
"Man on!" A very important expression needed to warn a teammate of the opposition player approaching
"Get Rid" For the time when tiki-taka just won't do and you need to put it into Row-Z
"Shoot!" Just in case your teammate needs a little more encouragement!
Luckily for the students in GCI, there are so many opportunities to do sport while studying English. All year round there are games available for students.
In summer (when it's not raining!) students have so many green areas to play football or other sports within walking distance of the school. Look no further than the front of the school! There is a big green space for you to play! If you care to walk a little, there are wonderful pitches and facilities here right next to the sea. Just be careful you don't kick your ball into Galway Bay!
In winter also, there are many locations in Galway that offer indoor football and it is not uncommon for students to play games together every Friday with the teachers. It is a great time for students to express to their teacher that they had given too much homework that week!
A traveller and a sports fan? Ireland is the place for you.
However, if football is not your thing, there are many other options to look at!
Ireland has a passion for sport. Most Sundays at home with the family are spent watching and shouting at the tv while watching one game or another. Before students arrive in GCI to study English, many of them are not familiar with the native Irish sports that we have here: hurling and Gaelic football. All year round you'll find games being played, and Galway's Stadium is located just a short walk from the school. If seeing Neymar fall over again and again is not your thing, go with your new friends to watch (and cheer on!) Galway!
On top of that, Ireland also has a proud rugby tradition. Each spring (between February and March) many of the students studying in GCI organize groups to meet up, wear green, learn the national song to go to the pub and support their newly adopted country in the 6 Nations Rugby Competition. And if you want to see some real rugby action up close, every second Friday the local team Connacht play in their home stadium in Galway City centre.
GCI is located right next to beautiful Galway Bay and students really do take advantage of this. In Summer when we finally get some much needed Vitamin D and sunshine, it is a very common sight to see students pack away their English books and head directly to the beach for a little bit of sun and swimming. However, if you are not lucky enough to experience an Irish summer (it is really just warm rain!) then take a walk down Salthill's famous Prom as far as Blackrock Diving Board where you will see people of all ages swimming and having fun every day of the year (yes, even in winter!)
And if you still need more to do after a long day studying English at GCI, during the summer the local soccer team takes part in the national league and you can find games in their stadium every second Friday. A couple of years ago we had so many students going to the games on Fridays that they joined the official supporters club and travelled with them to the away games as well. If only they had showed that much commitment to their English studies!
If you wish to study English in Galway, you can choose from a variety of English language courses: