The Galway Festivals Guide
Galway
The Galway Festivals Guide
Posted 30 April
One of the things Galway is most famous for is the countless of festivals it hosts throughout the year, the festival season begins in March when we celebrate St. Patrick's Day and finishes with the Christmas Market in December. There is something for everyone, young and old. Hopefully this guide helps you decide which of these fantastic festivals would suit you best.
Cúirt, International Festival of Literature
The Cúirt International Festival of Literature (pronounced koort) is an annual literary festival held since 1985 in Galway. The Irish language word cúirt means "court".
The festival consists of a variety of events taking place over the course of a week each April with attendances and contributions from Irish and international writers. It includes readings of poetry and fiction, discussions, poetry slams, book launches, masterclasses, spoken and musical performances, multimedia events, theatre, and visual art. It was originally a poetry festival, but over the years its scope has broadened to include other art forms.
This year's festival was hosted online and featured many interesting talks, readings and interviews with renowned writers such as Booker Prize winner, Douglas Stuart and broadcaster and author of 'Don't Touch My Hair' Emma Dabiri.
Galway Film Fleadh
Galway Film Fleadh is a week-long international film festival taking place every July in Galway. Founded in 1989 as a platform for Irish filmmakers to exhibit their work to their peers, the central goal of the Galway Film Fleadh remains unchanged: to be a platform for the boldest new films, and to bring audiences & filmmakers from around the world together.
As well as hosting the main festival in July, they also host a Junior Film Fleadh in the winter which gives young aspiring film-makers the opportunity to screen their films. It is still undecided whether the main festival will be run online or IRL this year, the organisers are waiting for confirmation from the government on how to proceed.
Galway International Arts Festival
GIAF is hosted in the city in the two last weeks of July drawing visitors from all over the world who wish to experience a vast array of performances and events featuring visual art, dance, theatre and music. The buzz around the city that is created by this festival can only be described as electric.
The festival was founded in 1978 and has gone from strength to strength ever since. Organisers pride themselves on the fact that 25% of their events are free.
People fill the streets and Eyre Square to witness amazing street performers and thrilling acrobats. Others queue up patiently for the fantastic exhibits and installations on display in the Festival Gallery, which has featured works by Patricia Piccinini, David Mach and Hugie O'Donoghue to name a few.
If visual and performance art isn't your thing, don't worry as there is something for everyone. I particularly enjoy a visit to The Big Top to see some of Ireland's biggest bands play live or taking a trip to The Town Hall Theatre to behold a thrilling theatre or dance production. It really is the most exciting two weeks of the year to be in Galway!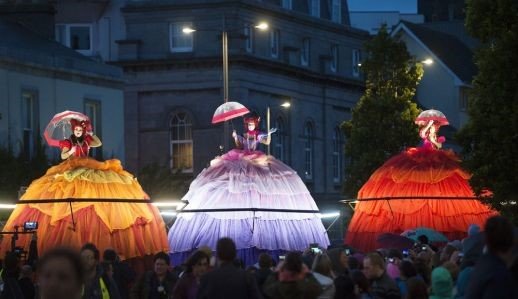 The Galway Racing Festival
The Galway Races is an Irish horse-racing festival that starts on the last Monday of July every year. Held over seven days at Ballybrit Racecourse in Galway, it is one of the longest of all the race-meets that occur in Ireland. The busiest days of the festival are Wednesday, when the Galway Plate is held, and Thursday, when The Galway Hurdle and Ladies' Day take place, where prizes for the best dressed lady and best hat are awarded.
It is Galway's longest running festival and attracts tens of thousands of attendees each year. Pubs and restaurants are packed each evening with racegoers enjoying the lively atmosphere of the city.
Galway International Oyster Festival
This is an annual food festival held on the last weekend in September, which is when the native oysters come into season. It was originally in 1954 and was created to attract visitors to the city during this off-peak season but it has now become one of Galway's biggest festivals.
The main events are two Oyster Opening Championships, the Irish Oyster Opening Championship and the World Oyster Opening Championship. Other events include a Masquerade Gala 'Mardi-Gras', a seafood trail, a silent disco and a family day featuring everything from cookery demonstrations, to jazz, to circus skills workshops plus eating all those yummy Galway Bay oysters!
Galway Aboo Halloween Festival
Looking for some spooky fun for Halloween then look no further than Galway's Aboo Festival. The best thing about Halloween in Galway is that both grown-ups and kids get in on the spine-tingling fun with such great events as The Salthill Zombie Chase, visiting Galway's own Pumpkin Patch and the highlight of every Galwegian's year; The Macnas Halloween Parade.
The annual parade attracts over fifty thousand spectators every year to Galway and it is not to be missed so get there early to get a good viewing spot. The viewers are bewitched by the bedazzling and scary costumes of the hundreds of performers as they pass by and are awestruck by the spookiness and eeriness of the floats. It really is a spectacle for the senses and really gets you into the Halloween spirit.
Study in the heart of Galway, Ireland
Improve your English skills in Galway and gain an internationally recognised certificate with our Cambridge English exam preparation courses. The Cambridge English Certificates are the world's most preferred and widely-endorsed series of English language
Explore more English courses