Super-Fit GCI student Ulrika is a sporting sensation in Galway!
Activities and events
GCI Student Ulrika is a sporting sensation in Galway!
Posted 17 July
A sporting sensation
A Swedish mother who came to Galway Cultural Institute with her teenage daughter to perfect her English has become a local sporting sensation after winning a gruelling 4km charity swim on the River Corrib last month.

Ulrika Thune (46) caused a sensation when she beat elite swimmers from all over Ireland, and even some internationals from other countries, to win the Longest Day Swim in Galway on Saturday afternoon.
The Swedish schoolteacher, who has spent two weeks studying English at Galway Cultural Institute (GCI), shocked the organisers by beating hundreds of competitors half her age in a tough race which raised money for suicide prevention services in the West of Ireland.
Her sensational victory saw Ulrika become a national TV star in Ireland, as she was interviewed for the evening news show on RTE television, and she has been invited to train with both swimming and water polo clubs in Galway.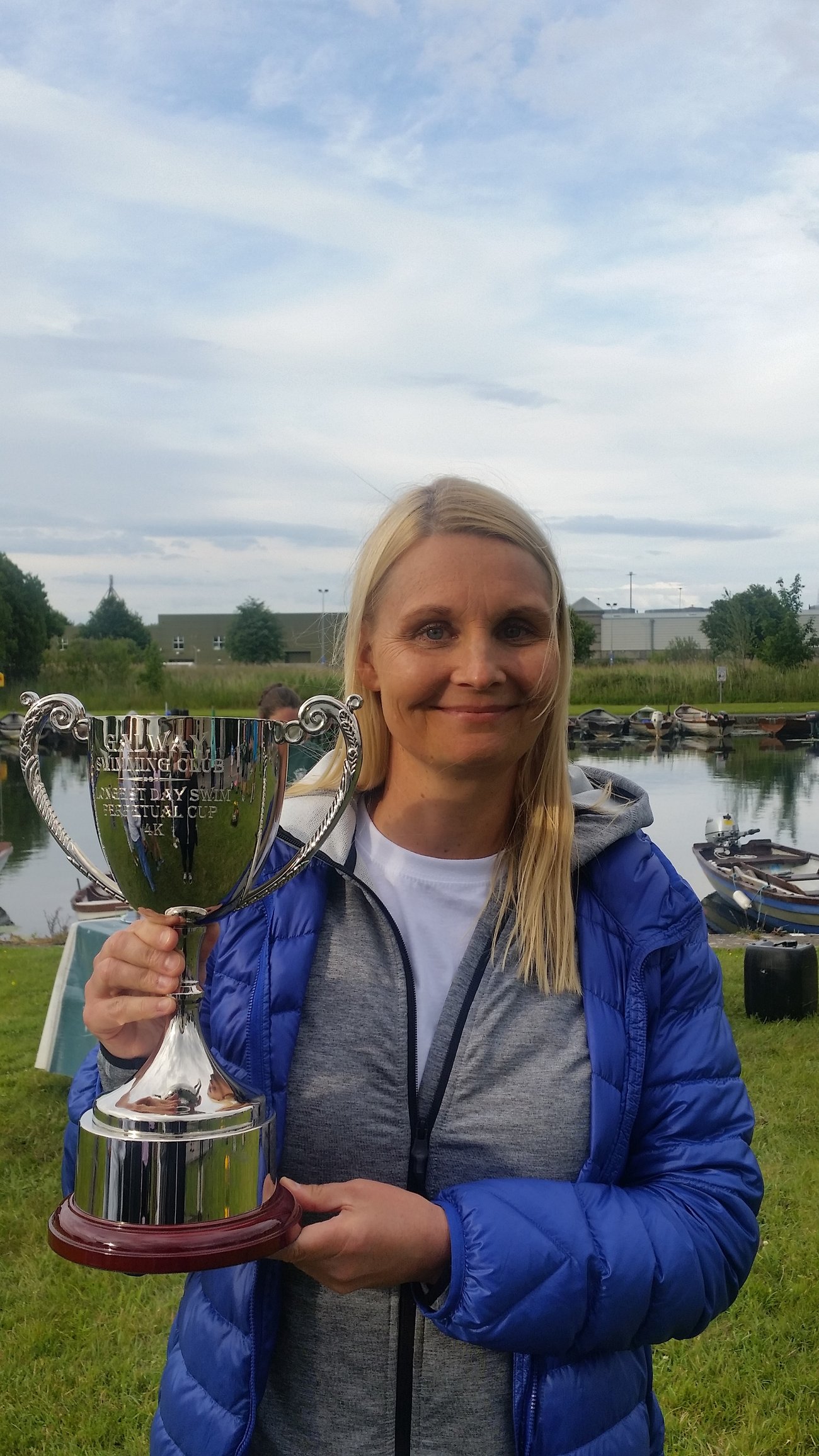 While studying English in Ireland...
Ulrika and her 16-year old daughter, Emma, have enjoyed two weeks of studies with GCI in Salthill and her television appearance hugely impressed her Irish host family, who have become firm friends with both mother and daughter during their time at the language school.
Both Ulrika and Emma took part in General English classes in the morning at GCI and Ulrika admits that the sensational swimming victory was the icing on the cake after a hugely enjoyable two week stay in the West of Ireland.
They chose Galway because they wanted to be near the sea and they wanted to stay in a smaller city, having visited Dublin with the rest of their family last year. Ulrika now loves Galway so much she would be delighted if any of her three children decided to return here to study one day.
"My husband and I brought our three kids to Dublin and Maynooth last year. We enjoyed it. We liked Ireland and wanted to experience more of the culture," says Ulrika.
"I saw this article about Galway in my local newspaper in Sweden and I really liked the photos. I felt that I wanted to go to a smaller city if I was going to study for more than one week, because I have my daughter with me. Galway ticked all of the right buttons, it was on the coast with a nice atmosphere. We have really loved our time here."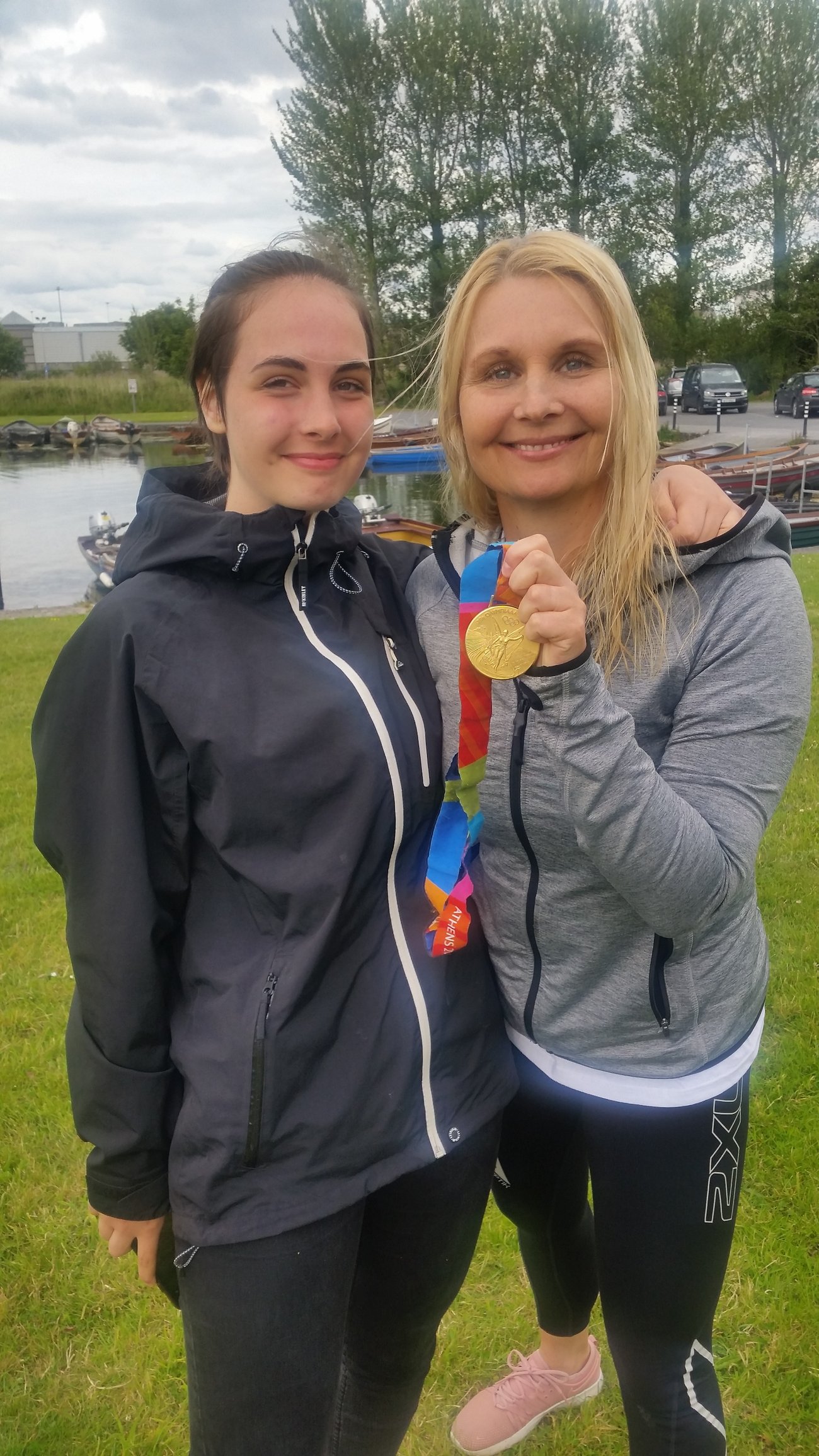 The race...
The competitive River Corrib swim was not her main reason for coming to Galway but Ulrika, who describes herself as a "dark horse", searched for swimming competitions and training partners on the Internet before she left Sweden.
Although she gave up competitive swimming at just 14 years of age, she is an acclaimed Masters (Over 25s) competitor in her native country.
"I looked for a competition or an event, or perhaps just for a group to train with here in Ireland. I didn't find a group on the Internet. I didn't find much information about Masters swimming for the Over-25s, but I saw information about this swim and I decided to sign up."
Ulrika got a taxi to the start of the race at the Glenlo Abbey Hotel, on the edge of the city. She was given a huge round of applause when she finished the 4km race in a time of just 54 minutes, despite facing into choppy waters and strong winds.
"This was a race for people over 18. Perhaps if the 16 and 17 year olds had participated, I would not have won. The key is endurance and stamina, rather than speed. I was a sprinter when I was young. I now race longer distances," she says.
Swimming in Sweden has allowed her to make many friends and she says that people never comment about her age when she competes against teenagers.
"I try to maintain my level by working out four times a week, for one hour and a half. I usually work out with teenagers. I like to push myself and to be pushed. My children used to be swimmers so I know the teenagers. I am just Emma's mother to them!"
Winning the competition on Saturday has turned Ulrika into an instant sporting sensation in Galway. She has been invited to train with competitive swimmers and water polo enthusiasts along the waterfront in Salthill, near the impressive GCI building on the shores of Galway Bay.
Ulrika reports that both she and Emma have loved their time at GCI. She teaches Spanish at an international school in Malmo, which is the third biggest city in Sweden, and her husband comes from Argentina. She loves the kind of multicultural environment she found at GCI over the past two weeks.
Why study in Galway?
"I love meeting people from other cultures and backgrounds. I am also used to it, as Malmo is a very multi-cultural city and I teach Spanish at an international school. 60% to 70% of the students are international," she says.
Ulrika and her daughter have made friends with international students from a variety of countries and she has enjoyed activities such as swimming in Leisureland, the school's popular weekly Pub Night, and the organised trip to the Cliffs of Moher in Co Clare, which they booked at the language school.
She was hugely impressed by Lally Tours, who organised her day trip to Clare.
"Studying at GCI has been a fantastic experience," she says. "Emma and I are staying with the same host family. My daughter wanted to have it that way. We have dinners and chats with the host family. I have been out for a beer or two with other adult students," she says.
"I have been out twice for Pub Night. I have enjoyed all the activities, including the Irish football, a boat trip on the Corrib, and the walking tour of the city. I enjoyed it on my second day. We were given expert information by one of the teachers. It gives you another perspective on the place. It makes you see details that you would not have seen otherwise."
Always one for an adventure, she tried out a Gaelic football session one afternoon with teacher David and some of the students. David could not believe she had researched all of the rules of the game before she took to the field, as Ulrika likes to do her homework before taking on any project, big or small.
"Galway is a really safe city. It's more laid back than Dublin. I would feel safe sending Emma here on her own next year. I would not have felt so safe in a bigger city," she says.
She has been quite surprised by how friendly, warm-hearted, and open the people of Galway have been during her time in GCI.
"I am a bit surprised regarding the Irish people. I think they are more Latin than they think. They are warmer, more open-hearted than they realise. Perhaps in the English-speaking world, the Irish people are the Latin ones! I see many family-friendly events going on, teenagers cheering and having fun, and I really like the Irish society and the values of Irish people I have experienced here.
"My experience of Ireland was also really positive last year. We saw the potential in Ireland last year. If you ask me, I would recommend Galway as a great place to visit and to study in. The best thing of all is the people, who are so warm-hearted, open, and full of life!"
-- * Ciaran Tierney won the Irish Current Affairs and Politics Blog of the Year award at the Tramline, Dublin, in October 2018. Find him on Facebook or Twitter here. Visit his website here - CiaranTierney.com. A former newspaper journalist, he is seeking new opportunities in a digital world.