Top 5 Netflix Series to Learn English
English Language
Top 5 Netflix Series to Learn English
Posted 05 February
It's a new year and with it come new restrictions but don't fret! You can kick back, relax and tuck in to a massive selection of brilliant shows on Netflix. I have made a list of what I think are the best shows on Netflix to complement and improve your English while studying an English language course as well. Our language develops quickly when we are immersed in a language and the best way to do that when you are at home is with some great TV shows!
Why Netflix?
It's a great way to relax and study at the same time! You'll find yourself using new vocabulary, discovering new accents and improving your English all at once! So without further ado, here are my top picks:
Stranger Things
Who hasn't heard of Stranger Things? If you haven't seen it already it's something you should definitely watch. Even if you've seen it a hundred times it's something you should watch again! It's no mystery why this show is such a hit! When one of their friends goes missing a group of young boys team up with a girl with supernatural abilities.
This spooky show is a perfect mix of mystery, thriller, and comedy, it's strange but it works so well! You may want to watch it with friends otherwise you might find yourself hiding behind a cushion for the entire series!
The language is informal and easy to understand which makes it suitable for all levels. It is also full of slang that was common in the 80s which is great if you want to pick up some righteous phrases!
The Crown
For those of you who have always wondered about the secret life of the Windsors, The Crown chronicles the early life of Queen Elizabeth and her family through the changing decades and the different challenges that come with them, whether it be political problems or public scandals!
The language in this show can be complex at times and can even be a challenge for advanced students! Do not be fooled; the language in this show is quite formal and isn't used by the average citizen. They are royals after all!
Not only is this a way to learn new complex language spoken by the aristocracy, it's a fantastic way to practise your posh English accent!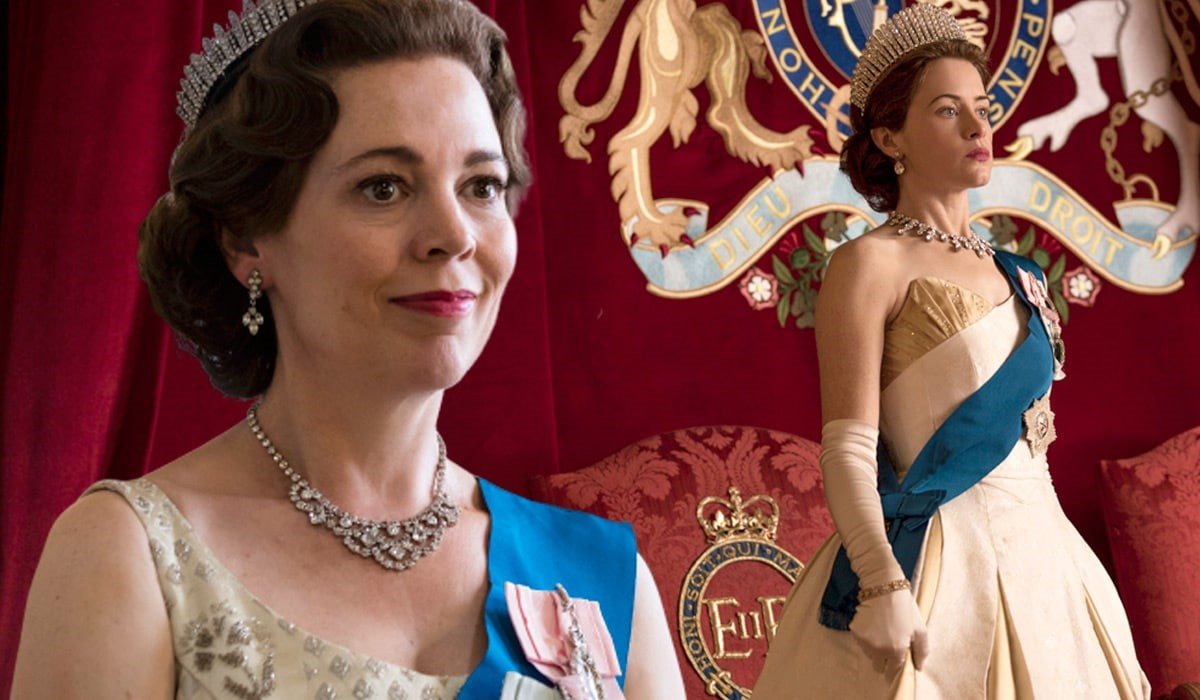 Cobra Kai
Were you a fan of the Karate Kid films? Then Cobra Kai is the series for you! The series follows the antagonist from the 1980s film. Johnny Lawrence is a burnt-out ex-bully who is trying to make up for the mistakes he made 35 years earlier.
While the show can be both easy-going and light hearted, it's also not afraid to explore mature themes such as growing old, family dynamics and nostalgia. It's also full of action-packed karate scenes along with 80s rock music. With a critics' rating of 100% on Rotten Tomatoes this series is a must-see for anyone who enjoyed the original films.
The language is accessible to all levels, and the English is easy to understand. The older characters use some phrases that were popular in the 80s, which highlights the differences between the age groups in the show. You'll also hear what slang is being used by kids today which is just as confusing for their parents! Each episode is 30 minutes long so it's easy for you to keep focused. Perfect for binge watching during lockdown with season 3 available on Netflix now!
Tiger King
This documentary series about the life of an Oklahoma zookeeper Joe Exotic has been the show on everyone's lips in 2020. This show is an insight into the shady world of owning exotic animals.

Rivalry, guns, big cats, and murder-for-hire this investigative documentary will have you glued to the screen throughout the show.

This show will exceed your expectations time and time again! Make sure you watch the lunacy with your housemates and a whole lot of popcorn. The participants of the documentary can be difficult to understand at times as many of them have thick Oklahoman accents! Even advanced students might find themselves turning on the subtitles at times, but don't worry! It's important to experience new dialects and to challenge yourself. The documentary is engaging and easy to follow despite how ridiculous it gets.
New Girl
You might think that New Girl is like any other sitcom; a group of friends living in a big city and basically just another carbon-copy of friends, but New Girl couldn't be more different! New Girl is perfect if you're looking for something that isn't as plain as Friends but isn't as dark as It's Always Sunny in Philadelphia.
New Girl is a bright and bubbly sitcom that focuses around Jess (played by Zoey Deschanel). Recently dumped and down on her luck Jess moves into an apartment with three strangers she met on Craigslist.
Each character is quirky in their own right, Jess is an awkward substitute teacher, Nick is an alcoholic bartender, Schmidt a superficial narcissist and Winston is an eccentric ex-basketball player. The only character with a stable career is Jess' childhood friend Cece; the fashion model.
The language is simple to understand and the American accent is clear and easy to pick up on. It also has a great plot sprinkled with plenty of physical comedy!
In the situation we find ourselves in, it's easy to forget that learning doesn't stop once class finishes. During your stay in Galway I have no doubt that you have already made a whole bunch of new friends in your class or through work. It's a shame that we don't see enough each other now that we have to limit our daily contacts, but don't let that stop you!
There are great applications such as Netflix Party/Teleparty that let you watch these shows with your friends at the same time and chat remotely! Whether you want to learn sophisticated language with The Crown, enjoy the absurdity of Tiger King or watch some heart-stopping combat scenes in Cobra Kai, Netflix has a show for you.
You'll be studying English and you won't even realise it! Whatever you choose to watch, make sure you make note of any new phrases along the way so you can discuss them in class with your teacher, enjoy yourself and stay safe over the coming weeks.
If you are thinking to come and study English in Galway, get in touch with our friendly team.