Galway – a gourmet's paradise!
Welcome to Galway, over the past decades Galway has become a paradise for gourmets or as we say more informally in English 'foodies'. If you class your self as a 'foodie' a person with a particular interest in food, eating out and fine dining – then read on!
Galway is home to some fantastic award-winning restaurants such as Kai, Hooked on Henry St. and Handsome Burger to name a few. Visitors also have a vast range of international eateries to choose from serving an authentic taste of their culinary culture and traditions, allowing you to experience dishes from around the globe.
Here is a selection of the just a few of the very best places in town to try out offering up some delicious locally-sourced produce and dishes that will make your mouth water.
Kai, Sea Road
First on any true foodie's list, Kai is the best in the West when it comes to using authentic Irish ingredients in an imaginative and creative manner. Located in the hip and trendy side of town on Sea Road, it's a well-worth 10 minute stroll from the city-centre. Every weekend there is a long queue of eager diners hoping to get a seat for their famous brunch, it really is to die for!!
If you don't manage to get up in time for brunch, don't worry as the evening menu has plenty to choose from and with their ever- changing their menu there's always something new to try. The décor has a rustic charm and the service is impeccable. Kai have won countless awards, most recently The Michelin Bib award, it really is the eatery in Galway that shouldn't be missed!!
Hooked on Henry Street
This is every fishy foodie's dream, their menu offers up an array of dishes that will satisfy any palate from freshly shucked Galway Bay oysters to traditional fish and chips with a twist. My favorite dish has to be their seafood pasta which includes local mussels, calamari, clams and prawns, it's absolutely delicious.
This family run business has a very relaxed atmosphere with a mixture of locals and tourists enjoying the best seafood in town. The restaurant is decorated in a subtle rustic nautical theme and the team of servers are prompt and efficient. Definitely a must stop on your Galway food tour.
Handsome Burger, Dominic St.
Want to try the best burger in Ireland? Then look no further than Handsome Burger located just over the bridge on Dominic St in Galway's trendy West-end. The burger joint won the honor of the Best Burger in 2019, which was won by a public vote of 20,000 people and they also feature at No.35 on Burgerdudes World's Best Burger List!!!!!!
The reason for this is their use of the best quality Irish beef in their hand-rolled burgers plus all the delicious toppings such as smoked cheddar, pickles and streaky bacon served between a perfectly toasted brioche buns. If you are not a beef lover, there are two equally scrumptious chicken burger options to choose from and not forgetting the veggies who have a choice of either spinach and chickpea bhaji or a beyond meat patty to opt for.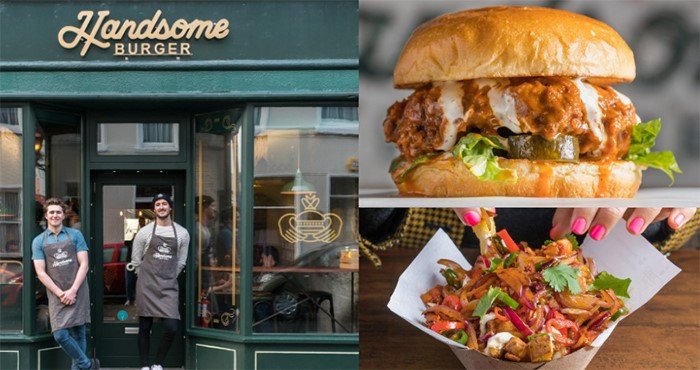 Black Cat, Salthill
Located in the heart of Salthill, The Black Cat is a must on your list of places to visit in Galway. In a warm and inviting atmosphere filled with jazz tunes, Black Cat specializes in serving high quality locally sourced tapas style food.
The friendly and proficient staff are happy to help you make your selection for their extensive menu and have fantastic selection of world wines and beers. It's a perfect place to enjoy a lunch with friends or romantic evening with a partner, Black Cat's varied menu is sure to delight the palate.
Papa Rich, Salthill
Papa Rich is the perfect place to choose for those who wish to enjoy authentic Asian cuisine within their budget. Papa Rich have a few different restaurants all over Galway but for me the Salthill location is the best due to the view, as it is situated on the top floor of the Galway Aquarium overlooking Galway Bay.
From the extremely reasonable priced menu, you can choose from dishes old family dishes such as Papa's Drunken Noodles to Grandma's Famous Curry. Anything on the menu is sure to delight the senses and the service is always prompt and amiable.