Getting to & from Galway
Dublin airport bus service to Galway is both cheap and easy, and there are lots of buses to choose from. Gobus is our preferred bus operating partner www.gobus.ie. You can also choose www.citylink.ie or www.eireagle.com

Getting to and from the school is quite easy as Galway is quite small.
We choose host families and accommodation that is close to the school and this makes it easy for our students to get to and from Galway Cultural Institute.

Getting to & from school
Galway is a small student city and walking is the preferred way to get from one place to another. It is cheap, safe and good for the mind and body. It takes approximately 15+ minutes to walk to the city centre from GCI.
Renting Bikes in Galway
One of the questions we get asked most about here at Galway Cultural Institute is about bicycles. Rather than waiting for buses, cashing up on cab fares or renting a car, rent a bike for the time that you're here. A bicycle is the healthiest, most cost-effective, environmentally friendly and definitely the most fun way to get around Galway.

Our preferred partner organisation is West Ireland Cycling. They are located just beside Monroe's Pub in the Claddagh, West Ireland Cycling which is only a short walk away from the Galway Cultural Institute campus.
Students can rent a bike from our preferred partner West Ireland Cycling. You can contact them directly on: 091 588 830 or mobile: 087 176 8480, email: john@westirelandcycling.com
Address: Unit 1, Bridgewater Court (Beside Monroe's Pub), Lower Fairhill Road, Galway.
Two valid forms of ID are required when hiring a bicycle, one must include a photo i.e. Passport, driving licence or GCI Student Card.
Pricing

The pricing will depend on how long you rent out the bike for. The longer you rent the bicycle for, the cheaper it will be. Some sample prices for West Ireland Cycles are as follows:
1 Day: €8
1 Week: €25
2 Weeks: €30
3 Weeks: €35
1 Month: €45
2 Months: €70
3 Months: €80
4 Months: €90
If you would like to rent for any longer than four months, you will have to ask them for to make a price for you! You will also have to pay a €50 deposit for the bike, which will be returned if the bike comes back to West Ireland Cycling in the same condition as it was when it was issued. For a full list of terms and conditions, you should head on over to www.westirelandcycling.com
Please note that these prices are subject to change!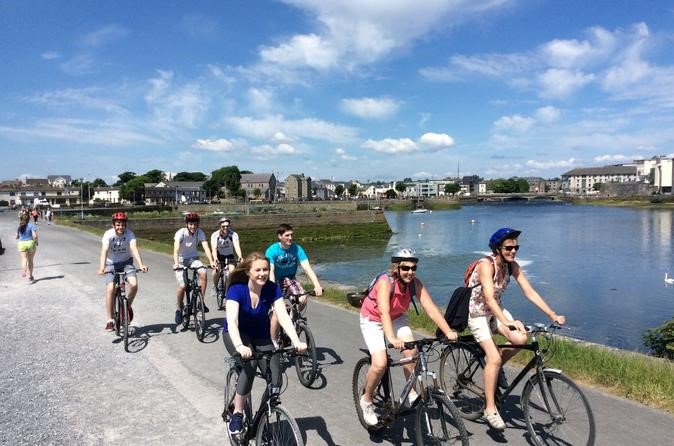 Health and Safety
Upon renting a bike, West Ireland Cycles will provide you with a lock and a key. We advise you to make good use out it to ensure you get your deposit back! Bikes have gone missing in the past and it is important to keep it locked when you're not using it. For health and safety reasons, it is highly recommended that you wear a helmet at all times when cycling around Galway, they are not mandatory - but West Ireland Cycles will provide you with one if you ask nicely!
Cycling can be dangerous and there aren't always cycling lanes around the streets of Galway.
Roads
Always remember that in Ireland we drive on the left-hand side of the road.
This is a problem that most people have difficulty adjusting to, as the habit of looking the other way when crossing the road can be difficult to change. Always keep to the left side of the road when you're cycling and make sure to signal before making any turns!
Cycling at night
Never cycle in the dark unless you have adequate lighting on your bicycle! You will also need to wear luminous clothing, hi-visibility vests and reflective armbands. Be safe at all times. Be seen by others on the road.
For a more detailed list of health and safety precautions, please visit RSA
For those of you who love a bit of adventure…
If you are looking to go on a scenic adventure with spectacular views, West Ireland Cycles run a range of tours around the Burren, Connemara and the Aran Islands. Their tours bring you off the beaten track on through stunning scenery to give you the best of what the West of Ireland has to offer. Their cycling tours sometimes take place over a few days and include accommodation around Galway. It is best to reach out and talk to them to see what tours they are running while you're here. They will at the very least tell you all the best cycling routes around Galway city!
West Ireland Cycles run a range of tours around the Burren, Connemara and the Aran Islands.
Cycling routes around Galway County and beyond…
If you are looking to escape the city and get some fresh air out in the countryside, then you should head on over to Route You
Anybody who is looking to get a little muddy and go mountain biking, then follow the link to Trailbadger. Here you will find out information on the mountain biking routes in County Galway.
The Great Western Greenway was a disused railroad that has been converted into a cycling/walking track and has some of the most stunning views in the country.
Another route that has been attracting quite a significant amount of attention in recent years is the Great Western Greenway, which is located in Mayo, just a short distance from Galway. The Great Western Greenway was a disused railroad that has been converted into a cycling/walking track and has some of the most stunning views in the country. It is a great way to escape the hustle of Galway city and tackle on a long weekend in between English classes! The route goes from Newport to Achill Island in County Mayo and is strictly for cycling and walking! No cars allowed!