Visa Process
Welcome to GCI - We are here to support you every step of the way as you complete your immigration process here in Galway.
There are a few things to organise before you go to immigration in Galway. Please READ through the framework below which explains the overall process and watch our information VIDEO below.

If you are a visa holding student you will need to validate your visa after you arrive in Ireland.
To validate your visa after arrival in Ireland, you must to go to GNIB/ Immigration office. You will need to ALL have the appropriate documents prepared for your appointment. Please watch & read the information below to assist you in your preparation.
Our Study Abroad Programme is only available to students who are outside of the European Economic Area. If your home country is outside of the EEA, you have to apply for a visa while here. Getting a visa to Ireland shouldn't be difficult as it is an easy country to gain access to.

For students whose home country is inside of the European Economic Area EEA, you do not need a visa to come to Ireland.
Before you arrive
To get your visa successfully, you will need to book and pay for the full course before departure for Ireland.
Students must have a minimum of 4 weeks accommodation organised in advance.
Students must have medical insurance organised in advance. You can book your medical insurance with us.
When you arrive at the airport, Immigration usually stamp your passport with a visa for one month. Immigration stamp the student's passport for 90 days authorisation to process their visa. The stamp is not a visa in itself.
After arrival in Ireland, you need to
Open a bank account and deposit €3,000 in that bank account (we help you with the procedures)
Get letters from the bank, the school and proof of medical insurance Documents needed to process your visa: Statement from bank, letter of proof of your Irish address (either host family or landlord), proof of medical insurance, your passport, letter from school for the Visa officer, a credit/debit card.
Go to Immigration (GNIB) with your passport and all the necessary documents (we help you with the procedures.
The visa / IRP card costs €300. This can only be paid by credit card, cash is not accepted.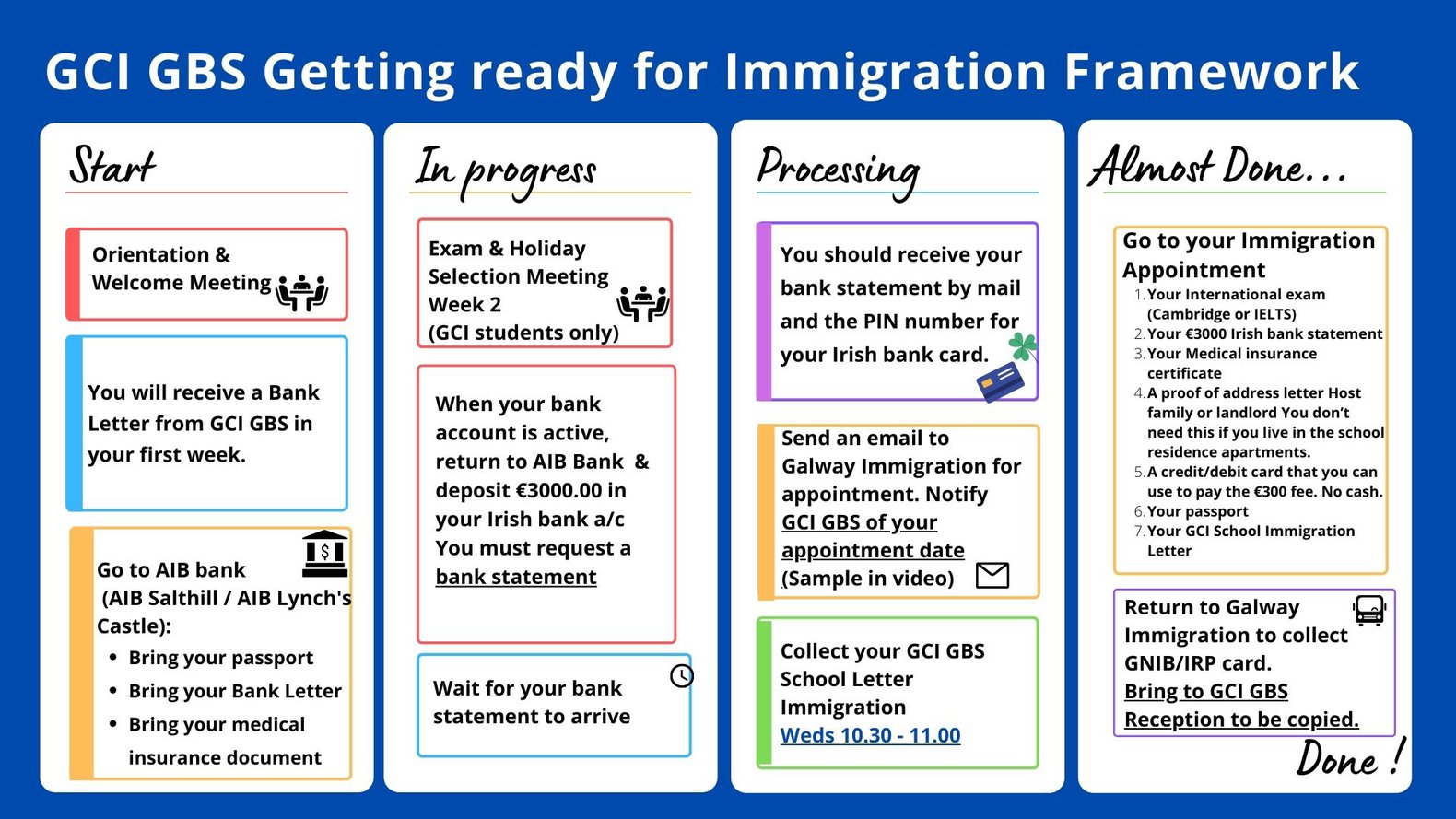 Before you go to immigration checklist
Open an Irish Bank Account
If you are studying English language, select your International exam (Cambridge or IELTS)
An Irish bank statement with balance of €3,000
Medical insurance certificate
A letter from your Host family or landlord - There is a sample letter under this list. You don't need this if you live in the school residence apartments.
A credit/debit card that you can use to pay the €300 fee for your visa (Immigration does not accept cash)
Your passport
A School Immigration Letter for the Immigration Officer
Ensure ALL the student addresses on ALL documentation match/ are the same
For more information on visas, please head over to this website. Alternatively, you can check with your home country's embassy for more information.