Work and Study in Ireland: Student Guide for non-EEA Students
Work and Study
Can I Study and Work in Ireland?
Posted 30 August
Moving to Ireland to study English can seem like a daunting task at first glance, but, with the right planning and the right choice of location, it can be made a lot easier!
GCI is situated right in the middle of beautiful Salthill, only a short walk from the bustling city of Galway, one of Ireland's top cultural hotspots. Galway is full of surprises; there's a pub everywhere you look, food to be found from all corners of the world, music flowing down Shop Street pretty much every day not to mention the sporting events on the weekend. Lots of students have told me that Galway is a city with its own personality, a place where they would love to live and work forever if they could.
With all of this culture and tradition to experience, people often forget that Galway has a very strong appetite for work. Many international students chose a work study abroad program when they come to Ireland, which is the perfect way to both study in Ireland and work in Ireland part-time. And, with plenty of jobs available across a wide variety of fields, coming to study and work in Galway is the perfect fit for long stay international students.
In fact, if you walk into most shops, cafés or pubs "in town" as the locals say, you're sure to find an English language student or two greeting customers as if they've been living and working in the city for years!
Why not read Franciele's story, our Brazilian student from Sao Paolo. I think he can tell you that life for international students here in GCI tends to be good!
Can I study and work in Ireland?
The short answer is yes, of course you can!
If you want to work and study in Ireland, you have a couple of options:
You must apply for a study visa if you are planning to come to Ireland to undertake a course of study for more than 3 months.
Many non-EEA (non-European Economic Area) students who take part in a study and work program in Ireland supplement their studies in order to be financially independent and be able to go on adventures both here in Galway and throughout the rest of the country. Mainland Europe is also a short flight away with many international students in Ireland using their disposable income to seek out new adventures in numerous cities and countries across the water.
Galway is a small city with a big personality and numerous job opportunities. Going from your English classes in GCI to your job in the city is as easy as a five to ten minute bike ride. And, because Galway is such a diverse city, there is a huge variety of jobs available for the bold student.
Why not have a look for yourself on the Jobs.ie website and here on Indeed!
Students who both study and work here in Galway have the advantage of using the language they've just learned in their GCI lessons in practical, everyday settings, which helps them solidify their knowledge of the language along with keeping a few extra Euros in their pockets for those rainy days.
Just as a side note: The minimum wage here in Ireland is €11.30 (valid at the time of writing this article, for accurate updates please view official sources), which puts us second in the list of countries with the highest minimum wage in Europe behind Luxembourg.
So, with the right study abroad visa, the right visa and the right mindset, who knows what you might get up to here!
(Sources : Citizens Information, Currency Fair)
What kind of visa do I need to work and study in Ireland?
In order to work and study in Ireland, you need to be on what's called a Stamp 2 visa, more information about which can be found at the Irish Immigration Service.
As part of the Stamp 2 visa, you must enrol on a course listed on the Internationalisation Register, which both GCI and GBS are part of.
Basically, as a non-EEA student coming to Ireland on a Stamp 2 visa, you will be allowed to:
Work 20 hours a week during term time (September – December, January – May)
Work up to 40 hours a week from June – September and from the 15th of December – 15th January
Students will also need what's called a PPS number (Personal Public Service number). A PPS number is required to work here in Ireland. It helps both your employers and the Department of Social Protection to keep track of your tax contributions.
As for your employers, read on to find out what kind of work students typically find themselves in!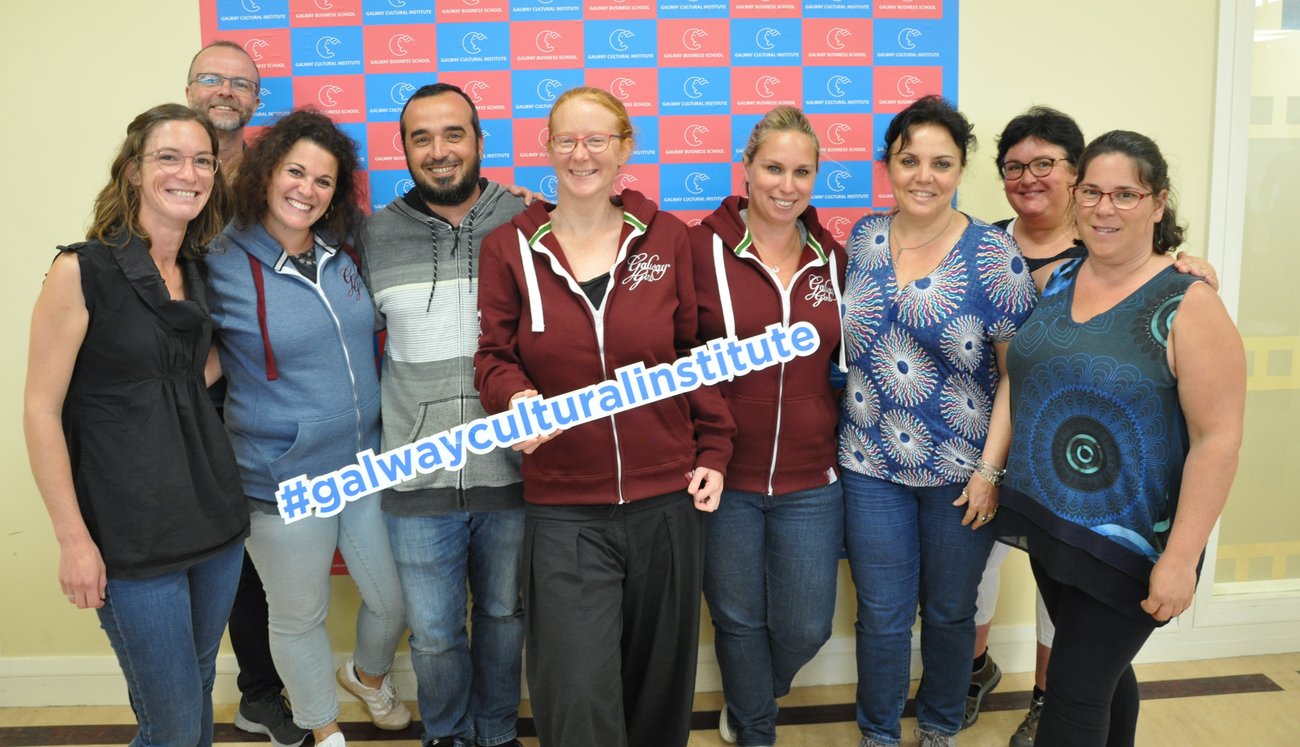 What kind of work can I find in Galway?
Students who come to Ireland in order to study and work typically find jobs in the hospitality sector; in hotels, pubs and cafés. It's good, steady work with flexible hours that allows students the opportunity to use their newly learned language and improve their speaking and listening skills in a real world setting.
There is so much going on in Galway at any given time, especially now with the COVID restrictions lifted, that students can find work in many other areas as well. Festivals, parades and other cultural events will run this year, opening up the chance for students to volunteer their services to the different artistic companies involved. There will always be film and TV projects being filmed in both the city proper and county that will need extras to fill out a scene.
Most students make use of websites such as Indeed and Jobs.ie to look for what's available in the city. Asking around in the various shops, pubs hotels and other workspaces also helps, along with checking out the local notice boards and the GCI school board.
GCI does provide CV workshops along with numerous other tutorials to those students who are looking to both study and work here in Ireland, so be sure to take advantage of them and come visit us!
Why choose to study and work in Galway?
Galway is truly the place to be if you are considering Ireland as your study abroad for a year option. It's a small but busy city, full of colour and opportunity. You can explore the city entirely by foot in a single day and visit everywhere there is to visit within a week but you'll never be bored. There's always something happening here, more so now with the COVID restrictions removed.
It's a student's city, with culture and tradition seeping out of every open pub and theatre door. With the culture comes the chance to work in it and live life amongst people who will be more than happy to both speak to you and teach you the intricacies of the Galway accent.
People come from all over the world to visit "the town," some come for the food, others come for the Galway Races, others still to experience the excellent night life. Whatever your interests may be, Galway is sure to have it, from Salsa Night at Monroe's to The Macnas Halloween Parade held in October and everything in between.
GCI gives you the opportunity to experience Galway in its fullest, and working in Galway allows you to learn what it's like to live amongst the locals and tourists who come to visit this wonderful little city on the Atlantic.
So, don't wait too long! Come work and study here with us in GCI! We'll be more than happy to welcome you through our doors and show you everything there is to see in our lovely town!
Study in the heart of Galway, Ireland
Since 1989, Galway Cultural Institute has provided English language programmes to students from all over the world - in fact, we have welcomed people from more than 30 countries.
Explore more English courses