Galway
Cycling in Galway | Galway Cultural Institute
Posted 25 November
Nowadays, we are all trying to find ways to stay fit and healthy while enjoying the breath-taking scenery which surrounds us. At the Galway Cultural Institute, we have an interest in promoting greener and more sustainable lifestyle choices and we are also keen to encourage students to keep physically active in their free time.
Whether you need to take a break from your 6 week IELTS course or you simply want to explore the beautiful countryside that surrounds Galway city and county whenever it suits you, you should consider cycling as your own hop-on and hop-off tour where you can decide your own route and the attractions you see.
If you don't own a bike and have no interest in buying one, don't worry as you can rent a bicycle at one of many Galway's Bicycle hire shops located around the city. Imagine you have enrolled on our short stay 50 + course and you want to see as much of Galway as possible in your free time. Renting a bike could be a perfect way for you to cycle to school every day and explore the sights of Galway city after class. If you are a longer stay student and participating on one of our GCI Study Abroad Year (SAY) courses, it may be more cost effective to buy a new or second hand bike and you also advantage of selling it at the end of your stay at GCI.
As a cycling enthusiast with many years of cycling experience behind me I am going to provide you with a few safety tips and fill you in on a few scenic cycling routes you can explore when you need to take a break from your GCI study routine.
Stay safe and look after your bicycle
Cycle Safety
Make sure you understand 'the rules on the road' in Ireland as they may differ from your own country. Always wear a high visibility jacket so you can be seen and wear a helmet to protect yourself and most importantly have front and back lights on your bike for those dark winter mornings and evenings. Wearing waterproofs (rain trousers and a good jacket) is advisable so that you don't get wet. There's nothing worse than sitting in class with wet clothes.
Bike Security
Make sure you purchase a secure lock and always lock it to a bike stand, like the ones at the front of GCI. If there is no space available where you are, you might find a railing or a pole you can lock it to. If you happen to get a puncture or your brakes need to be replaced you can either fix it yourself or leave your bike into the bike shop for any repairs that need doing. To rent a bike while in Galway contact Westside Cycling hereand you make sure you mention your GCI student discount.
If you have enrolled on one of our Intensive General English 30 lessons courses you'll have an hour long lunch- break before your afternoon classes, so having a bike will enable you to pop home for your lunch and return back on time for your afternoon class.
Weekend freedom
So it's Friday and you're making plans for the weekend. Why not hop on your bike and head off and explore Galway. Here are a few ideas for you and your bike!
Galway city cycle routes
Menlo Castle and National University of Ireland, Galway (NUIG)
At the Spanish Arch walk with your bike along the river Corrib and make your way across the Salmon Weir bridge and enter the University Campus at the fisheries field entrance. You can cycle along the banks of the river for about 3km until you see Menlo Castle on the opposite side of the river. This beautiful and tranquil cycle provides a perfect chance to wind down and take it the beautiful scenery as you're heading up the river towards Menlo Castle and Lough Corrib. Make sure you keep an eye out for pedestrians and give them a wide berth.
Galway city costal route to silver strand
Starting at the Claddagh, take a left as soon as you cross the bridge over the river Corrib. You'll see South Park GAA pitch on your left and the Famine Memorial park further on. Take some time out to visit this scenic park and learn about an historical event that has shaped our culture and led to Irish people emigrating to every corner of the world. Right next to the park, there's also a beautiful walk or cycle along a causeway out to Mutton Island where you can take in some breathtaking views and its surrounding area. Keep cycling parallel to the Salthill promenade and you'll pass the unmistakable The Galway Cultural Institute on your right overlooking the spectacular view of Galway bay and on clear day you should be able to see clearly the rolling limestone-formed mountain range called The Burren. As you follow the route you'll pass the famous Blackrock diving tower and feel free to take a plunge into the chilly Atlantic Ocean if you're feeling brave enough to do so. As you go past the Salthill golf course continue cycling for about a kilometer you should see a sign for the silver strand on the left.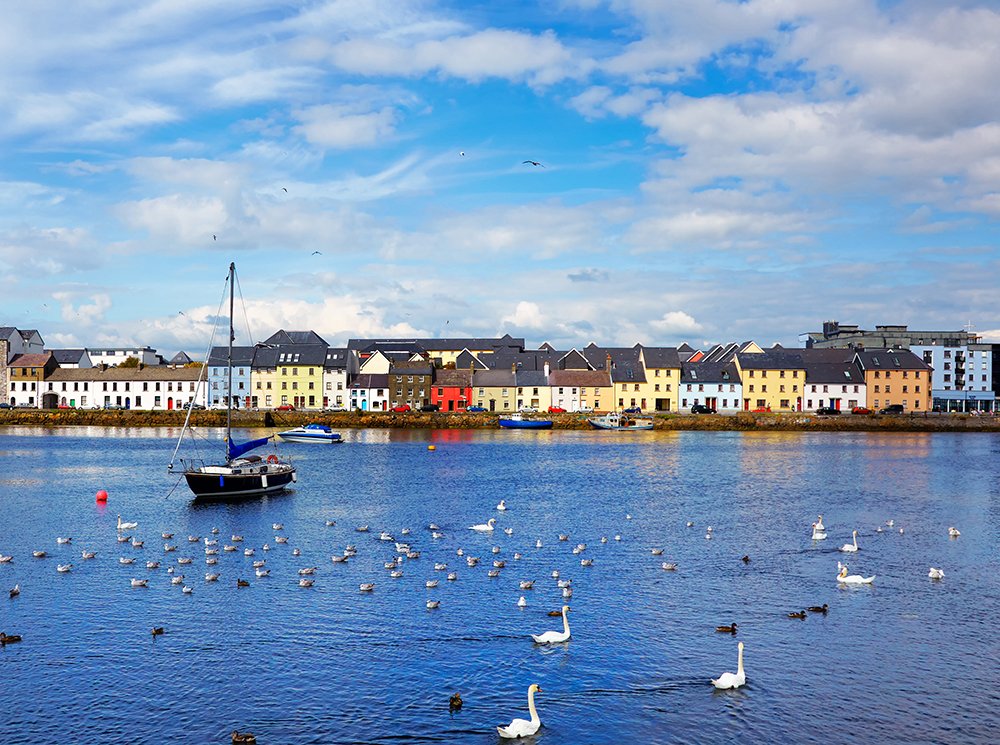 Cycling in Connemara and nationwide
If I want to go cycling in Connemara do I have to cycle there from Galway city? Not at all, as you can take your bike with you on most intercity buses to and from other destinations in Ireland for an additional charge of course. For instance, if you decide to spend the day cycling in Connemara. Well. You have the choice of either renting a bike when you arrive in Clifden, or you can take your bike with you on the bus. My favourite cycling route in Connemara is the sky road near Clifden where you can take in the incredible views of the rocky Atlantic coastline.

Westport to Achill on Ireland's western greenway
For cycling enthusiasts like me Ireland beautiful Greenways are a cycling must!! You can rent a bike and cycle 40km from Westport to Achill Island along Ireland's longest off-road cycling trail. Don't panic if 42km seems too much for you as Clew Bay Bike Hire has bases in each town along the greenway which means you only have to cycle as far as you want to and they will bring your bike back to the starting point on their shuttle bus
So come on GCI Students!!! Get on you bikes and discover Galway!
Study in the heart of Galway, Ireland
Since 1989, Galway Cultural Institute has provided English language programmes to students from all over the world - in fact, we have welcomed people from more than 30 countries.
Explore more English courses