Galway
Follow in the footsteps of Ed Sheeran
Posted 15 November
Are you wondering what can you do while studying English in Galway?
One of the best things about studying English at Galway Cultural Institute (GCI) is getting the chance to improve your English and make new friends thanks to the packed programme of social activities at the school.
Whether you want to make Irish whiskey, learn Irish dancing, play music, go bowling, or just hang out with students at the weekly 'Pub Night', GCI produce a great range of activities for your time outside the classroom.
It really is a great place to make friends and try out new things, as well as improving your English!
The Tuesday walking tours are particularly popular with new students, as our team of expert teachers provide wonderful guided tours which allow you to explore the best that Galway has to offer.
And perhaps our most popular walking tour of all is the Ed Sheeran tour, which follows the singer's footsteps in the 'Galway Girl' video which has been viewed more than 450 million times (at the time of writing … it could be more when you read this!) on YouTube.
Ed Sheeran & Galway
Did you know that Ed Sheeran used to spend his summers in Galway? And that he made the 'Galway Girl' video as a tribute the city he loves, with its bustling night life and thriving pubs?
Recently, I joined a group of students on one of the 90 minute walking tours. We had a special treat not long after beginning our walk, when Frank O'Connor of the legendary O'Connor's pub in Salthill gave us a secret tour of his family's world-famous music pub.
Much of the 'Galway Girl' video was filmed inside O'Connor's pub and Frank says he now gets visitors from all over the world who want to check out its unique atmosphere.
Frank even allowed some of our GCI students to play the fiddle which was used by Hollywood actress Saoirse Ronan in the pub for 'Galway Girl'.
He told us about the day Ed Sheeran took over his pub to make the video and of how two GCI students "spilt the beans" when they saw Ed hanging out outside O'Connor's and put a photo of him on social media.
Within 20 minutes, there were hundreds of screaming teenage girls outside the pub!
Ironically, Frank and his staff were sworn to secrecy! They could not tell anybody that Ed Sheeran and Hollywood actress Saoirse Ronan were inside the pub, where filming too place throughout a Tuesday afternoon.
"About two years ago I got a call to say that these guys wanted to do a video promoting Ireland in America. I met up with these guys, because we have got a lot of requests from people who want to film here over the years. At the time, I had no idea it was for an Ed Sheeran video," Frank told us.
"Between the jigs the reels, I found out that Ed Sheeran was filming the 'Galway Girl' video here. We had to sign this 'non-disclosure' agreement, so we couldn't tell anybody!
"Two students from GCI, a girl form Brazil and a girl from Venezuela, were standing on their balcony when they saw Ed Sheeran come out to the back door of the pub. They took out their phones and started videoing him. They put it up on Instagram and within 20 minutes there were 500 to 1,000 people outside!"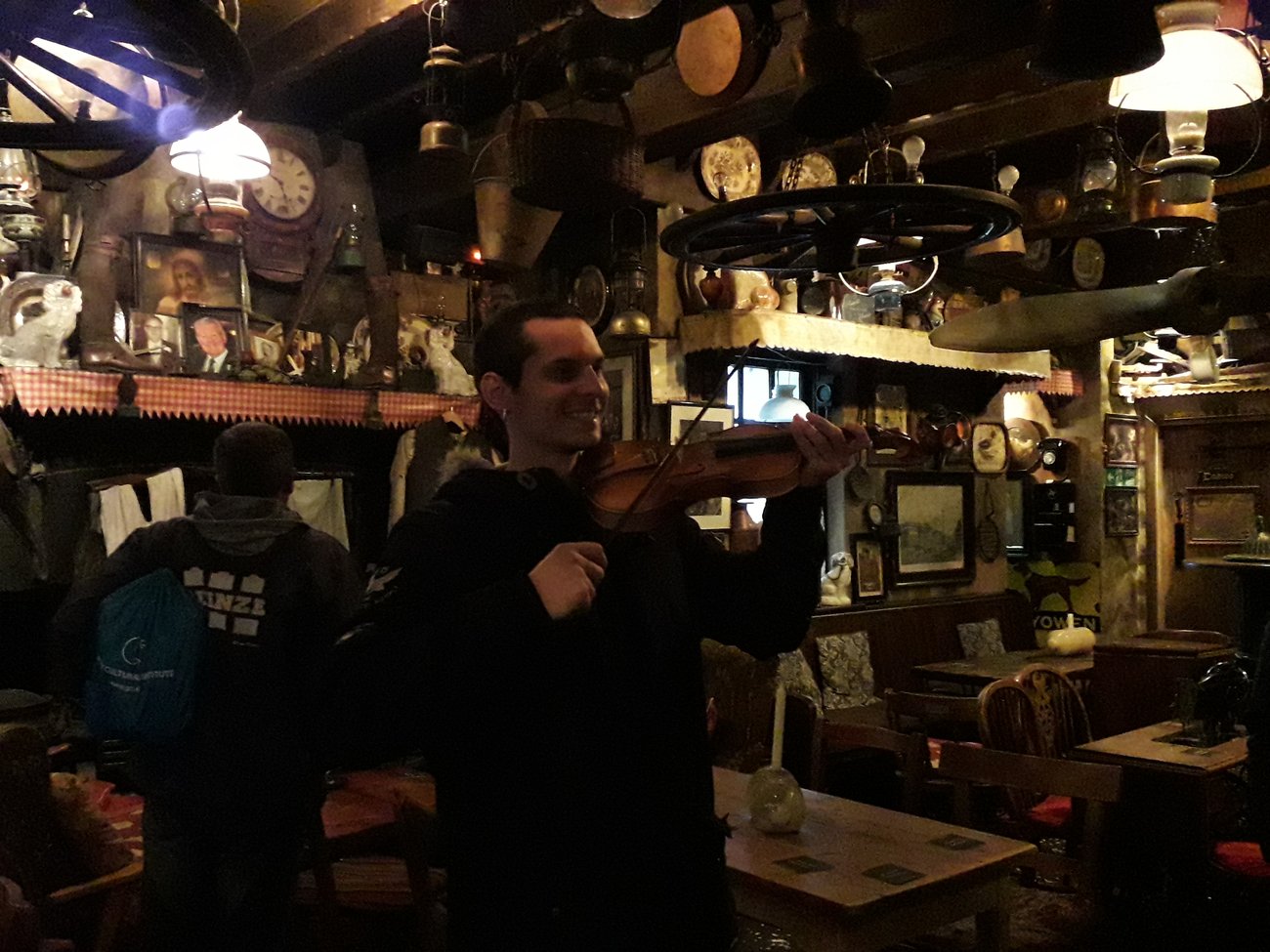 Frank says that Ed was really lovely to work with and that he told him how much he loved Galway. Ed's uncle and cousins lived in Galway and he used to visit the city during his Summer holidays.
When he was 14 or so, he used to busk on Shop Street and our walking tour takes in many of the sites which Ed knew from his teenage years and included in the wonderful video.
How is Ed Sheeran in real life?
"Ed was an absolutely lovely guy, very humble and down-to-earth. I watched him going around for two hours. He said that Galway was very special to him. He had relatives in Connemara and he busked, like a lot of kids do, on Shop Street during his summer holidays. He wanted to come back to Galway to give something back to Galway through this video," said Frank.

Although the pub usually only opens in the evenings, Frank allowed our little group in for a wonderful private tour of the pub. He produced the fiddle which Saorise Ronan uses in the video and allowed the GCI students to pose with it for photographs.
Afterwards, our walk continued towards the city centre. We stopped by the banks of the River Corrib, where we looked across at the Long Walk – one of the most famous streets in Galway – where Ed and Saoirse hang out at a window at the end of the video.
We went to the Spanish Arch and Ard Bia, a restaurant which features prominently in 'Galway Girl', before venturing into the heart of the city and enjoying the Latin atmosphere of Quay Street and Cross Street.
Our guide informed us that Ed's uncle had a shop in this area in the 1990s and when we got to Shop Street we stopped outside Treasure Chest, at the exact spot where Ed used to busk every day when he was 14 years old.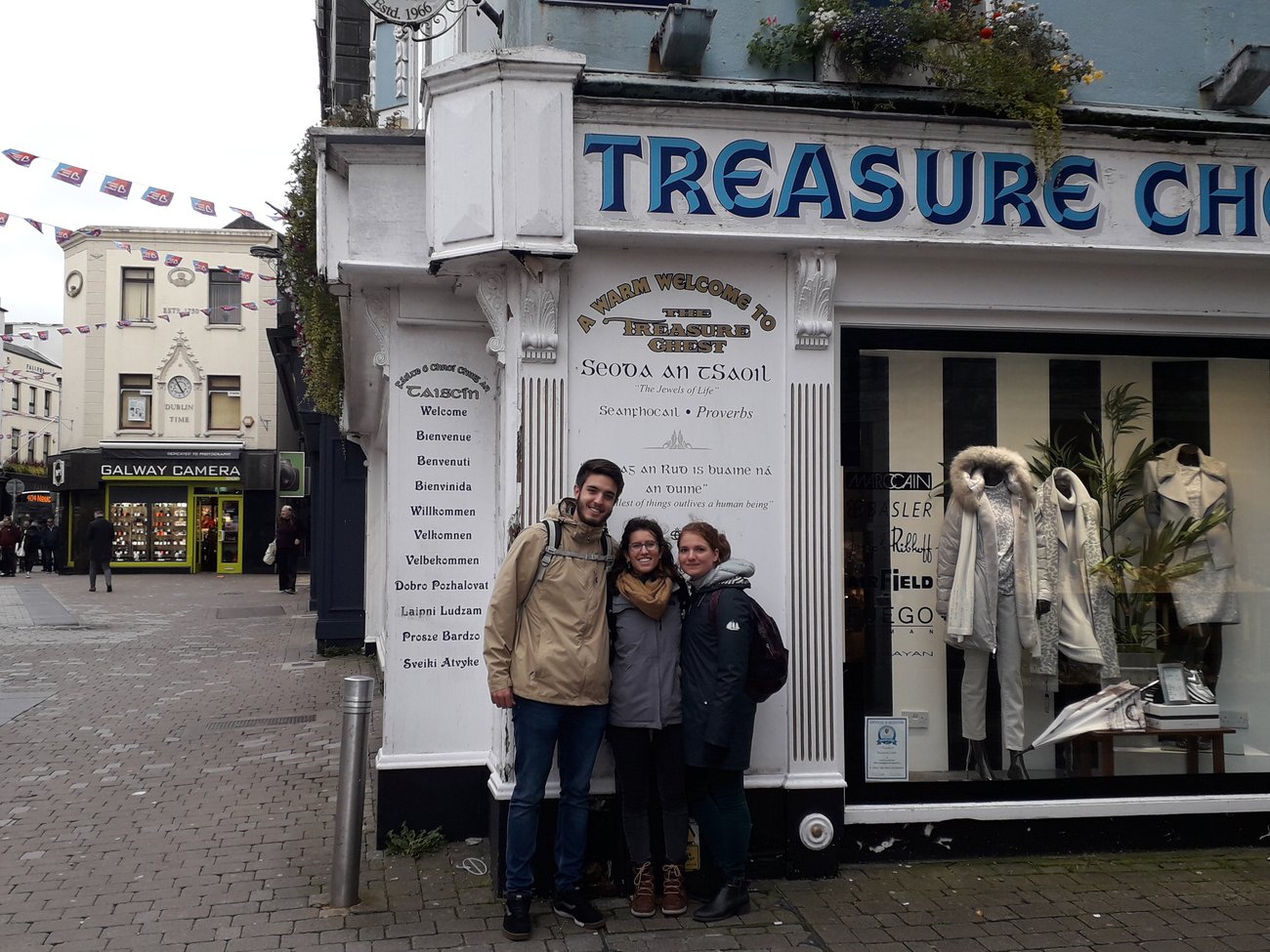 Many of our new students marvelled at how familiar the narrow streets of Galway seemed because of their love of the 'Galway Girl' video.

Our guide told us that 'Galway Girl' was not Ed's first choice for a song title and that American singer Steve Earle also has a song of the same name which, he joked, was much better than Ed's version. The teenage girls in our group refused to believe him!
We finished our tour at Eyre Square and O'Connell's pub, which has a huge beer garden and is known as one of the most historic pubs in the city centre. Ed and Irish folk band Beoga also filmed a good portion of the 'Galway Girl' video in this pub.
So if you do come to Galway to study English, make sure to explore the city with our expert guides on one of our Tuesday afternoon walking tours.
You might just fall in love with our beautiful city – just as Ed Sheeran did long before he decided to pay homage to the city in the video for 'Galway Girl'.