How Can I Learn to Speak English Online?
Online Learning
How Can I Learn to Speak English Online?
Posted 07 September
One positive aspect of lockdown has been our ability to adapt with the changes imposed upon society that has resulted in a reinvention of how we have learned to work, study and indeed, socialize remotely. Tools like Zoom have proved very capable at carrying out tasks that are required to achieve our short term and long term objectives from the safety and comfort of our homes.
One example we are familiar with here in Galway is learning to speak and practising English online, which are certainly a valuable use of your time, and always a great way to discuss issues and subjects that are of interest to you, both with classmates and/or a professional tutor. Some of you are might be concerned about your abilities to learn online with others, face to face or, with a teacher as this may be new territory, but don't worry!
Here at Galway Cultural Institute we have a team of experienced professionals who can guide you in the right direction towards being more confident and fluent in your English speaking. Often, the most important step is making the decision to start speaking English online with others and, on a regular and scheduled basis. This is an obstacle for many as they have not done it before and are perhaps not fully confident about his or her use of technology or perhaps, they are a little shy or unsure of their ability to speak English over the duration of a class.
First and foremost, at Galway Cultural Institute we currently use Zoom for our online English classes which has proven to be exceptionally stable, has an easy to use interface and students quickly become confident in interacting with both fellow learners and teachers. Once you have even a basic grasp of how to use the technology, everyday use becomes natural and almost second nature. It is safe to say that anyone who has used Zoom as an English speaking and learning platform will testify to its usefulness and straightforward approach in allowing you to communicate online.
To get started it is important to sign up for a Zoom account, which is free for basic users. Once you have done that, Galway Cultural Institute will provide you with a secure link via e-mail to the class of your choice, more about that later.
Here is a link to an official Zoom tutorial about how to get started and once you have done that you are on your way to learning how to speak and communicate with others using English. Zoom also supports a digital app once downloaded for you phones etc.
At Galway Cultural Institute and Galway Business School we also use the online learning and education platform Moodle, which will provide you with a link to your class, records of your work, online resources and other valuable information about events and courses relevant to you as you pursue a higher level of English.
Moodle also supports an app for your phone/digital device and is easy to access once you have downloaded it and created an account. When you are enrolled as a student, Galway Cultural institute will then forward you a secure Moodle password/link.
Here are some frequently asked questions or (FAQs) about getting started on Moodle.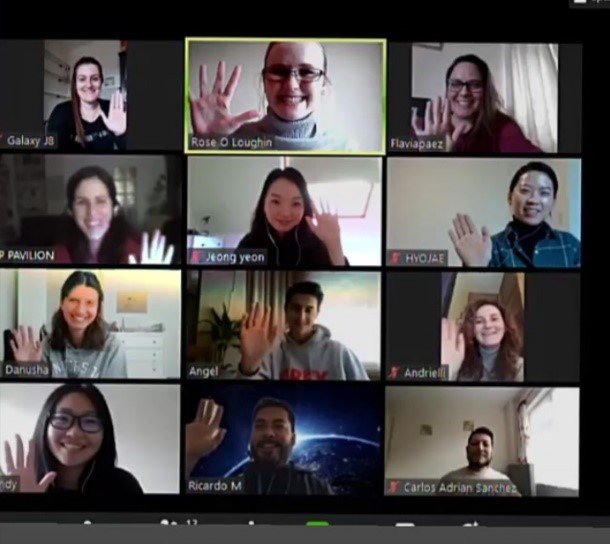 Which online course should I choose to improve my English Speaking?
Of course, making a decision to learn to speak English online is an important initial decision, but it needs to be quickly followed by establishing your current level. This is vitally important to ensure you are challenged in class but also, comfortable enough at a level which allows you to speak confidently with fellow students, and a teacher who will then be able to facilitate your English speaking and listening using the range of English you currently possess.
To get a proper assessment of you technical English you should do our Galway Cultural Institute free online English level test. The results will provide a reasonably accurate level of your present range of grammar and vocabulary in General English.
The next step involves making a decision about what type of course you require for personal, professional or academic development. In other words, what are your goals in English speaking?
Classes are always taught by a native English speaking teacher, experienced and qualified in delivering the results you require as an English speaker. Yes, you will need to work hard but it should also be fun and allow you the chance the express yourself in English and of course, learn about and discuss other cultures including that of the teacher. The team at Galway Cultural Institute are very experienced at listening to your needs and we can help you choose the course that suits your aims and schedule, whether face to face or in a class with similar learners. It is possible to enroll in General English classes, academic courses or, we can tailor a course to your specific requirements for personal or professional development. Below are links to two examples of courses that Galway Cultural Institute offer.

How can Galway Cultural Institute improve my English speaking?
Here are some reasons we think we can help you:

We pride ourselves on creating a friendly interactive experience for the learner
Your English speaking will be encouraged by fully qualified and experienced teachers
The English speaking is geared towards being personalised for the student
Correction and development of your speaking and listening skills allows you to recycle the English you know and add useful and interesting language throughout your course
Student feedback is continuously assessed ensuring you receive optimum speaking practice.
We pride ourselves on feedback received from current, former and returning students who cite their success and enjoyment gained by learning with us.
Now that you are speaking English online, what's the next step?
This is a very good question to ask yourself. How can you now improve your English speaking even more and make it enjoyable at the same time. The answer is more than likely to immerse yourself in an English speaking culture. An English speaking educational holiday is an ideal way to meet fellow learners, practice your English speaking/listening with the locals, and actually live the experience related to the language you are learning.
Many students we have had study with us in Galway chose to stay here because of the more laid back nature of the city. It's fairly small, safe and yet full of history and energy, and of course, has plenty of places to visit along the Wild Atlantic Way.
Galway Cultural Institute continue to offer courses to suit all needs during your stay, can facilitate accommodation and organise a variety of excursions such as walking tours, visits to neighbouring coastal Islands and beautiful west of Ireland landscapes. Perhaps, you just need advice and want to be more independent during your adventures, good for you! We can help with that as well and provide any advice that you require.
Galway offers education, entertainment and employment should you wish to put your English speaking to work. So, if we don't see you online, we might see you here.