How to select a top English school
English Language
How to select a top English school: a checklist for students
Posted 15 January
Choosing a top English language school to study your English course is not always an easy thing to do! If you're looking for a school to come and study English once the Covid-19 pandemic restrictions are lifted, then look no further. GCI is here, still standing!

A lot of different things have to be taken into consideration and it's easy to get caught up in what schools have on offer on their websites and in their brochures. This is why we have come up with a checklist with some key points for you before deciding and registering with an English language school in Ireland.

If you want to try our online English courses before you come, have a look here.
Look out for the quality mark
Choosing to study English in a speaking English country brings a lot of benefits. Before you decide on a school, research a little bit about its history, background, quality standards.
Galway Cultural Institute has national and international accreditations awarded from the Irish Department of Education (QQI), ACELS, Eaquals and IALC. We are a member of MEI, Education in Ireland and Galway Chamber of Commerce. All of which are highly respected institutions. We are also a University of Cambridge ESOL Examination Authorised Centre.
Be sure the school you choose has Learner Protection in place, this ensures that students are taken care of if the school decides not to continue giving classes for any reason.
You should also ensure the school is listed on ILEP (Interim List of Eligible programmes) as they are the only schools that are approved by the government that can guarantee your student visa.
Choose a school with qualified teaching and academic staff
Teachers play an essential role in a school setting and even more so when choosing to study English in another country. Teachers are arguably one of the most important elements of your language experience so make sure you choose a school that has excellent track record of top-quality instructors. A quality language school will invest in highly qualified teachers.
A good teacher has the power to change our life, ignite us in the most perfect way. If you decided to go and study English abroad, the experience must be enriched by a teacher who cares about the success of their students, and who makes classes fun and more enjoyable.
Always look for EFL teaching qualifications, CELTA, university degrees, and other qualifications that indicate that you'll receive an excellent education. GCI teachers are experts in the English language field, they are highly qualified and are dedicated to their role as a teacher, guide and to support you. Our teachers have continuous in-house training and are always looking for new ways to keep you engaged and enjoy your classes to the maximum so you can learn in an efficient but fun environment.

Our administration team are here to help you before, during and after your English Language experience. We are expert in our customer service with high levels of student support. Any queries you have, there is no question too big or too small we are always happy to help and advise you.
Read it for yourself, see what our students have to say.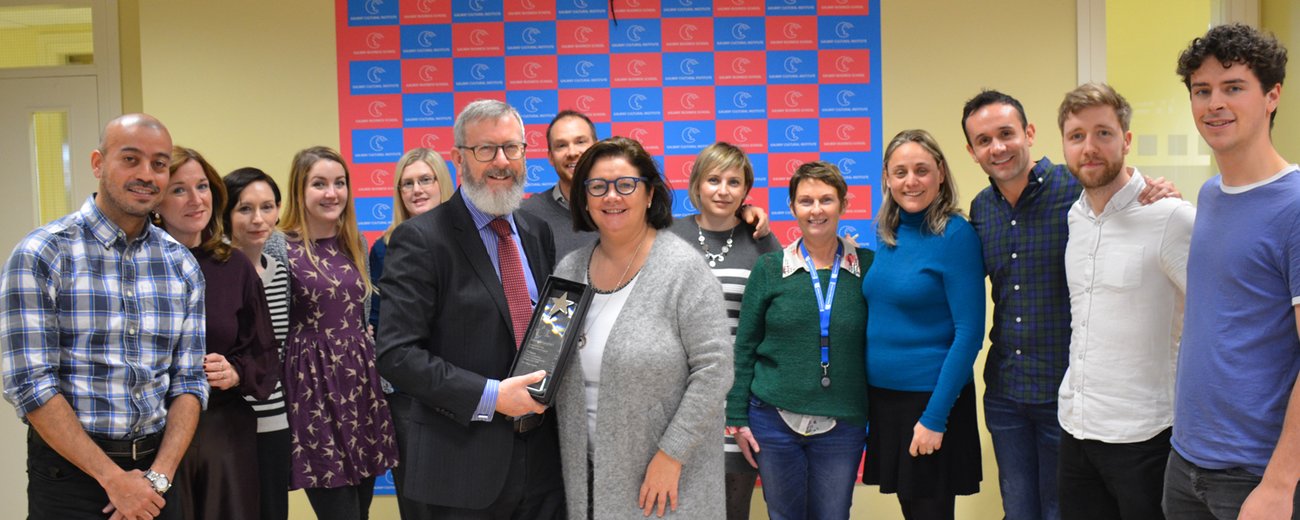 Look for an English language school that offers a variety of English courses
Each student has a unique reason for learning English. You need to find a school that offers variety, flexibility to suit your needs, whether you are learning English for fun and travel or for professional and academic purposes.
Make sure to choose a school that offers diverse quality programmes, as you might have an interest in another course during your studies. Our programs are tailored to suit each of your skills and goals, with levels starting from A1 to C2 in line with the Council of Europe levels.
Take our online English test and see what your level is.
GCI programmes are flexible and you can move from one to another. You can move from a General English course onto English exam preparation or Foundation programmes or you can supplement your English course with modules in business or with individual lessons. All courses conform to the Common European Framework of Reference which has standardised language level competence across the EU by outlining 'the can-do statements' at each level.
Some students decide to further their education and decide to go on to one of Galway Business School third level degree programmes at level 7 and/or 8, or just do a taster with a Certificate programme which is also awarded by QQI.
Nationality Mix
You have come from a long way to learn English and to discover a new country, city and culture, but also to meet new people and cultures from all over the world.
Studying English in Ireland will make your studies with people from so many backgrounds more interesting and engaging. We have students from all over the world and you can also mix with Irish students who are here at our sister school, Galway Business School, studying for a 3rd level qualification.
Location, location, location
Galway Cultural Institute is at a stunning location offering unique views of the Atlantic Ocean and Galway Bay, in a purpose-built building. All the classrooms are exterior with natural light and spacious.
We are located right beside the promenade, so before class or during your lunch break you might want to take a walk along the beach with your classmates. Galway is a small city situated on the West Coast of Ireland on the Wild Atlantic Way. It is a cultural hub, named one of the friendliest cities in the world and is renowned for its hospitality. There are two universities in Galway, so we know how to look after our students well.
Might be interested to read more in our Galway Guide.
Check out school's facilities, services and social activities
Learning English is not just about studying in an English school.
GCI offers amazing facilities to name a few:
Interactive whiteboard technology, latest display screens in each of our 30 classrooms
4G Wi-Fi and access to laptops and printing
A full library with access to virtual and conventional resources
Café restaurant offering hot food and drinks with a fabulous outdoor terrace
Landscaped gardens and a fabulous deck overlooking Salthill beach.
The best way to learn a language is by doing a variety of activities and engaging with other students and the local people. We offer a varied social programme which takes full advantage of what's happening in Galway City and the surrounding area. So, while you are here you can enjoy world renowned events such as the Galway Arts Festival, the Galway Races and the Oyster Festival among others.
As a Galway Cultural Institute student, you can be more than just an observer, you can actively take part in many activities and local festivals as we have a volunteer arrangement with a number of local festival committees. We encourage you to get involved and be part of the fun.

Check out our activities social programme.
School reputation
Above all, one of the best indicators that you've found a top ESL school is that it has a good reputation and that it offers a warm welcoming to students. This will be your new home for the near future, so make sure you ask around.

GCI have been around for quite a while now, over 30 years in fact, together with our Sister school, Galway Business School, and we have no intention of going anywhere even in these difficult times hit by the Covid-19 pandemic.
We have an excellent reputation in the English Language field, worldwide as an innovative school with students achieving top results and progression. We are also highly regarded among Irish 3rd level Institutions. We have provided quality English language programmes since 1989. The feedback we receive from our students is outstanding.
I hope this checklist helps you make the right decision for you and your future and to choose the best English school in Ireland for you.
Study in the heart of Galway, Ireland
Improve your English skills in Galway and gain an internationally recognised certificate with our Cambridge English exam preparation courses. The Cambridge English Certificates are the world's most preferred and widely-endorsed series of English language
Explore more English courses