From Japan to Ireland - Mio's Story
Student Experience
A Happy Japanese Girl in Galway
Posted 13 November
Why choose Galway and GCI to study English?
The friendliness of the Galway people and the friendships she has made with students from all over the world have ensured that Japanese girl Mio Konya has had an amazing time studying English at Galway Cultural Institute (GCI) this year.
It was always Mio's dream to study English in Ireland and she has been thrilled by the friendships made both inside and outside the classroom, as she adapts to a different culture so far from home.
Mio opted to study at GCI after a friend told her she had too many Japanese friends in Dublin and, so far, she has been delighted by her decision to take a year out on the west coast of Ireland.
One of the most popular students at GCI in 2019, Mio has made some great friends, hanging out as often as she can with Ara from Korea, Luis from Spain, and Mohamed from Saudi Arabia.
She never misses the language school's famous Pub Night which takes place in a different venue every Wednesday and believes her regular interactions with local people be it in a pub, a restaurant or a coffee shop have greatly improved her spoken English!
Although she had previously visited Australia and New Zealand, she admits that she did not know a lot about Ireland – even though she had worked in an Irish pub in Japan! – when she took the big decision to move to Galway to study English at GCI.
She had dreamed of making the long journey from Japan to Galway for more than two years, before arriving in the City of the Tribes in June.
"When I was in Japan, I worked for two years to make money to come to Ireland. I was excited. I wanted to get a working holiday visa," she says.
"Japanese people can get working holiday visas in Ireland and I chose Galway because I did not want to meet too many Japanese people! My friend had already been to Dublin, but she used to go to the pub with Japanese people and speak Japanese all the time."
A few months after arriving in Galway, she has now made friends from all over the world. Mio regularly gets invited to house parties and is so well-known in her neighbourhood that people greet her on her way to and from school every day.
"I wanted to meet students from other countries and not just hang out with other students from Japan," she says. "When I arrived in Galway in June, there were not so many Japanese students here. I have not had Japanese students in my class here in GCI.
"That meant I had to make friends from Saudi Arabia, Spain, France, Belgium, Switzerland, Korea, and we had to speak English all the time. Even though I have managed to get a job in a Japanese restaurant, I don't get to speak Japanese at work as Galway does not have too many people from Japan!"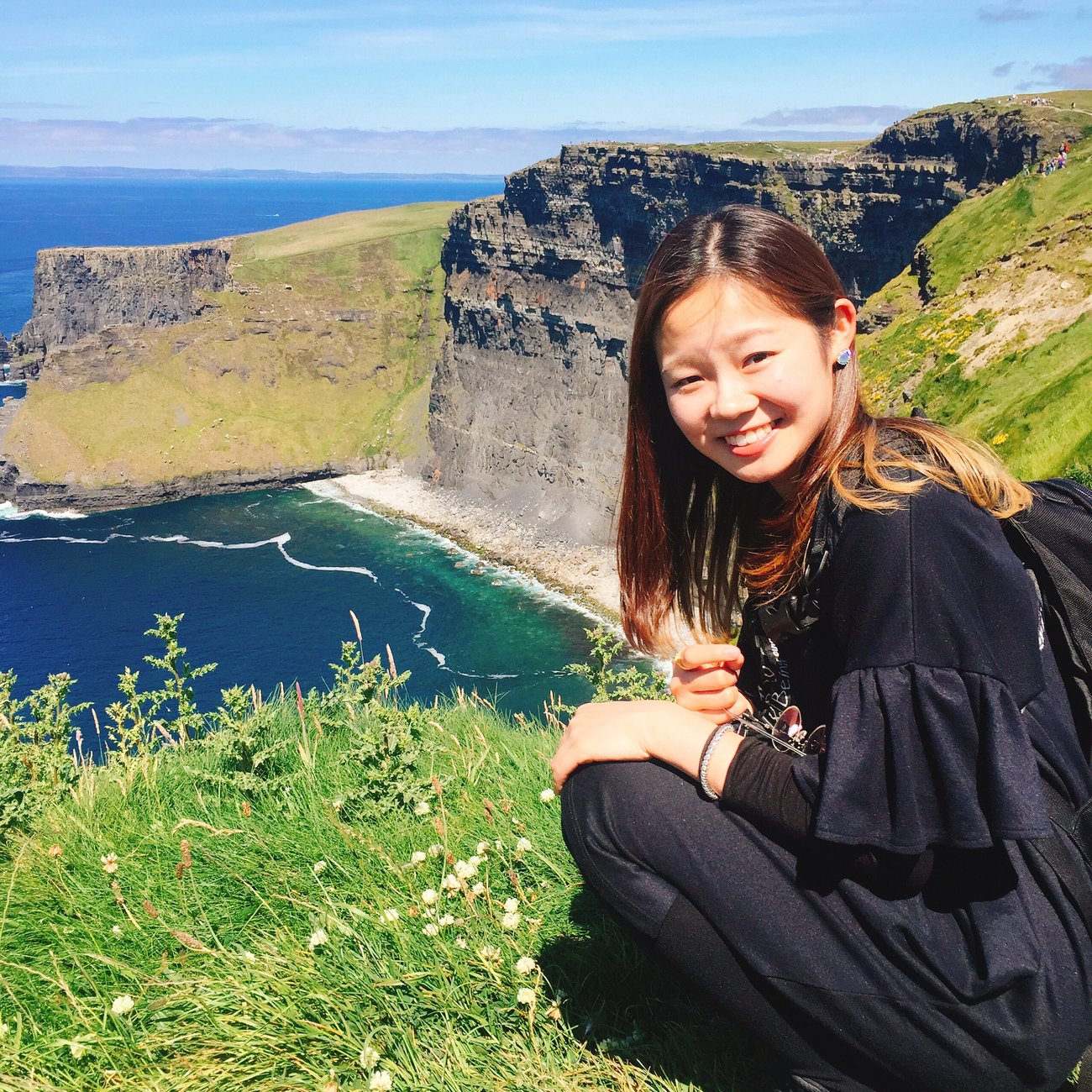 How did you improve your English?
Mio arrived in Galway with an Intermediate (B1) level of English. She made friends instantly and stayed with a very friendly host family. As her English improved, she felt confident enough to look for a job as a waitress in a restaurant.
"In the first few weeks, I stayed with a host family. I always talked to my host mother and she always cooked traditional Irish food for me, especially the Irish stew. She has four children, but they are older than me and they have left home. I loved living with my Irish host family," she says.
"Sometimes the host mother would have to repeat herself or she would write things down for me. She was very patient with me and really helped me with my English. I love the experience of living with Irish people and experiencing Irish culture."
In her first few weeks at GCI Mio concentrated on her homework and improving her English. She did not go out at night much but, as her English improved, she became a big fan of Galway's thriving night scene.
"In the first month, I didn't go to the pub a lot. I was tired after I arrived and I was studying English a lot. But as time went on, I started to enjoy going out socialising. I never missed the GCI Pub Night," she says.
"My host mother said that going to the pub was like studying, because it was a great way to meet people. I went to the pub with other students. I don't have any Japanese friends in Galway so far, so I had to make friends with students from other countries!"
Why did you choose Galway?
Mio is really glad she heeded her friend's advice by choosing Galway over Dublin as her base for a year away from home. She is happy to be living in a smaller city, where the people are more relaxed than in the capital.
She finds the people in Galway friendly, they have more time for a conversation, and her Irish neighbours shout out "Hi Mio!" as she makes her way to and from school each day. She has become a little bit of a legend in her neighbourhood!
"Dublin and Galway are different. When I went to Dublin for weekends, I found that people were a little colder. It's just a bigger city. They were in more of a hurry. But in Galway, around my house, people say "hi" to me all the time," she says.
"Even my neighbours on the street where I live stop and asked me things and help me by teaching me things. It's very friendly in Galway. Everybody seems to know my name!"
She shares a WhatsApp group with other international students, from Korea, Spain, Saudi Arabia, Switzerland, France, and Belgium; and they use social media to arrange nights out in city centre pubs.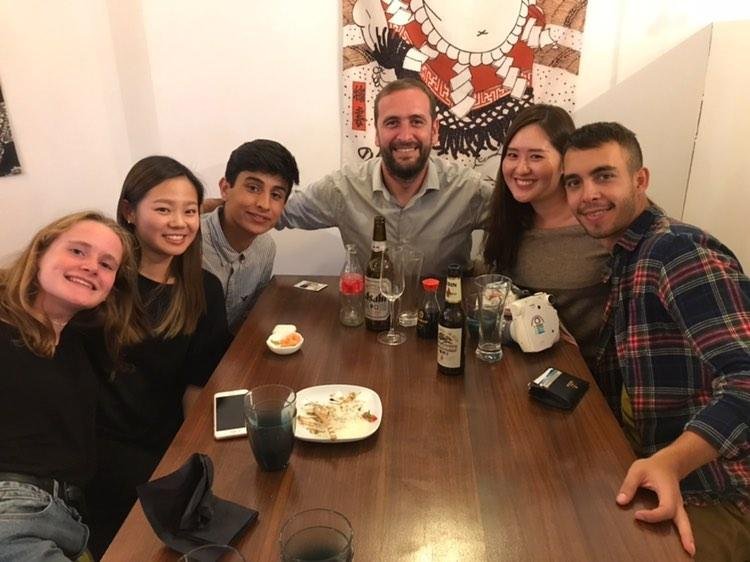 Mio worked in an Irish pub called Brian Boru in Sapporo before she left Japan. She has become a huge fan of Galway pubs such as The Skeff and the King's Head and has had great fun with Irish fans during the Rugby World Cup in recent weeks.
The rugby tournament has made Irish people more curious about her country.
Everyone wanted to talk to Mio after Japan shocked Ireland a few weeks ago and customers at the Tomodachi sushi bar, where she now works, are delighted to be able to talk about rugby to a Japanese girl.
Mio is planning on spending a full year in Galway and is already thinking about getting a second visa, which would allow her to improve her English further at GCI.
One of her teachers, Stephen Heaney, helped Mio with her CV and the interview questions she would need when she applied for a job. She worked for a short time in a Chinese restaurant, before getting a job as a waitress in Galway's leading Japanese restaurant.
Mio is the only Japanese member of staff at the Tomodachi sushi bar. She works with people from Hong Kong, Taiwan, Korea, Thailand, and Brazil. Between work and the weekly GCI Pub Night, she gets to hang out with quite a range of nationalities every week in Galway.
"Coming to Galway, moving so far away from Japan, was the best choice I have ever made in my life. I really like the people here in Galway, the pubs, and meeting so many new friends. These are big things for me. I still need to work on my pronunciation, but I am so happy I came to Galway to study English and I hope I can come back here again."
-- * Ciaran Tierney won the Irish Current Affairs and Politics Blog of the Year award at the Tramline, Dublin, in October 2018. Find him on Facebook or Twitter here. Visit his website here - CiaranTierney.com.
Study in the heart of Galway, Ireland