Speak English like a CEO: How to improve your Business English
English Language
Speak English like a CEO: How to improve your Business English
Posted 31 January
The most accomplished people in the world know that working hard and coming up with brilliant ideas isn't enough to make you a success; you must also be able to communicate them effectively. You've been working hard to speak and write well so that you convey your ideas clearly in your own language, but now you want to know how to improve English speaking and communication skills. Because you know that English can open so many doors for you. Maybe it'll help you get a promotion, land a new client or break into a new field. Thankfully, there are many things you can do, alone or with the help of a teacher, to help you master English.
Immerse yourself
There are no shortcuts to becoming proficient in a language, but the best way to improve quickly is to immerse yourself entirely. It's often not enough to go to a Business English course once or twice a week. If you are fortunate enough to come and study English in Ireland, you will be surprised how quickly you improve. Many business professional students who come and attend our English for professionals courses in Galway find that they gain massively in confidence even after just two weeks.
Unfortunately, not everyone is lucky enough to come to Ireland and study a course in an English school. If you're not able to go abroad to study, you have to seek out situations that will force you to use your English. Take every opportunity to go to conferences or to work on international projects within your company. Maybe there is a community of expats in your city that you could try to connect with, or a language group that meets regularly. The more time you spend with people who don't speak your first language, the fewer excuses you'll have not to practice!
Plan and speak with confidence
Is natural to feel nervous when speaking in your second language, but successful people project an image of themselves that is steady and sure. The best way to cultivate this kind of confidence is to always have a good plan. In your own language you don't have to think too much about the things you say, and any planned speaking you do is probably limited to presentations. In English, you'll feel much more comfortable and confident if you take the opportunity to think about what you'll say before you have to say it.
Most of us have carefully scheduled work lives; we know when we're going to have an important meeting with a client, a tricky phone call to make or a team lunch coming up where significant plans will be discussed.
A lot of the time you can benefit from studying Business English one to one with a teacher who can help you with exactly this sort of thing. Take some time to think about what your message is and how you want to present it. Use your best language, give yourself a few key phrases that sound firm and natural and practice.
You can also practice the conversations you're most important in a low-stakes way. For example, if you're someone studying in business courses in Galway, you can call a local hotel to ask about the cost of booking a conference room. No one will suffer if you make a mistake, you'll have practice speaking to a native speaker in an authentic situation, and most important of all: you'll feel more confident.
Correct and improve
A one to one teacher can also help you a lot by pointing out your specific mistakes and helping you correct them. Speaking accurately helps to avoid confusion but even more importantly to build your confidence. Keep track of your most common mistakes and phrases you've been corrected on so that you can work on avoiding them outside of classes. Take advantage of the native speakers in your office and encourage them to correct you or help upgrade your language when you can.
Often, the errors that we correct ourselves are the ones that really stick in our minds, so make sure you always read over anything you write in English yourself before you ask someone else to edit it for you. If you attend classes at our English school with other students, listen for error that your peers make and try and learn from them.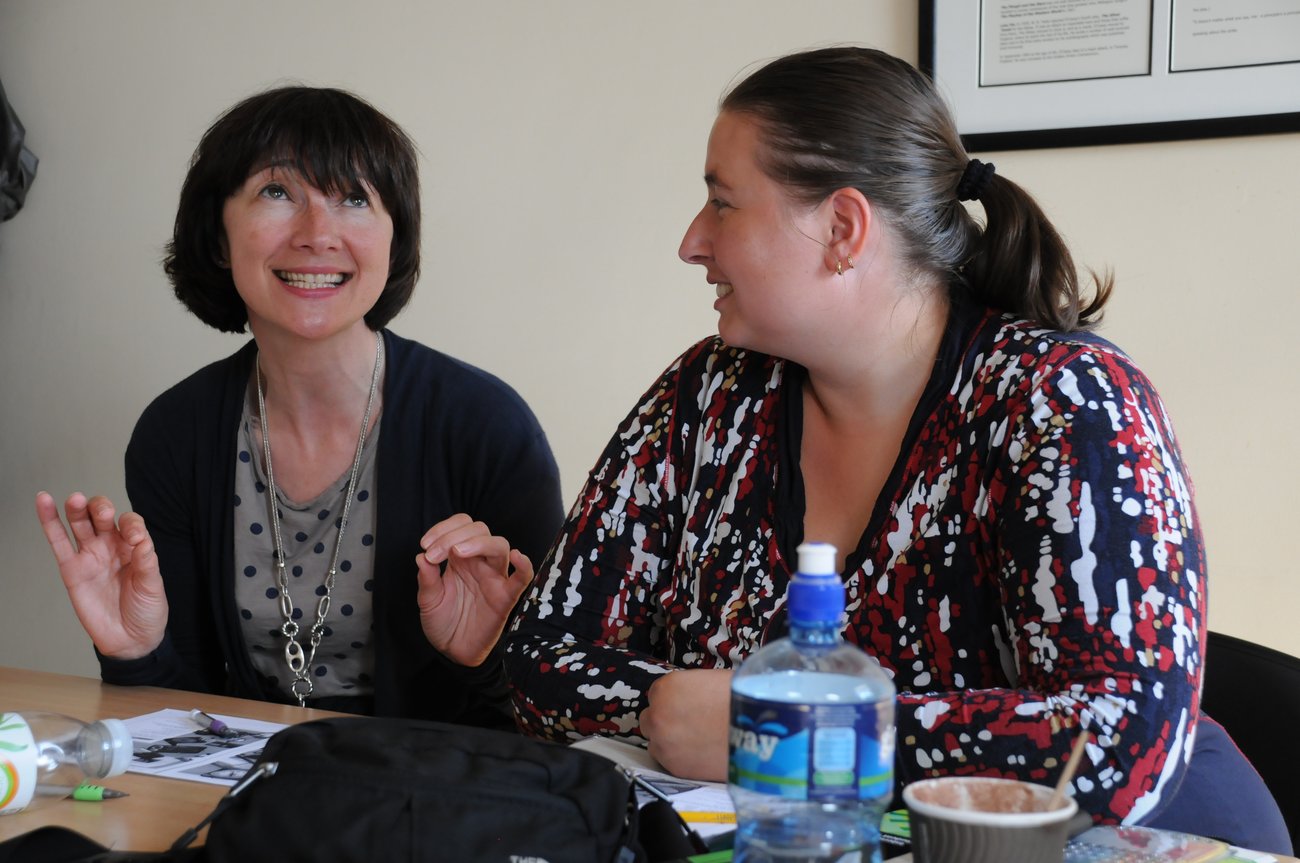 Study the real world
The best business English courses and coursebooks include case studies of authentic situations and interviews or insights from real business people. Of course, these may not always be directly related to your industry or one-hundred percent current, but they teach you the important language you need.
To supplement good course materials and keep improving outside of the classroom, you should read real business magazines, newspapers and reports. Listen to the news in English on your drive to work. Check English language news and business sites while you're waiting in line for your coffee. If you're studying Business English in Ireland, there are three great specifically Irish, business-related podcasts you can subscribe to: Inside Business, Ready Business and An Irishman Abroad.
A little exposure to the language every day will help you to improve, especially when it comes to vocabulary. Pay particular attention to idioms, expressions and phrasal verbs that occur often. The business world likes to repeat certain phrases, to sound positive and firm, and to coin new words; you want to stay on top of them so you'll be able to speak to anyone.
Show your boss what you've learned
Improving your English will help you in your day-to-day life even outside of work and open new doors for you when you're travelling, but you want to make sure that that's not the only benefit you get from all your hard work. Make sure that you get a Business English certificate that you can show to your employer or put on your CV. Having an official certification is much more impressive and much more likely to help you than just listing English as one of your skills.
Book a course today
Browse our English for Professionals course options below and let us know if you need any help deciding.
Our classes combine high academic standards with an interactive learning environment and we focus on learning vocabulary and topics used in the world of business.