Tailor-made package is a Swiss delight
Student Experience
Studying English in Galway, a Swiss delight
Posted 16 August
Two trainee teachers from Switzerland found that Galway Cultural Institute (GCI) provided the perfect mixture of English studies, socialising, and fun activities when they booked a tailor-made package for one month this summer.
Both Dominick Herger (28) and Marcel Planzer (25) came up with the perfect combination to suit their own needs when they combined four weeks of General English classes with a private class three days a week to help them prepare for the Cambridge Advanced English (CAE) exam.
Advanced students Dominick and Marcel both need to complete the CAE in order to qualify for as teachers in Switzerland, but they did not want to undertake private or exam-focused classes in Galway. They loved meeting students from other cultures and countries in the mornings.
The half-days on Mondays and Fridays also gave them plenty of time to explore the wonderful countryside around Galway City and to sample the delights of the city's pubs and restaurants in the evenings.
GCI teacher Aine Cunningham helped Dominick and Marcel to focus on their Cambridge Advanced examinations every Tuesday, Wednesday, and Thursday afternoon – they felt this was the perfect schedule to suit their own particular needs.
"We didn't want to do a CAE course but we wanted to do some CAE-focused studies while we were here. That's what we did with Aine in the afternoons and she did it really well. We enjoyed the General English classes in the mornings, meeting students from all over the world, and then we could really focus on the CAE exam on three afternoons a week," explains Marcel.
Galway's reputation as a friendly "party city" was as much a factor in their decision to spend a month at GCI as the programme of studies the school devised just for the two of them. They never missed one of GCI's legendary Pub Nights over their four weeks at the school and found a lovely seaside apartment just minutes away from GCI.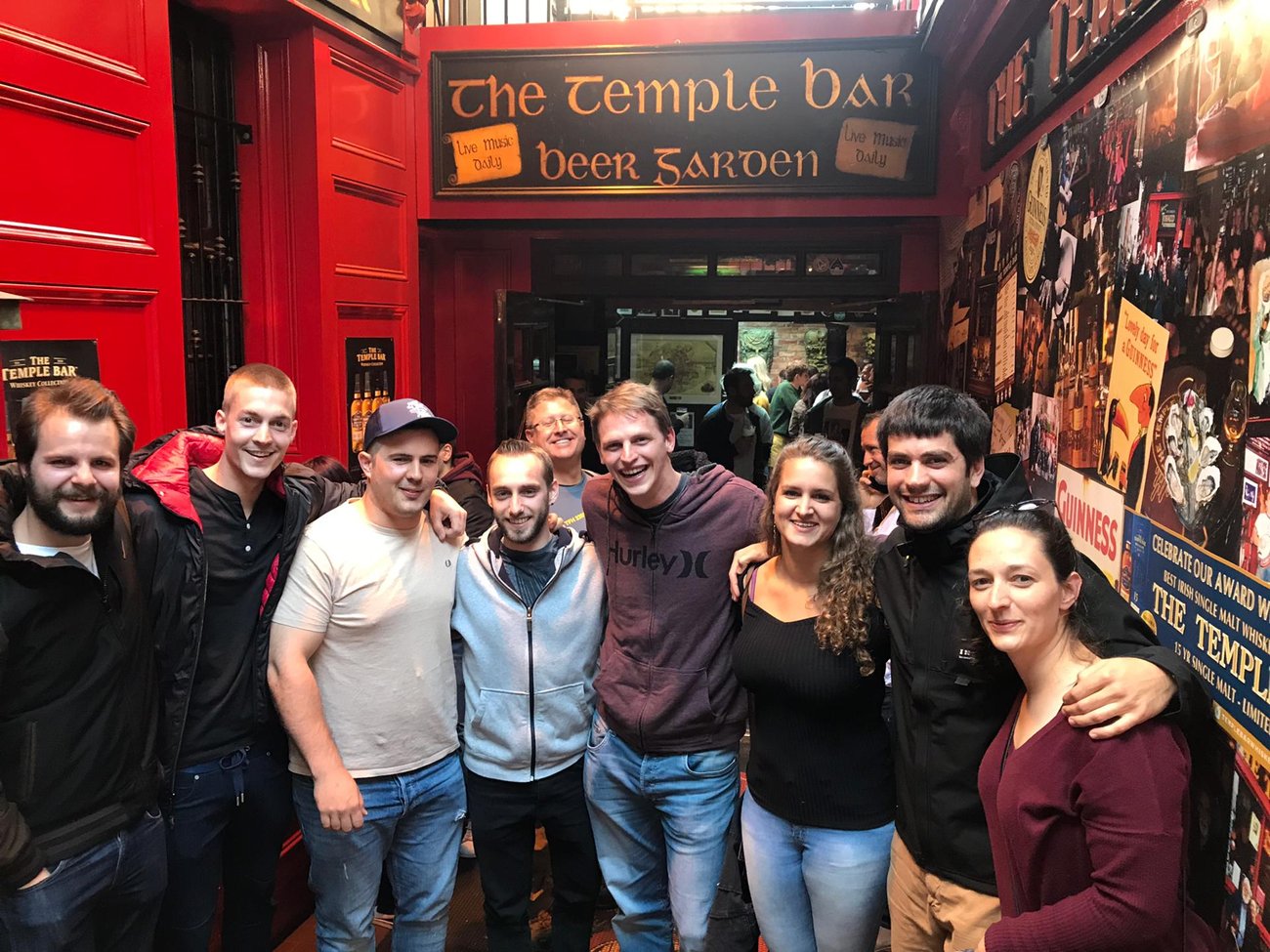 "We were looking at four or six week CAE courses that we could do in other countries, but we couldn't find a course which fitted our dates. I always wanted to go Ireland one day," says Marcel.
"We went to this travel agency in Switzerland and they said that we could do private lessons here in Galway. She said she had sent a student here to GCI before and she highly recommended the school."
Instead of doing separate one-to-one lessons, the two childhood friends told their agent that they would like to be in class together in the afternoons, as they had the same level of English and were studying for the same exam. They were delighted when GCI said they could come up with a personalised programme of studies, which allowed them to share a private class.
"We enjoyed having the two of us together in the afternoon class and mixing with other students from other countries in the mornings. The afternoon classes were stricter and all about the test, but we always had a little bit of time to have a very good chat with Aine," says Marcel.
Dominick, who is the more laid-back of the two friends, said that he trusted Marcel completely to book their course when they were at home in Switzerland. He did not care where they went to study as long as there was some fun involved.
Dominick is a newly-qualified primary teacher and Marcel is studying to become a secondary teacher. Both of them need to pass the Cambridge CAE course within two years of completing their studies in Switzerland.
Both of them will take the CAE examination at home in Switzerland later this year.
They grew up together in Burglen, which is the birthplace of William Tell, the national hero of Switzerland.
Dominick says that he left all the planning to Marcel, who had thought about studying English in Dublin before his Swiss agent told him that Galway was a "more real" Irish city!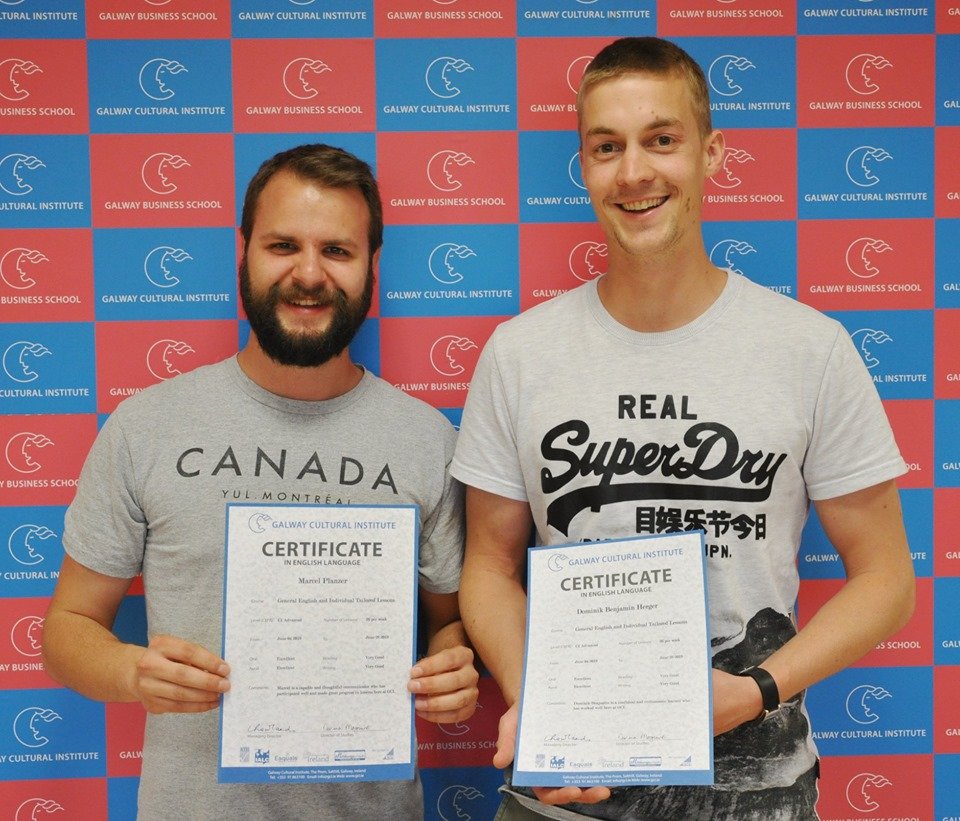 "She told us that Galway had the real Irish lifestyle while Dublin was more touristic! Also, I feel that this month in Galway has given us a real taste of the Irish lifestyle with the pubs and the restaurants. Over four weeks, I have never had a bad meal out here. The food has been amazing," says Marcel.
Dominick says he was also stunned by the quality of the food and the variety of the night life in Galway. He allowed Marcel to book the entire trip, including the accommodation, because he can be indecisive at times.
"It's a bit of a stereotype in our country or in the movies that the food is really bad in Ireland and the UK," he says. "But we thought it was amazing and very reasonable. We would eat out in Galway most nights because it was not so expensive! I am very happy that Marcel chose GCI and Galway!"
When he sat down with his agent in Switzerland, Marcel says that they looked through photos of Dublin and Galway. He decided to choose the smaller city.
"The agent showed me one or two photos from Dublin and Galway. I looked them up on the Internet. I trusted her a lot. She told me Galway had a great beer culture and the best street musicians. She said it was the cultural capital of Ireland and it sounded like a really good place to spend a month in. We were not disappointed," says Marcel.
Dominick particularly enjoyed chatting to students from places as diverse as Brazil, South Korea, Taiwan, Italy and Mexico at Pub Night every Wednesday.
"This four week course was the perfect mixture of studying and fun. At Pub Night we spoke to students from other countries and had lots of fun. I didn't know much about the CAE before and now I feel much more confident, thanks to the extra work we did with Aine," says Dominick.
"We also had some great days away, outside Galway, at the weekends. We went to the Cliffs of Moher and Connemara on tours organised through GCI. Both trips were really nice. We enjoyed being able to go on a day trip and then to the pub in Galway. I would like to stay a little longer. I wish it had been six or eight weeks, not four!"
The highlight for Dominick was the friendliness of the ordinary people they met during their time in Galway. And living in Galway for a month forced him to speak English every day.
"This is more intense than studying at home in Switzerland. I like mixing with students from other countries. Here, we were speaking English every day. I had a lot of good experiences here. The people of Galway have been so friendly all the time. I would say they are friendlier than the people back home in Switzerland," says Dominick.
Marcel agrees.
"I knew that the Canadians were friendly, but the Irish are on a whole other level. They are 'super friendly'. The school was really well organised and the private lessons in the afternoons were even better than we had expected. It was a very good experience for us on every level," he adds.
-- * Ciaran Tierney won the Irish Current Affairs and Politics Blog of the Year award at the Tramline, Dublin, in October 2018. Find him on Facebook or Twitter here. Visit his website here - CiaranTierney.com. A former newspaper journalist, he is seeking new opportunities in a digital world.
All photos by Ciaran Tierney Digital Storyteller