The Burren & the Cliffs of Moher
Galway city is perfectly located to give you a whole host of options when it comes to day trips. You will, like the majority of GCI students, take a weekend trip of two while you are here!
There are many tour providers who provide weekend travel options at reasonable rates for students. Popular tours will take you on a west or Ireland adventure to the Aran Islands, The Cliffs of Moher or Connemara. The coach trips are ideal for those who don't have their own transport and want to enjoy a relaxing day with their GCI classmates. You can book your weekend tour here with us at GCI. We only use the very best providers who are local history experts, good story tellers & are passionate about the region.
Other GCI students may opt to rent a car while they are in Ireland in a bid to explore the Wild Atlantic Way in an individual way - perhaps after their week of Cambridge or IELTS exam study they are looking for adventure! We would remind everyone planning to drive in Ireland that we drive on the left and every extra care to road safety should be taken.

For these students we have outlined a road trip guide to the Burren & Cliffs of Moher, we've included some well-known and some hidden gems for you to stop off at on your way to the Cliffs and also some fun facts about the areas that you will be passing through on your way to your destination.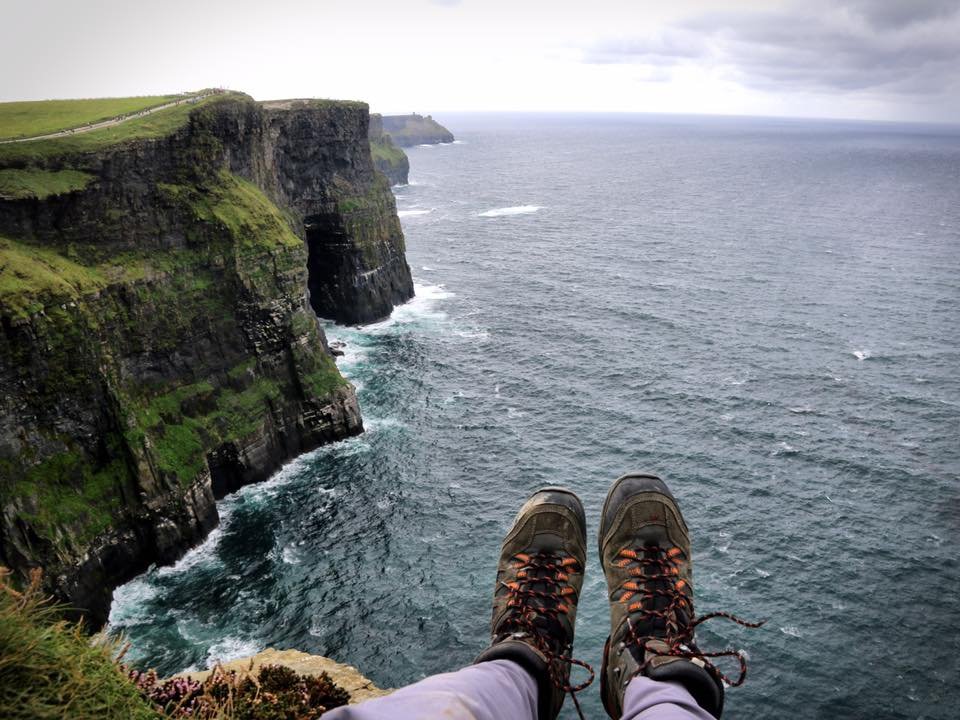 STOP 1: Clarinbridge
is all about oysters, that the world-famous Clarinbridge Oyster Festival was founded in 1954. Its Heineken-like catchphrase "probably the most succulent oysters in the world" is now relayed right across the globe. These days the festival is as much a social event as it is about food, and visitors come from far and wide to enjoy the colour and the fun. The rich oyster beds lie close by, caressed by the invigorating waters of Galway Bay (link to Salthill Galway Guide?). I highly recommend stopping off at Paddy Burke's to sample these famous oysters, you'' regret it if you don't!
STOP 2: Kinvara
is the gateway to The Burren (link to Salthill Galway Guide?) in County Clare. It is County Galway's only prominent sea village on the southern shores of Galway.
The Burren is a region of environmental interest primarily located in north-western County Clare, dominated by glaciated karst (or sometimes glacial-karst) landscape. It measures, depending on the definition, between 250 square kilometres (97 sq. mi) and 560 square kilometres (220 sq. mi).
A part of the Burren forms the Burren National Park, the smallest of the six national parks in Ireland, while the full Burren and adjacent territory including the Cliffs of Moher are included in the Burren Geopark.
Situated at the head of Kinvara Bay, it once was a thriving port to which the necessities of life, such as turf fuel, were brought by the traditional Connemara sailing craft called Hookers in the 19th century. Cruinniu na mBad, is sea festival organised by the village, which sees the old boats compete in a host of exciting races and events. This year's event will be on 13th-15thAugust.
Kinvara's Dunguaire Castle is one of the most enchanting and picture-perfect castles in the West of Ireland and, with the added appeal of its waterside setting, it is also one of the most photogenic. Kinvara Castle has a curious and colourful history, having changed hands many times since it was first built in by the O'Hynes in 1520.Medieval-type banquets are held each summer in this old 16th century tower house. You can enjoy the very same kind of food, merriment and music, and experience as times gone by. Guests can enjoy a night of feasting, Music, and local micro-brewed "mead".
STOP 3: New Quay
Situated on The Flaggy Shore, which is a famous location due to its connection to two of Ireland's most renowned poets, Seamus Heaney and W.B Yeats. You will see when you arrive there why. The panorama of the bay and the majestic Burren will take your breathe-away.
This is one of my favourite places in The Burren for three reasons- chocolate, seafood and ice-cream. In this small area, there are some of the finest examples of Irish produce available to taste and purchase. Firstly, I would begin with a scrumptious lunch in Linnane's Lobster Bar, which is featured in The Michelin Eating Out in Pubs guide, it's that good but not over-priced as you might expect.
Then for dessert I would opt for Linnalla's Café, where the best of freshly made ice-cream with some unusual flavours such as locally sourced gorse and produced with milk and cream straight from their own farm.
Finally, for some treats for the rest of the trip, my last recommendation would be to check out Hazel Mountain Chocolate. They do have a small store next to Charlie Byrne's Bookstore but their shop and tearoom are worth visiting if you have some time spare. They also do tours and workshops in their factory next-door.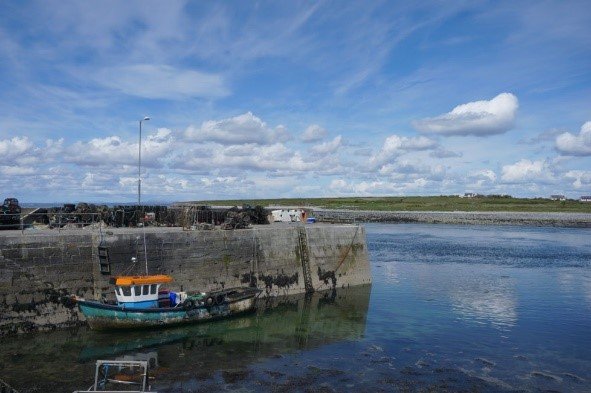 STOP 4: Poulnabrone Dolmen
This archaelogical site is one of the most ancient and entracted structures in Ireland, built by the Neolitic farmers who lived in the area at the time between 4200BC and 2900BC. It is usually refer to as a dolmen or portal tomb. There is carpark close to the site and place respect the area and do not go passed the barrier.
STOP 5: Lisdoonvarna
is a spa town of 739 people in County Clare. The town is famous for its music and festivals. Although the music festival was discontinued in the 1980s, Lisdoonvarna still hosts its annual matchmaking festival each September. In September each year one of Europe's largest matchmaking events is held in the town attracting upwards of 40,000 romantic hopefuls, bachelor farmers and accompanying revellers. The month-long event is an important tourist attraction. The current matchmaker is Willie Daly, a fourth-generation matchmaker.
FINAL STOP: The Cliffs of Moher
Finally we've reached our destination The Cliffs of Moher, which are sea cliffs located at the southwestern edge of the Burren region in County Clare. They run for about 14 kilometres. At their southern end, they rise 120 metres (390 ft.) above the Atlantic Ocean, and, eight kilometres to the north, they reach their maximum height of 214 metres (702 ft.) just north of O'Brien's Tower, a round stone tower near the midpoint of the cliffs, built in 1835 by Sir Cornelius O'Brien, then continue at lower heights.
From the cliffs, and from atop the tower, visitors can view the awesome panorama of the Aran Islands in Galway Bay and the Twelve Pins mountain ranges to the north in and Loop Head to the south. The cliffs rank among the most visited tourist sites in Ireland, with around 1.5 million visits per annum
When you are ready to head homeward I would recommend that you take the coast road home so that you can enjoy the stunning landscape of The Burren in all its glory to your right and the fantastic seascape of the Aran Islands and Galway Bay to your left.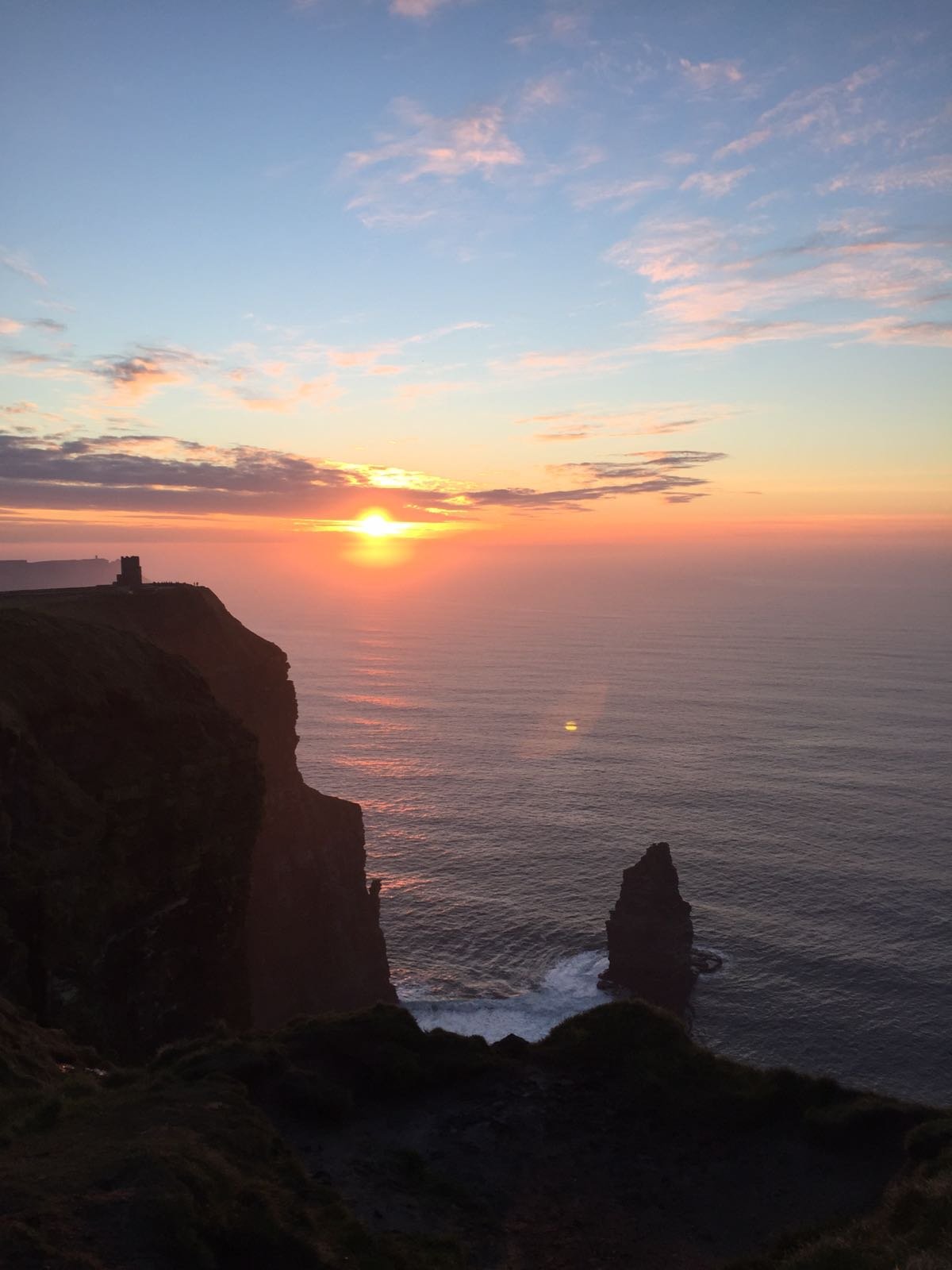 Location
Address
The Cliffs of Moher, County Clare