Public Transport in Galway
The public transport system in Galway is quite good. Between the two bus companies, Bus Eireann and City Direct, the city has plenty of options for getting around.
On the ground floor of GCI, you can find a noticeboard which has a full timetable of the buses in Galway
Bus Eireann
Bus Eireann is the national bus company and provide many long distance routes around the country as well as short routes through Galway city centre and suburban areas. The standard cost of a fare at the time of writing is €2.70 for an adult but students avail of discounted rates with a valid student card.
Main routes for Bus Eireann
401 - Salthill
On weekdays and Saturdays, the 401 goes every twenty minutes and every fourty minutes on Sundays.
402 - Knocknacarra, Shangort Road
On weekdays and Saturdays, the 402 to the Shangort Road and Seacrest goes every thirty minutes and every sixty minutes on Sundays.
405 - Knocknacarra, Rahoon
Weekdays and Saturdays, the 405 goes every twenty minutes and on Sundays, every fourty minutes.
Head over to the Bus Eireann website for a more details on timetables and fares.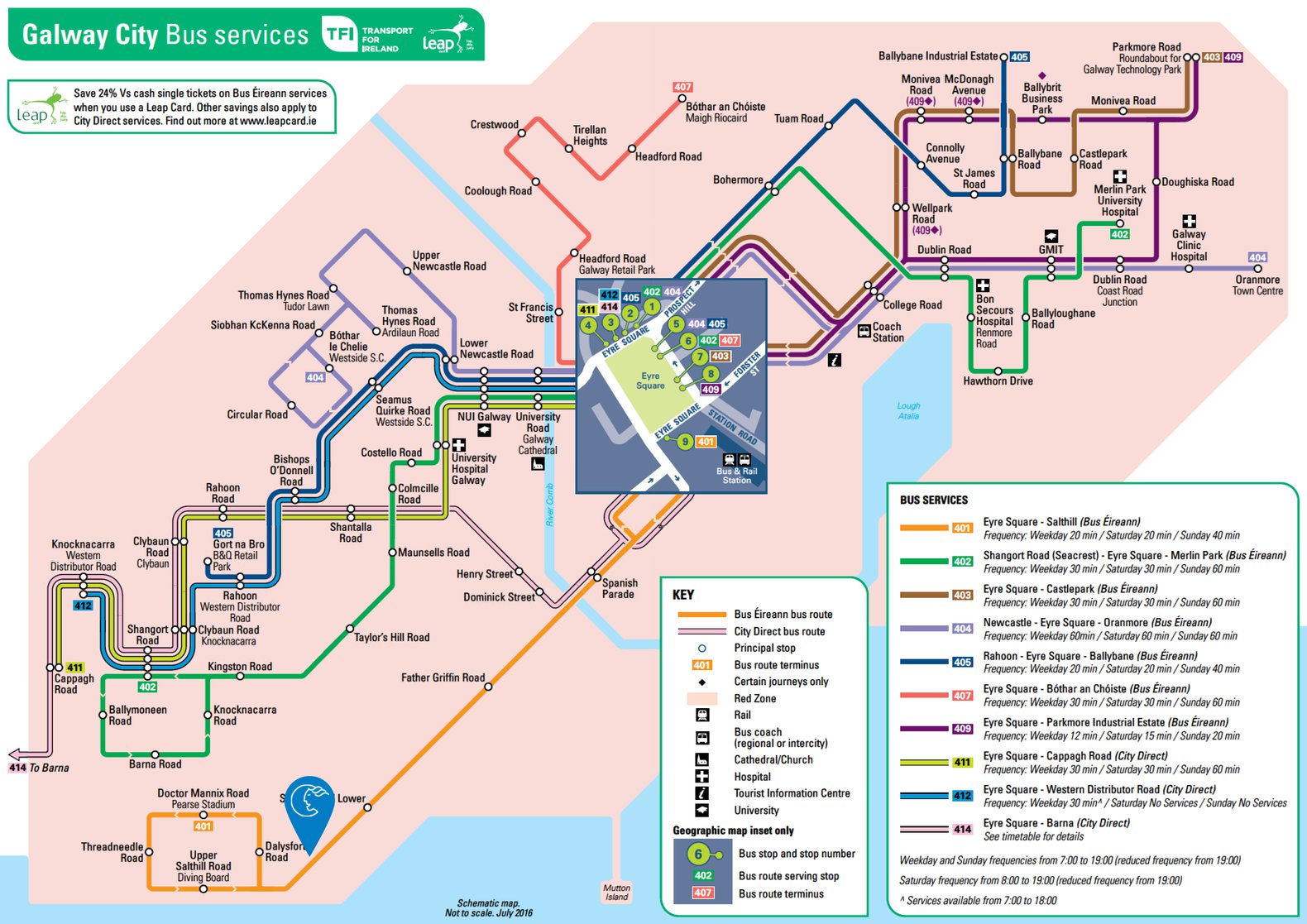 City Direct
City Direct have much less routes around Galway city but a lot of the routes go to the Knocknacarra and Rahoon areas, where there are some of our host families. The City Direct prices are much the same as the Bus Eireann, although they do offer a discount card that will allow its holder to get discounted rates.
Main routes for City Direct
411 - Knocknacarra, Cappagh Road
Weekdays and Saturdays, the 411 bus runs every thirty minutes and on Sundays it runs every 60 minutes.
412 - Knocknacarra, Western Distributor Road
On Weekdays, the 412 runs every 30 minutes and there is no bus on the weekend.
414 - Barna
For the 414 bus, please see the City Direct timetable through their website for more information.
Head on over to City Direct's website for more information on timetables, routes and fares.