06 September 2021
Following the latest correspondence received from the Irish government re Resumption of In-Person Activity, Galway Cultural Institute intends to resume in-person activity for existing students from the week commencing the 9th August 2021 on a phased basis with a full resumption of face-to-face delivery from the 6th September 2021.

GCI will be following strict public health protocols as before with mask wearing social distancing and a one-way system and you can find full details of current ELE COVID Safety & Travel Protocols and in our GCI Student Guide
19 July 2021
The government has announced that Ireland will allow international travel from 19th July 2021 when Ireland signs up to the EU Covid-19 Cert also known as the "EU green cert", though the existing Government advice to avoid non-essential travel, and the related penalties that come alongside that, will remain in place until 18 July.
Read more here.
30 March 2021
The government announced a phased easing of public health restrictions, starting on the 12th April. Although April 5th was marked as the date for easing restrictions, Government have now changed it to the 12th April.
The measures announced will continue up to the 4th of May, at which point the situation will be revised and further areas of activities will be taken under consideration. If you would like to read more details of the phased reopening on the official government website.
Immigration Permission
The Minister for Justice has today announced a further temporary extension of immigration and international protection permissions to 20 September 2021. This applies to permissions that are due to expire between 21 April 2021 and 20 September 2021 and includes permissions that have already been extended by the previous 6 temporary extensions.
"It is intended this will be the final temporary extension of immigration permission, however we will continue to keep the situation under review as part of our national response to the pandemic."
Read full announcement here.
25 February 2021
The government has today decided to extend current level 5 restrictions until 5th April 2021.
Taoiseach Micheál Martin has unveiled the Government's revised plan for managing the coronavirus pandemic and leading the country out of lockdown in the months ahead. The plan, titled Covid-19 Resilience and Recovery 2021: The Path Ahead, sets out how in-school education and childcare services will be reinstated in phases from 1st March 2021.
15 January 2021
The Irish Government has announced the extension of the requirement for a pre-departure negative/not detected PCR tests to passenger arrivals from ALL countries from Saturday 16 January 2021. The test must be taken within 72 hours prior to arrival.

From midnight, all passengers arriving into Ireland must carry a negative ("not detected") result from a PCR test for Covid-19 taken within the previous 72 hours.
Latest official communication available here.

The information received form the government advices that prospective students seeking to enter the State should wait until in-person tuition has been resumed and student should postpone their travel plans until it is safe to travel. Failure to do so may result in students being refused permission to land in Ireland and refused registration.
Level 5 restrictions will remain in place until midnight on 5 March 2021. Classes will be delivered online until this time.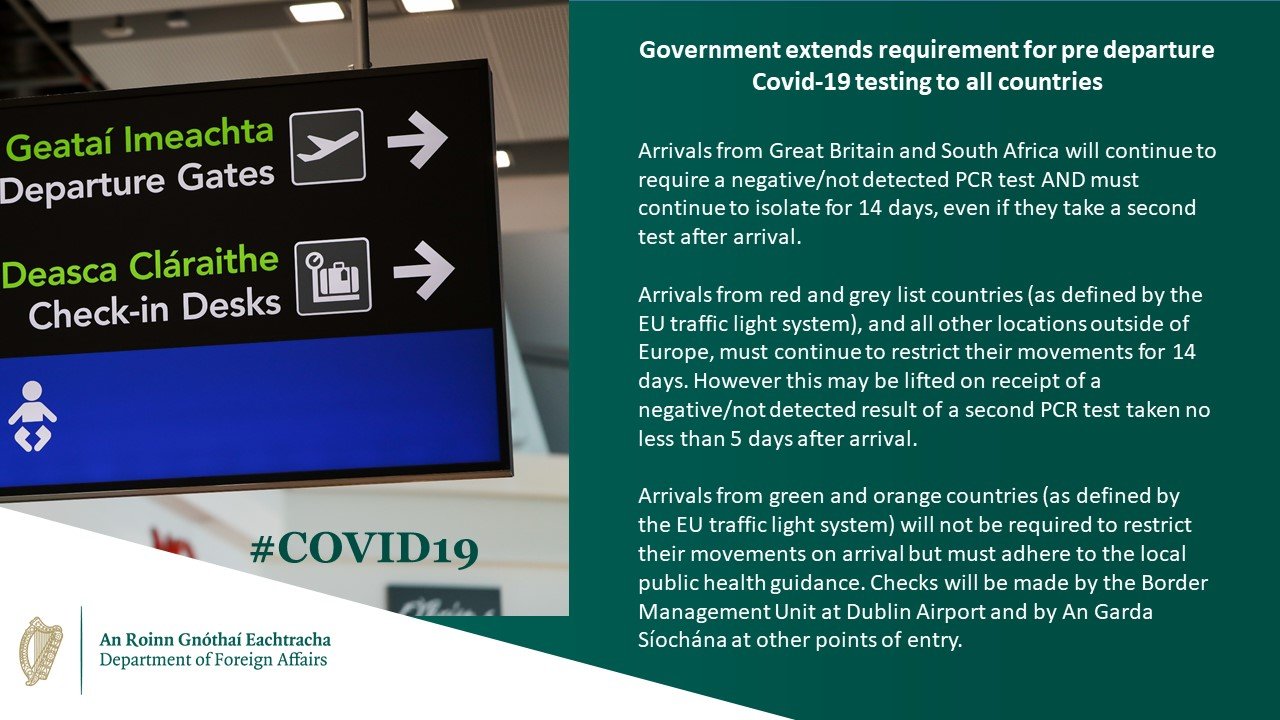 31 December 2021
Yesterday evening, the Irish government have moved the country to Level 5 in order to best protect everyone and reduce the risk of further transmission of the virus. Level 5 restrictions will remain in place until midnight on 31 January 2021.
The levels are all a part of the Resilience and Recovery 2020-2021: Plan for Living with COVID-19 (see more about this framework here). We are hopeful that such measures will protect everyone in Ireland.
Due to the current government guidelines, all GCI classes will be online from Monday January 4th until such time as the current level is lowered. All classes will be accessible via Moodle as before and all students have been notified by email.
01 December 2020
Presently, there is a change to the level status in Ireland and, from 1st December 2020, the country moves from Level 5 to Level 3 (with some exceptions) under the Government's Resilience and Recovery 2020-2021 Plan for Living with COVID-19. This new level allows for adult education, which includes English Language Education, to open with protective measures and limit congregation as far as possible.
Therefore, we are happy to say that we can return to face to face classes from 7th December until our school closes for the holiday period on December 18th. The school will be closed during the festive holidays from 21st December 2020 until 3rd January, with classes resuming on 4th January 2021.
20 October 2020
Ireland will move to level 5 from 21st October Wednesday at midnight. Restrictions will be in place for six weeks.
The Department of Further and Higher Education, Research, Innovation and Science have confirmed that English Language Education (ELE) providers fall under the higher education umbrella and classes are to be moved online. The framework was complemented by yesterday's announcement that, while schools remain open, higher and adult education providers should move to primarily online with exceptions only for essential activities.
GCI will move to online class delivery for the following six weeks starting on Thursday 22nd October. This is an exceptional, short term and temporary measure due to the COVID-19 pandemic. Once restrictions return to level 3 or lower, the criteria of in-person tuition will reapply.
12 October 2020
Galway Cultural Institute is delighted to confirm that all morning classes will be delivered in the building from October 12th. This is in line with current Government and Immigration recommendations and guidelines.
For the safety of both students and staff, we have opted to run all morning classes on a Monday to Thursday on a trial basis for a period of three or four weeks initially. We will then review this timetable.
All new classes timetables will be available on Moodle from Thursday, October 8th. All classes will remain in the morning time with different classes starting at different times. The start times will be 08.45 / 09.00 / 09.15.
As we are moving into Level 3 of the Irish National Framework for living with COVID-19, there are increased measures across many sectors. The National Framework has been designed to help us go about our daily lives as much as possible while managing the virus.
Please remember to follow all the school and national guidelines carefully to keep each other safe. We must all take a little extra care in these times- take care of yourself, take care of others & we will all get through this time.
Further immigration permission updates are available here.
GCI Re-opening 31st August 2020
We are delighted to announce that following the temporary closure due to the Covid19 crisis, we will begin a soft and cautious reopening of the school during the month of August.
The safety of our students is our main priority so we are currently working on guidelines for reopening, and will adhere to all health and safety protocols, as outlined by the Irish government. We will take a soft and prudent approach to welcoming back our students and staff. We will update you as soon as we have this information available.
The face to face classes will resume on the 31st August 2020. Read our blog about the changes we brought to ensure health and safety guidelines are followed.

Thank you all for your patience and support! We can't wait to welcome our students back!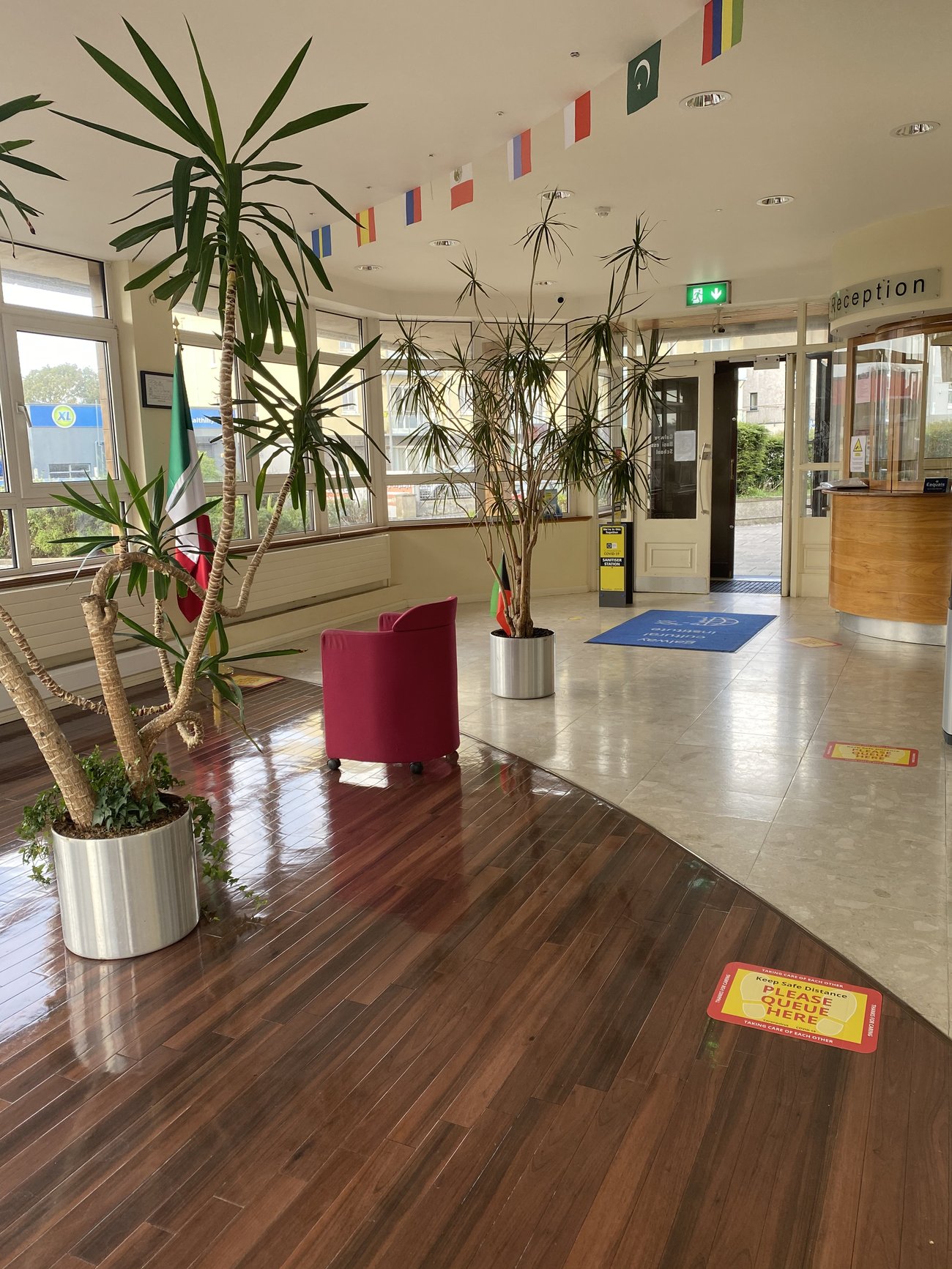 Temporary School Closure - Coronavirus (Covid-19)
16 July 2020
Minister McEntee announces further temporary extension of immigration permissions. The Minister for Justice and Equality has announced that immigration permissions, due to expire between 20 July and 20 August 2020, will be automatically extended for one month.
For international English Language Students, the extension means that they may continue to work if they wish, but must also re-enrol in an on-line course of study to adhere to the conditions of their permission. Failure to re-enrol in a course of study may result in a subsequent application to register being refused.
30 June 2020
If you currently hold a study visa and have questions about your status, end date or renewing, we recommend that you consult the INIS website and their very informative Frequently Asked Questions Document from INIS regarding New COVID-19 measures for Immigration.
http://inis.gov.ie/en/INIS/Immigration-Service-Delivery-Covid-19-FAQ4.pdf/Files/Immigration-Service-Delivery-Covid-19-FAQ4.pdf
COVID-19 Pandemic Unemployment Payment Confirmation
If you are currently in receipt of the COVID-19 Pandemic Unemployment Payment we now need you to confirm your continued entitlement to this payment.
If you don't confirm your payment may be affected.

15 June 2020
Please note that while INIS offices may be closed at this time, the conditions of your visa permissions remain the same. It is very important to note that any automatic renewals in this period are on the same basis as the existing permission and the same conditions attach. For students, this means you will be able to continue to work if you so wish but you must also re-enrol in a course of study.
If your permission was automatically renewed by two months, you must re-enrol in a new course. This must be done as soon as the previous course is completed and means you cannot have any 'gap' between your enrolments . Failure to do so will be considered a breach of the permission which may result in your future registration being refused.
Also a final reminder to anyone in the State awaiting their first registration (those of you who could not register due to Immigration offices being closed) . You should already have applied to the Registration Office to request a letter confirming your permission to remain in the State and the conditions attached. All required documentation (see website for details) should be scanned and included in the application email. All eligibility criteria will continue to apply. Applications may be submitted electronically to the Registration Office, Burgh Quay, Dublin (bqregofficeapplications@justice.ie)
If you have any questions about this please let us know, we have Student Meetings every week which you can access through Moodle or you can contact us by email. INIS also have a very comprehensive Frequently Asked Questions document with a specific section on Students from page 6 onwards.
21 May 2020
In light of the uncertainties caused by the COVID-19 pandemic and the difficulties some people can encounter due to not having an IRP card, the INIS website has updated the information applicable for international students.
The statement released last week confirmed that all visa students should be enrolled in a language course to meet the criteria of their visa and immigration status. The renewal of permission is on the same basis as the existing permission and the same conditions attach.
For students, this means you will be able to continue to work if you so wish but you must also re-enroll in a course of study. This must be done as soon as the previous course is completed and failure to do so will be considered a breach of the permission which may result in your future registration being refused.
Read frequently asked questions here.
7 May 2020
On the 1st of May 2020, the Irish Government outlined a comprehensive plan for the re-opening of businesses and society on a phased basis between May 18th and August 10th.
These measures are set to come into effect on 18th May. They are a part of the roadmap for reopening society and business and will only come into effect if the medical advice from the National Public Health Emergency Team says that it is right to do so.

According to announcement, language schools must remain closed to students until Stage 5 which sees the gradual re-opening of most businesses in Ireland. These measures are part of the fifth phase of lifting the public health restrictions that were put in place to protect us all from COVID-19. This stage will commence on the 10th August 2020.

You can read full details here.
While schools remain closed, we are continuing to run our range of online programmes for our students.
We remain committed to providing excellent support, tuition and care for our students.
10 April 2020
The Irish government has just announced further measures for the containment of Covid-19.
Galway Cultural Institute has followed all health and safety guidelines as issued by the Irish Government since the beginning of the outbreak. In compliance with the directive of the Irish Government of Friday 10th April, the restrictions already in place have extended hence the school remains closed until 5th May 2020.
For further information on the directive click here.
Schools will now remain closed until further notice and all teaching has been moved online.
Students currently attending a course at Galway Cultural Institute can continue to avail of our online material.

We remain committed to the delivery our online lessons and to provide any support you may need during this time.
Our staff will get in touch with you directly if you or your students are due to start a course in the weeks between now and 5th May 2020. Alternatively, please contact us at info@gci.ie.
24 March 2020
The Government of Ireland extended the school closures until 19th April.
Students currently attending a course at Galway Cultural Institute can continue to avail of our online material.
For any questions please contact info@gci.ie
For further information from the Department of Education click here.

20 March 2020
Immigration Permission
The Registration Office at Burgh Quay and all Registration Offices nationwide (including Galway Immigration Office) have closed as of the 20th of March 2020 until further notice.
The Immigration Service Delivery website contains a notice setting out the measures for Immigration and International Protection permissions to reside in the State that are due to expire between 20/3/2020 and 20/5/2020.
All such permissions that are due to expire from 20/3/2020 to 20/5/2020 are automatically renewed by the Minister for a period of 2 months.
This applies to:
Student permissions
Working Holiday Authorisation
Short-stay permission, for those who are unable to leave and return home due to the pandemic
(What this means in essence is that if an individual's permission is due to expire between the 20/03/20 and the 20/05/20 then they will receive an automatic 2 month renewal of their current permission i.e. Person A has a Stamp 2 permission due to expire on the 10/04/2020 – their Stamp 2 permission is automatically renewed until the 10/06/2020 – they are not required to do anything (they do not need to attend a Registration Office to have their Passport stamped and they do not require a new IRP Card and there is no fee!).
We, at Galway Immigration Office, will try to keep you up to date on any further developments and feel free to contact us by e-mail.
Individuals affected should be advised to direct all queries to burghquayregoffice@justice.ie or you also may contact Gaillimh.Immigration@garda.ie.
12 March 2020
School Closure - Coronavirus (Covid-19)
Irish government emergency measures 12/03/20
The Prime Minister of Ireland this morning made an announcement regarding Covid-19:
"Our own National Public Health Emergency Team met last night and has issued new advice to Government. We are acting on that advice today. […] So, from 6pm today, the following measures are being put in place. They will stay in place until March 29th. Schools, colleges, and childcare facilities will close from tomorrow. Where possible, teaching will be done on-line or remotely. Cultural institutions will close."
The "unprecedented measures to protect public health", include the closure of language schools
All schools in Ireland (including English Language Schools) have been directed by the government to close starting from today, March 12th at 6pm.
Taoiseach Leo Varadkar TD announced today the closure of schools, pre-schools and colleges to support efforts to contain the spread of Covid-19. This will take effect from 6pm this evening, Thursday 12 March and it will remain valid until Sunday 29th March.This is in line with the advice of the National Public Health Emergency Team.
All pupils and students, from pre-school to third level are urged to practice social distancing, and to minimise physical contact with each other, to help avoid the spread of Covid-19. This should include minimising social contact, avoiding meeting up and keeping physical space between them.
Covid -19
We are all concerned about the spread of the virus and are adhering to the guidelines set out by government concerning those areas that are within our control. The situation is a concern, but it is important not to panic.
At Galway Cultural Institute, our students' safety is extremely important to us. So, if you decide to return to your home country earlier than planned/ during the time of school closure, please inform us by email to info@gci.ie.
Up to date health advice information & updates are available:
Irish Government (Ireland)
Irish Health Service Executive (Ireland)
For further guidelines from the Irish Health Service Executive, see the following link:
https://www2.hse.ie/conditions/coronavirus/coronavirus.html