Online English Classes - Frequently asked questions
Online classes frequently asked questions
Thinking about online lessons? Not sure how exactly it works?
We understand that it is important to have as much information as possible before starting your GCI online course - so let's get to your most common questions:
How is the teaching structured, we just need to listen or also speak a lot?
The classes are very interactive and developing communication skills is a priority. Of course, you will also have opportunities to listen and read.
Students work in groups and pairs throughout the GCI online lessons and there is a lot of speaking with other international students of the same level.
We also run a weekly Conversation Club on Tuesday afternoons where students get more speaking practice with supervision from a GCI teacher.
How does the class take place? Do we simply log in and see all students and the teacher and start with the course?
The online classes take place live on Zoom – you can see and hear your teacher and classmates (see the photo of a recent class below)
Zoom has a number of very useful features and is very user-friendly after you have one lesson or two you'll know everything about it!
GCI Online classes are entered via a link for your level e.g. A2 GCI Online Class on our e-learning platform.
The short introductory GCI Online Learning Platform video can be watched before your first lesson
We create a student account for the e-learning platform using your email address and then you log in for classes each day – Easy peasy!
The platform is the one-stop-shop for everything. Join your online lessons, Get your homework, Review your class materials, Take part in school activities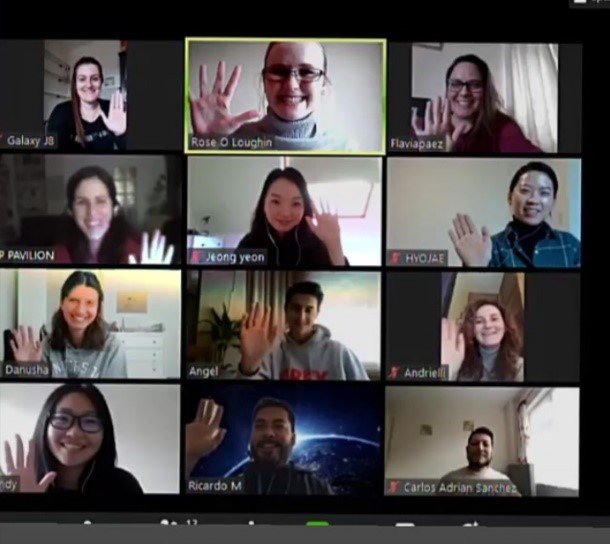 Do we get any online exercises?
Yes, the GCI e-learning platform includes access to extra materials for Grammar, Vocabulary, Reading, Listening in addition to any extra resources your teacher includes.
Students may of course request extra materials from their teachers during class time if the need arises. We also have a free GCI Student Activity programme where students can attend Conversation Club , Irish Culture Lesson and other Academic Workshops every week
What about homework?
Teachers will give homework during the online classes and where necessary put homework files on the platform each day.
Do we have access to documents that we can edit?
Any homework files or files on the e-learning platform can be downloaded.
Some files are very easy to edit e.g. Word files while some may not need to be edited e.g. pdfs.
What happens if we need to ask questions about our courses or extending our course?
We have GCI Student Meetings where students can come and ask us any questions they may have. You access them via the GCI platform.
Alternatively you can pop us an email!
If the level is too easy or too difficult we will change this quickly -of course, we recommend that students give the class a chance for a day or two before deciding on this.
Do you have any questions for us? Contact us below.