How To Be A Good English Teacher: 10 Skills That Will Make You The Best
English Language
How To Be A Good English Teacher? 10 Must-Have Skills
Posted 30 March
We have revisited this blog article due to its popularity and constant high rankings in Google searches and enhanced it with some additional relevant content for our readers. Teachers are constantly revisiting teaching materials and reconsidering their teaching techniques in order to deliver effective teaching in todays everchanging world, so it feels only natural that we revisit, review and improve on our own recommendations.
If you are a non-native speaker of English who is looking to feel confident, clear and proud when speaking English, your teacher is your most important asset, besides the quality English school you have already chosen we guess after elaborative research. Have you ever taken English classes and you felt that you're wasting your time? Or not making any progress? A student knows and feels if they are learning English with the right teacher for them and if they are getting the best our of that training.
So, what are the main qualities of a good English teacher? In our opinion, they include great communications skills, confidence to deliver a great lesson plan, not being afraid of the challenges that come along with an engaging audience or the ability of showing empathy and patience to learners. All teachers should be passionate about their work and versatile but also should be able to connect, empathise with students and inspire them. Teaching English as a foreign language requires an excellent understanding of both verbal and non-verbal communication and maintaining student engagement. Students attending your class should feel a bubbly excitement of success and improvement and have clarity on what is expected of them or areas of improvement needed. Good teachers will empower students and make them feel great about themselves and tap on their strengths and weaknesses alike with a clear view on how to improve. Students need guidance, direction and the opportunity to practice in order to improve themselves. There isn't just one method of teaching English and a good teacher will adjust the lesson plan, the topics, the method, the synergies in order to get the results, the students are looking for.
Enjoy the republished updated version of the article!
So you want to be a good English teacher? That's great! Working to be the best English teacher you can is not only a great investment in your career, but will help all the students you teach.
Nobody forgets a great teacher. So whether you want to be a general English teacher, teach other subjects in English to university level or be creative with younger learners, make sure you've got all the skills you need. Why not come and do your teacher training in Galway, Ireland, where we can offer everything you need to become a good English teacher? And if you're already a good English teacher - we can help you become even better!
Read on to find out about 10 skills that every good English teacher needs - and how to get them.
10 Skills That A Good English Teacher Needs
1. Excellent English pronunciation, vocabulary and grammar skills
It sounds obvious, but once you start work teaching in English you need to keep on improving your own language skills. Your students need to be able to understand what you say and trust your grammar. Sometimes teachers don't get helpful feedback from their managers about this to support them to improve. Here at the Galway Cultural Institute, all our English teacher training courses include intensive lessons in pronunciation, grammar and vocabulary.
2. Confidence and skills to give motivating and interesting lessons to your students
Teachers are a bit like actors. You have to put on a show to get your students focusing on your lesson and keep their interest. Some people can feel very uncomfortable doing this. So our courses will give you the skills to keep your students learning, and the confidence to use them.
3. Develop your own teaching materials
You may be teaching English from course textbooks right now, but you'll want to find ways of developing material to use in class which will engage and challenge your students at some point. Teachers who create great materials are popular with their students and get great feedback.
4. Assessment
Good English teachers are great at assessing the progress, strengths and weaknesses of their students. Only by assessing students properly can teachers help them to fill gaps in their knowledge and help them to learn best.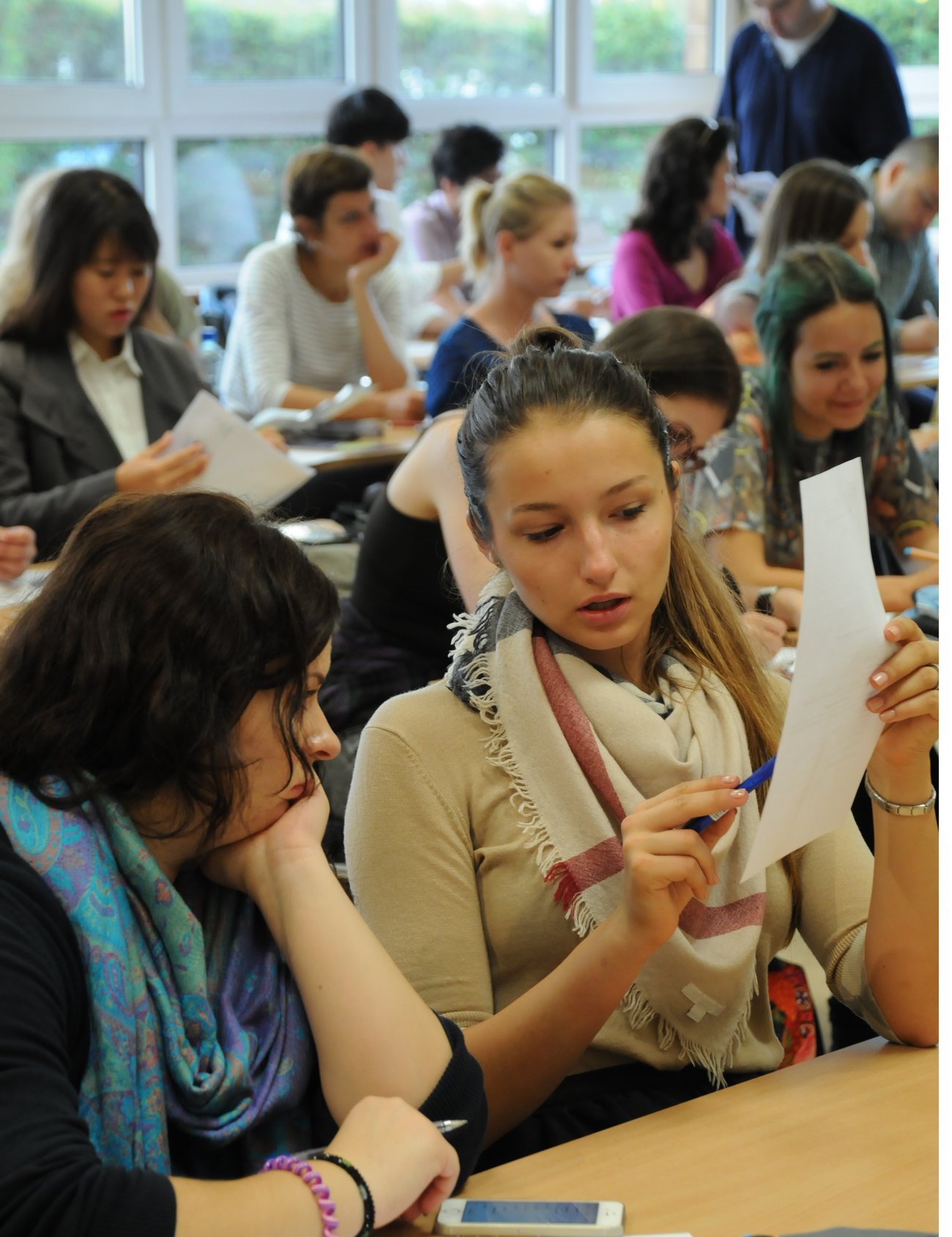 5. Reflecting on your own practice and micro teaching
Good English teachers keep on getting better throughout their careers. You can do this by reflecting on your own lessons and practice, and also by micro teaching, which we do to help everyone on a teacher training course here at the Galway Cultural Institute. We record you teaching, and you'll review it with peers and our teachers to find out what you did well and what could have gone better.
6. Mastery of your subject
If you're teaching specialist subjects in English, you need the vocabulary to be able to enthuse students and help them learn, whether in science, maths, history or geography. We can help you learn some practical tasks and activities to use in the classroom, and vocabulary that you can use in any lesson, and also how to source and adapt material to use in CLIL sessions
7. Use technology in the classroom
Interactive screens, websites and apps are part of a teacher's job. It's vital to be able to use them properly and help students to do so. It's also important to be able to support colleagues in the staffroom to use technology well. Our English and Technology course is for all teachers who want to improve their skills using technology.
8. Keep up to date with the latest methods and theories for English teachers. Pedagogy - the art of teaching - changes all the time, as research tells us how students learn best. If you want to be a good English teacher, it's important to keep on learning about the latest theories on teaching and use these to update your practice. It's a good idea to subscribe to research blogs and websites, and if you join any of our English teacher training courses you'll learn more about the latest thinking.
9. Gain new practical skills
Set yourself apart from other English teachers by having a useful specialism that could be in demand where you'd like to work. For instance, our Teacher Training - Drama Music & Culture Programme will equip you to introduce these skills in a primary school English language classroom. Your pupils can be learning English whilst acting or improving their music.
10. Get equipped to teach at the right level
Lecturing and running seminars and tutorials at university is very different to teaching young children, and requires a whole different set of skills. You might have to give lectures and presentations, create academic documents and understand how to write articles for publication, and our Erasmus+ General English + Academic Writing & Presentation Skills programme is designed to help non-native English speakers teaching in English to do all of this. You'll also get knowledge and skills you can share with students and colleagues, and use to move on in your career.
Get those skills: how to be a good English teacher
You can, of course, improve some of these skills for yourself. You can join professional groups, sign up to CPD blogs, work with senior staff and peers in your school to reflect on your teaching and get better. And it's important to do that to keep on improving in your career.
But taking a short general English teacher course in as little as a week or two can do so much more for you. Teacher training in Ireland can give you a good start in learning new skills, improving existing ones and learning how to work with your peers.
At the friendly Galway Cultural Institute we've got everything you need to become a good English teacher - or a better one! We've been teaching English for 30 years, inspiring students from 30 different countries in that time. We've got the expertise to answer all your questions and make sure you make the most of your time here with us.
Teacher training here in Ireland offers you the chance to get better at your job in a week or two weeks. Whether you're looking for a CLIL course for teachers, a course focusing on general English and technology, you want to teach in English at university or want to be creative with English in the primary classroom, our teacher training in Galway offers all the skills you need.