Exam focus: 3 Ways to improve your English writing skills
English Language
3 Simple Ways on How to Improve Your Writing Skills
Posted 10 December
If you've got an English exam coming up soon, you're probably starting to think about any extra tips or tricks that might help you on the big day! Perhaps you're thinking about how to improve your English speaking, how to improve your English vocabulary or even how to improve your English grammar!
So, you're already writing. But, you are wondering, how to improve your writing skills. To help you, here are some tips you can adopt in your writing process to help you improve your writing and become more confident.
The following tips will be useful for any English exam like Cambridge Advanced, IELTS, Cambridge First (FCE) or perhaps you're taking a business English course and are interested in the Linguaskill exam - either way the tips below should help!
The number one tip of course when it comes to English writing is PRACTICE – practice make perfect and even if your writing doesn't reach perfection, practice will certainly make it better!!
Clear communication is generally the goal for real-life English writing - not absolute perfection – your emails at work may have a spelling error or two especially if you're typing quickly but as long as the message is clear, all is well ! However, when we come to exams and exam writing, our focus is somewhat different - we want to know how to write well in English, how to score higher in IELTS writing test, or perhaps how to impress the Cambridge examiner!
Here are some of our top tips from teacher and students on how to improve your writing for exams:
1. Organise your work
Unlike English conversation class where other people can see your face, gestures and understand your intended meaning, writing is quite different. We must use every means we can to ensure our ideas and points are logically presented.
In short, we must write well, but also make our writing easy to read! This is why being aware of text conventions is so important and asking ourselves:
How is this kind of text usually organised?
Are paragraphs used?
Are headings necessary?
In this way we can present our writing in the expected format. This is very easy to do, but perhaps because people are under exam conditions, sometimes people forget the easy things like using paragraphs!
Another point to consider, for example in essay writing, is knowing how to develop your point. Rather than having too many ideas in a paragraph, it's often better to develop one idea and give supporting examples before moving on to a new paragraph.
The best way to achieve this is by spending a few minutes planning before you begin to write:
Get your ideas and thoughts together first
Take a deep breath
Start
Again this will make it much easier to read your essay and with exam writing, we want to keep our examiner as happy as possible, right?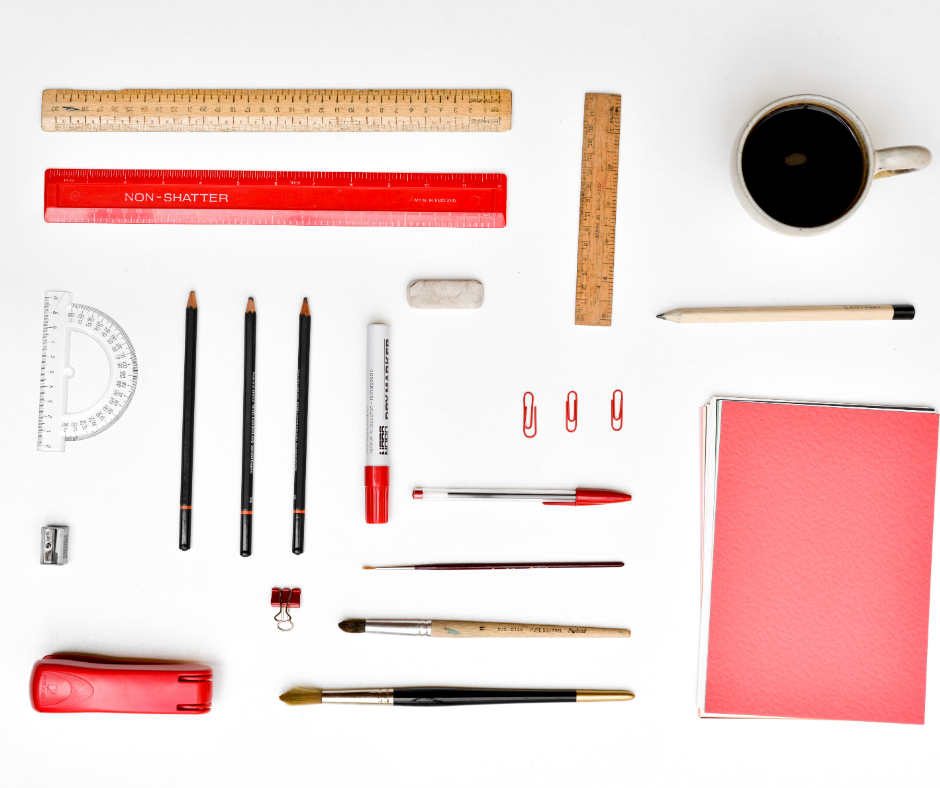 2. Avoid repetition and use your synonyms
A second pitfall is using the same words multiple times in your writing.
Perhaps, for example, in your IELTS writing you use the word because three times in a text – STOP IT! This is a missed opportunity to use your synonyms and increase the range of vocabulary in your text.
You could use three different words here and show the examiner more of what you know! So for instance instead of repeating the same basic word because aim to use alternatives such as: since; as; due to.
Of course, the alternatives will depend on whether you are writing formally or informally, but the simple action of avoiding too much repetition should really improve your writing.
Watch out for the small words - and, very, so – can you think of alternatives for these words?
3. Let the examiner see what you know – show off a little!
Occasionally, when we write, we are so focused on completing the task we use the structures that are most common, For instance, we might opt to use simple forms of the present and past. While this is perfectly effective and correct, it doesn't show the examiner the range of structures you've mastered in English.
In other words, sometimes with writing we need to show off a little, show the examiner what you know, increase the complexity of your text by using more complex forms and structures to replace our favourite sometimes 'easier' forms.
In order to do this some Cambridge and IELTS exam candidates like to create a writing checklist – this is a useful list of the structures you want to include in your writing – perhaps you feel more confident on these structures and want to have at least one example in your Cambridge or IELTS essay – so having a checklist in your mind means you won't forget!
When you begin your writing exam, you can take 30 seconds to jot down our list from memory and then begin your writing exam. Perhaps it will look something like this: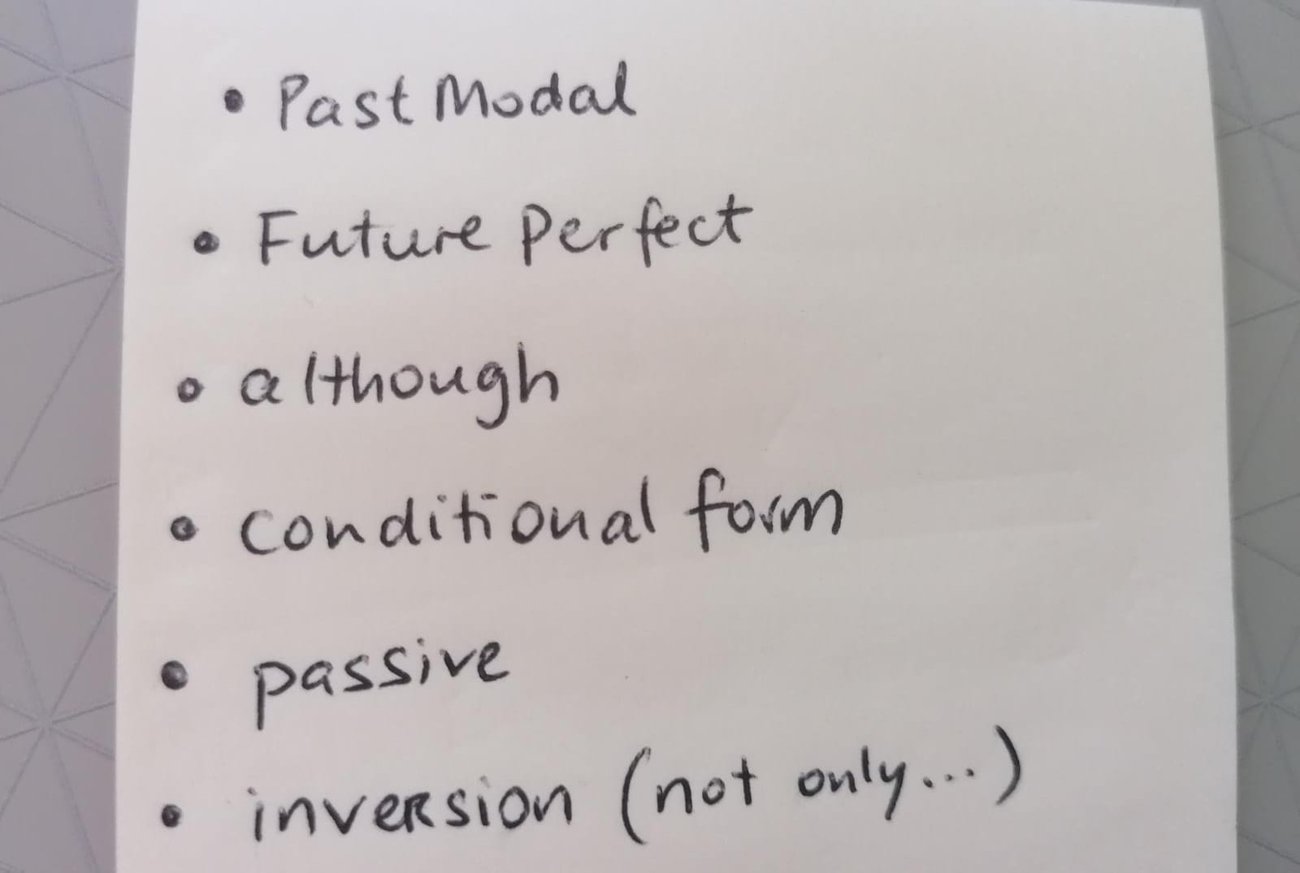 After you've planned what you'll write and how you'll organise your ideas, you can incorporate a structure as you write. This will definitely take practice before it feels completely natural, but rest assured after you try it a few times it'll be second nature! And before long, you'll see a marked improvement in the complexity of your writing!
I'm sure you'll agree that this kind of blog is good for all students of English:
who are learning English as a second language
who want to focus on English speaking courses online
who want to know how to learn English grammar online
who maybe just want to learn English vocabulary
and even those who want to learn English in Galway but perhaps have to wait a little longer before they can make their trip here to the Wild Atlantic Way!
Keep an eye out for upcoming GCI blogs which will help you to study English with new ideas and more useful things to know in English.
Galway Cultural Institute is an expert language school located in the west of Ireland in the beautiful coastal city of Galway. We offer English course in Ireland for international students and from 2020, a wide range of online English courses; General English course for grammar, IELTS preparation online, Cambridge exam preparation online and even business English online.
Study in the heart of Galway, Ireland
Improve your English skills in Galway and gain an internationally recognised certificate with our Cambridge English exam preparation courses. The Cambridge English Certificates are the world's most preferred and widely-endorsed series of English language
Explore more English courses