The top 6 benefits of doing a summer English course in Ireland
Galway
6 Benefits of doing a summer English course in Ireland
Posted 03 June
Touring the world isn't just a leisure pastime – people are also looking to learn and grow in diverse ways and in different places. Immersing yourself in the culture of another country is a sure-fire way to add further depth to your studies and increase your chances of success.

Travel, as the saying goes, broadens the mind, and we live in a world where it is increasingly important that we open ourselves to be more accepting of others and understanding of their language and culture.
At Galway Cultural Institute we recognise that travelling abroad to study can offer a brilliant learning experience. Our summer English course is one of several Learn English in Ireland programmes designed to maximise all of your time spent in Ireland, quickly improving your English fluency as you lose yourself in all the wonderful things the country, and in particular the city of Galway, has to offer.
What are the benefits of attending an English language school in summer?
If you are looking for an English summer course, the summer is when Ireland really comes alive as an international destination.
Not only is the weather generally warmer and drier, but the light summer evenings draw locals and tourists out into the streets, and the atmosphere lifts accordingly. Summer schools where you're there to improve your English will almost always have a balance of intensive English study and fun discovery of Ireland and what Ireland has to offer. You can select options on your English programme to steer your experience more towards the academic, or more towards fun and leisure. It's entirely up to you. Whatever route you choose, you can be sure you're going to meet new friends, explore and immerse yourself in different surroundings, grow in confidence and as a person, and gain valuable experience for your future career.
Here we look at the six main benefits of doing a summer English course in Ireland:
1 – To impress your current or future employers

Taking yourself off to Ireland is a demonstration that you've got energy, motivation and organisational skills.
When you undertake a study course during the summer there'll be some careful planning, cost management, and a certain amount of dedication to your own improvement along the way. You'll overcome the challenge of navigating your way from your own country to a new city and country, with all the differences you will find in doing so.
It can also sometimes be a challenge to break out of your comfort zone, and your established circle of friends to go and meet new ones. That takes confidence and trust. You'll have to believe us when we say it's very difficult NOT to make friends very quickly in Ireland. Galway was voted by Conde Nast Readers as the friendliest city in Europe!
Since a future employer might well be scrutinizing your CV at some time in the future, looking for gaps, they'll be very impressed to see you've attended a summer course in Ireland, in your own free time when you could have chosen to idle away your time on a beach somewhere.
That will show them that you are driven, organised, and committed to bettering yourself. It will demonstrate that you are willing to go the extra mile – or even many miles! – to improve your skills and abilities. Fingers crossed they will recognise that you are just the right type of person they want – and, more importantly, need – in their organisation, because you sacrificed a big chunk of your own personal time to improve yourself. You will bring that can-do attitude to their business, and to your work within that business, which can only be a plus.
2 – To explore new places
It's in our nature to explore – it allows us to understand and experience new things, and improve our knowledge of the world. Exploration has been a human trait since the dawn of time and modern methods of travel allow us to do it so much more easily.
Exploring new places and cultures means you will move out of your comfort zone. It will challenge and inspire you, making you learn about and engage with your new environment and the different people you meet.
Summer English courses for international students allow you to do all of this while enjoying the warm weather with newfound friends. A huge part of your learning experience in Galway will be discovering everything that the city and wider country has to offer you.
Ireland is beautiful and ripe for exploration. Its Wild Atlantic Way tourist trail is 2,600 kilometres long from north to south, taking in Malin Head at its start to the Celtic Sea coast and Kinsale at its southernmost tip – with countless things to see and do in between. The Neolithic monuments of Brú na Bóinne are one of the world's most important prehistoric landscapes, while Skellig Michael – refuge of Luke Skywalker in the Star Wars sequels – is a UNESCO World Heritage site.
Ireland's larger towns and cities – of which Galway is one – are vibrant, cosmopolitan places that thrum with culture: restaurants, pubs and bars will keep you in great spirits during your stay, and there is everything from live music, theatre and literature to incredible festivals to enjoy and soak up the atmosphere as you explore.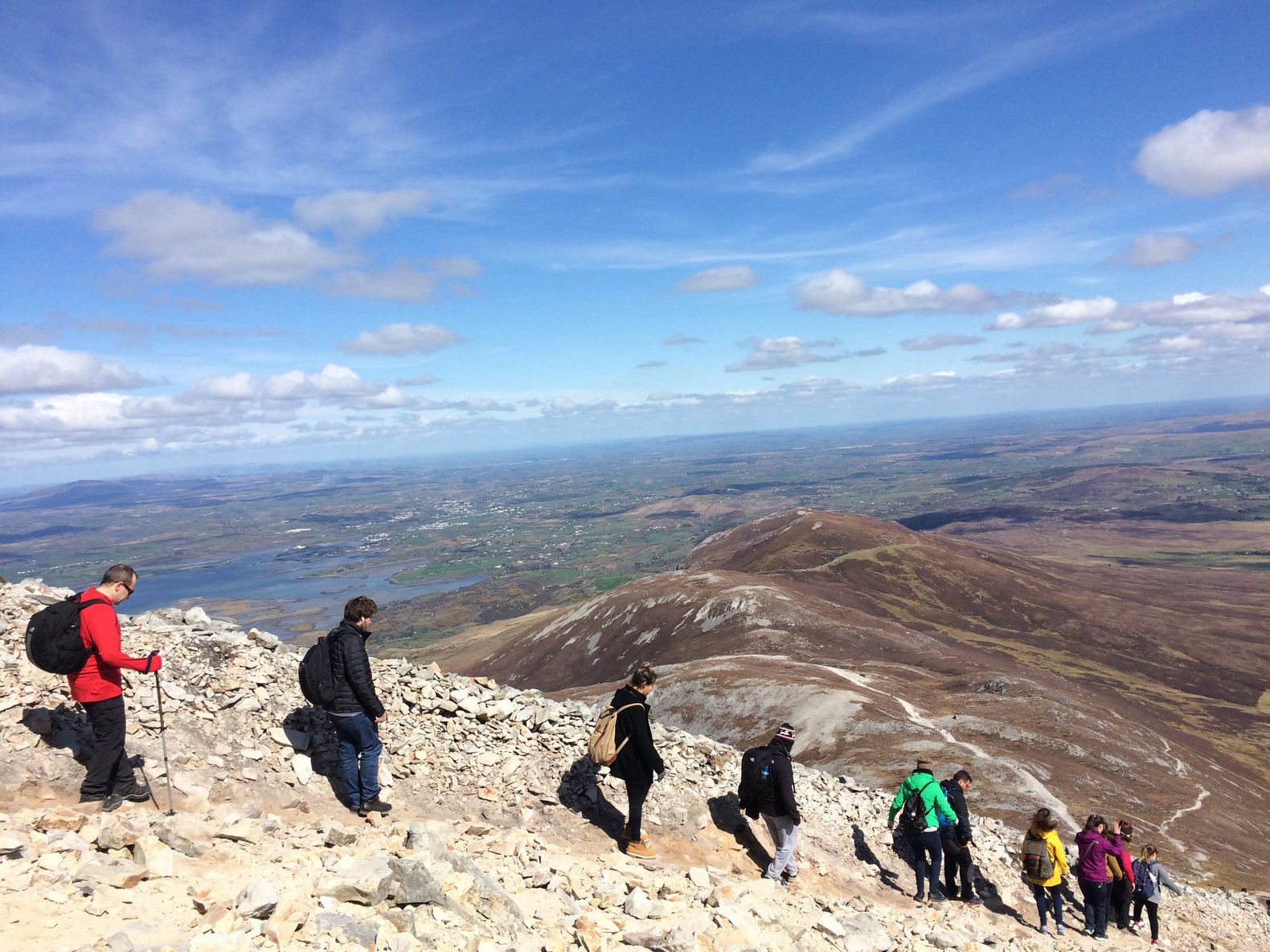 3 – An opportunity to gain confidence and grow as a person
If you are still undecided about travelling overseas to learn English in Ireland, studies have shown that enrolling on a course abroad is a real positive step – and not only for your learning and career prospects.
Moving overseas to undertake a course or travel on a gap year:
has a hugely positive impact on your brain
makes you more welcoming and outgoing
makes you more open to new experiences, thoughts and ideas
stimulates creativity and curiosity
reduces self-doubt
introduces you to new people and cultures, breaking down social barriers
breeds tolerance
Striking out on your own will make you mentally stronger and more resilient, too. It teaches you to be able to rely on yourself and to be more resourceful and confident in your abilities, which you can use as you move forward in life with your career or further academic studies.

You may be many hundreds of miles from your home and family, but taking a summer English course abroad will teach you how to cope while being away from your normal comforts and the familiar things – the culture, the language, for example – that you are used to.
A major benefit of living abroad is that you will make a lot of new friendships – some of which will last for a long time. At Galway Cultural Institute the smaller classes and intensive learning means you will meet and bond with many different people from all walks of life, because you have a shared interest and common goal – to learn and improve your English.
4 – It's flexible and convenient
Summer courses abroad are perfect for the busy world we live in. Many of us have commitments such as family, work or other studies – and sometimes all three at once! – so learning through the summer is ideal. The courses are also flexible, meaning you can usually join any week during the summer.
Most universities and many businesses shut down for a period during the summer, so it is a great opportunity for you to use this spare time to enrol on an English language course. University terms or semesters typically end in June and restart in September, so lots of summer schools – Galway Cultural Institute included – arrange for their course modules to take place during this hiatus.
And, of course, summer schools frequently have fewer pupils and more demanding learning periods which, if you are already at university, will keep you fresh and ready to return to academic life after the summer, or if you are due to attend university for the first time it will equip you with some basic, practical skills that you can take with you.
If you are working and normally take a week or two as a holiday between June and September, you could use this time to develop your communication skills at any one of the English language summer schools Ireland has to offer. At Galway Cultural Institute we know life is increasingly busy for many people, so our flexible Summer Afternoon General English courses are an ideal way for you to improve your English language fluency.
5 – Quickly develop your language skills
English intensive summer courses are typically shorter and more rigorous than many other brief courses run by universities and places of learning. This means that you will find it more immersive and in-depth, where you will be talking, writing, reading and listening to English every day.
As a result your English language abilities will improve far more quickly than if you were practising for, say, just two hours a day each week at home alone. It is accepted that language immersion is brilliant for attaining fluency fast, and as a student undertaking an English summer course, Ireland offers you the chance to:
immerse yourself in English language culture, including music, film, TV shows and books
listen to other people's conversations. You might be on a bus, in a queue, or simply walking down the street. Overhearing a conversation is often a fun, interesting way to learn how people talk in English, the rhythms of their voices and the expressions they use
play your favourite English language songs on repeat. Mimic the lyrics, sing if you want. Watch lots of English or American movies, listen to the dialogue and quote them at your classmates
surround yourself with like-minded people, such as your fellow students, and continually practise talking and listening to each other in English
6 – To immerse yourself in the Irish culture whilst learning English
To immerse yourself further, and learn the language even faster, you can spend as much time as possible living in and amongst the people and places of Ireland. As we've mentioned, immersion is an excellent method for learning, but it is even better to be with and around native speakers for as much time as possible.
You will learn so much more about the language by travelling the country and engaging in general conversation with locals, or attending plays, concerts, poetry readings or even taking a class trip to the local Galway cinema to catch the latest blockbuster. All of that is just a little easier in the summer, where the sun warms the spirits, and people have more free time. Just spend a few evenings with a group of native English speakers in an Irish pub, for example, and you will pick up lots of jokes, local expressions, habits and customs that will enrich your vocabulary and boost your confidence with the language.
Ireland has so many great things to do during the summer. Travelling the Wild Atlantic Way. Day trips to Cork, Dublin and Killarney. Exploring Connemara National Park. Sipping your way through a tour of Jameson's whiskey distillery. The Burren. The Aran Islands. Or simply enjoying the company of friends in the sun while you lie on Grattan Beach and stare out at Galway Bay.
For summer English courses, Ireland has much to offer the English learner in terms of attractions and events that you can immerse yourself in, and Galway is as rich and vibrant as any major city in the world. If you are researching English summer schools, you will find that Galway Cultural Institute is a welcoming, modern, multicultural and fun place during the summer, and offers the best immersion to learn English this summer in Ireland. Why not let your English language journey be an unforgettable one with us?


Study in the heart of Galway, Ireland
Improve your English skills in Galway and gain an internationally recognised certificate with our Cambridge English exam preparation courses. The Cambridge English Certificates are the world's most preferred and widely-endorsed series of English language
Explore more English courses