Top 10 places to visit in Galway during your language stay at GCI
Galway
Top 10 places to visit in Galway while studying English
Posted 11 February
Travelling to a different country is one of the most exciting things you can do, regardless of age.
Getting to know other cultures and immerse yourself in them, broadens your mind and helps you mature; even a little!
I came to study in Galway over 20 years ago. Just like you, I was apprehensive of leaving home for the first time and being away from my family and friends.
Looking back now, it was the best thing I ever did and proof of that is that I am still living here and loving every minute of it. I have embraced Galway life as a true local. This is a place you will call home.
Maybe you're considering taking an English course in Galway? To get the maximum enjoyment while studying English in Galway, you must live your life as a local as much as possible. You need to know your surroundings, know simple facts about the country, meet local people and of course, learn the language. Studying English in the country where it is spoken will help you to understand and live the culture to its fullest.
What does Galway have that other places don't?
Destiny brought me to Galway, and I am glad I followed my heart as I have no regrets.
Galway is known for its festivals, people, music, food, arts and hospitality.
According to the Condé Nast Traveller Reader Travel Awards 2020, Galway has been recently voted Europe's friendliest city and there is no question about it!
This is a recognition of its people and hospitality. Galway is a multicultural city and both locals and tourists share the same living space making Galway a city to visit or live in.
Many other cities are recognised by its historical sites, landscapes, cuisine, etc. But Galway is different: Galway grabs your heart and soul somehow which makes very difficult for anyone to let go.
As they say, when in Rome do what the Romans do. So here it is, my top 10 places to visit in Galway whether you are a student on an exchange programme, or recently moved with your job, or on an English language course or simply as a tourist for a day.
1. Kick the wall in Salthill
One of the most relaxing and breath-taking walks in Galway city, is in Salthill. Come rain, hail or sunshine and with views of County Clare, the Aran Islands and the Atlantic Ocean, beauty has never been so wonderfully rewarding. It expands for 2km from the city centre to Salthill. Once you reach the end, you must kick the wall! Why? No one knows, but it is something you must do if you want to consider yourself a true Galwegian. It's tradition.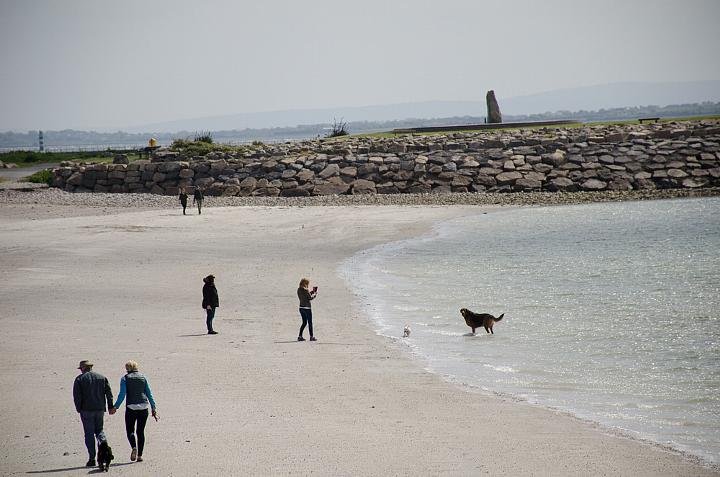 2. Go to a local pub
Galway is well known for its pubs and traditional Irish music.
It is almost certain that there is one Irish pub in every single part of the world. And what's best way to practice your English than by visiting one and share a pint with your friends? One of my favourite local pubs is O' Connors in Salthill a family owned business since 1845!
3. Indulge yourself in Galway's cuisine
Galway has a great number of food festivals year-round and it has a lot to offer. With great local produce, Michelin start restaurants and dishes inspired by the West of Ireland, you are spoiled for choice. If you love food… let your taste buds do the talking.
4. Go to a sport's match
Whether you are interested in sports or not, sport is the universal language that brings people together. Rugby, hurling, Gaelic football, you name it! You will be blown away by the atmosphere before, during and after any match. Get together with your colleagues from school and make it a night to remember.
5. Explore the natural surroundings
There are many beautiful and peaceful walking trails that you can go to during your weekends. Many GCI students get together to not only keep fit, but to practice their English while doing something fun. Walk the prom, along the canals, Barna Woods, Ballyloughane beach, Dangan. The choices are endless. You could even join a local walking club. But one thing is for sure, be dressed for the occasion.
You might want to check the activities available to our students if you plan to study an English course with us.
6. Visit the local markets
Galway is renowned for its outdoors markets where you can sample local produce, buy a present for your loved ones back at home or even walk around with your classmates. Markets are like a meeting point for locals and will give you the opportunity to practice your English while going shopping! Perfect combination. Two of the best markets are the market beside St Nicholas Church which takes place every Saturday and the Christmas market.

7. Dive off the board at Blackrock
Who said that the sun doesn't shine in Ireland? Any time is a good time to do anything in Galway, you can take our word for it or read our piece about Irish weather.
Jumping off Blackrock diving tower is a "must do" for most visitors to Galway. Some students have even taken part in charity swims as was the case of one of my friends and you can read her story here.
8. Cycle everywhere!
The best way to get around is on your bike. It is quick, cheap and healthy. You're not required to win the Tour de France but it is a fun way to discover every corner in Galway city. Most of the locals cycle to work or school, even small children can be seen on their bikes and with their helmets cycling to school in the mornings; a great exercise which is environmentally friendly at the same time, a win win situation!
in GCI, we organise events and activities for our students such as Health Week, so if you're planning to come to Galway on a language course, make sure you sign up for these activities.
9. Galway Races
One of the most iconic and popular festivals during the summer in Galway is the Galway Races. You don't need to be an expert on horses. This festival is like a big party for the city where you and your friends can have an experience like no other. Mix with the locals, bet on a horse, dress for the occasion…
I studied English in GCI when I first arrived in Ireland and I can assure you that the school organises this event every year for all their students and staff and it's an activity everyone is looking forward all year. Except last year of course, when the event did not go ahead because of Covid-19 restrictions. If you want to experience the Galway Races, make sure you book your language course during the summer.
You might be interested in our Summer English courses.
10. Christmas time in Galway
To finish this virtual tour around Galway, what better way than to finish with a celebration at Christmas time.
A lot of students stay in Galway and they get to experience a different Christmas, an Irish one. It's all about going into town, soaking up the atmosphere, witnessing the city's Christmas lights being switched on, listening to Christmas carols sang by angelic groups of children, buskers on shop street, Christmas parties, wearing Christmas jumpers…the list can go on and on. But while you do all this, have a few hot Irish whiskeys toasting to your families at home and health.
While you may be thinking to yourself that it might be too cold or wet for outdoor activities, here is a list of things to do in Galway during Christmas.

Galway Cultural Institute is an expert language school located in the west of Ireland in the beautiful coastal city of Galway. We offer English course in Ireland for international students and from 2020, a wide range of online English courses; General English course for grammar, IELTS preparation online, Cambridge exam preparation online and even business English online.