Which Exam Preparation Course do I choose for Cambridge Exams?
International Exams
Which Exam Preparation Course do I choose for Cambridge Exams?
Posted 28 January
Which Exam Preparation Course do I choose for Cambridge Exams?
Okay so you've decided that it's time to get your Cambridge certificate – Great idea!
Next step is to think about the type of course that will best help you to feel ready for the exam. Here at Galway Cultural Institute we offer a few different types of exam preparation courses – after all, different people have different needs – you might have a lot of time to dedicate to study, or perhaps you only have a few weeks free during the summer.
You may be looking for a highly intensive timetable of study, or you may be interested in taking full advantage of the cultural experience while you are here. Whatever your preference, GCI is sure to have the exam preparation course you are looking for!
It becomes increasingly important to prove your English level by passing an internationally recognised exam. Some general benefits of doing an exam preparation course are that you will feel much more relaxed and assured when the time to sit your exam comes.
By the time your 'big day' comes around, you will already have learnt all the very best exam tips and techniques from your teachers. You will know everything about the exam structure. You will already have practised using past exam papers and will have spent lots of time developing and improving all your skills.
There certainly won't be many surprises on the day, as you will even have taken mock exams under the same exam conditions! You will even know the best ways to manage your time during the exam down to the minute!

Exam preparation courses are target based with clear objectives to be achieved before completion. Some general benefits are:

Individual attention to each of the four skills: Writing, Reading, Listening & Speaking – by the end of the course, you will have the necessary exam skills and knowledge of all the papers
Target Vocabulary and Grammar - you get to improve your real-life English skills, developing communication skills which you can use for everyday life, whether for work or study
Focus on common mistakes and difficult sections – learn clear strategies to answer the different questions types
Timed mock tests on all 4 components – to assess your progress and prepare you for the exam conditions
Exam tips and techniques – to complement your classroom learning
Academic development – this will help students achieve a great academic level of English
2 books – 1 to help you develop your skills and another which focuses on Grammar and Vocabulary
Passionate teachers who are with you for the duration of the course
All Cambridge Examinations are linked to the CEFR. If you haven't heard of it before, let me explain - the CEFR is a language framework of six levels, describing language ability on a scale from A1 for beginners, up to C2 for those who have mastered a language. You can see this represented in the image below.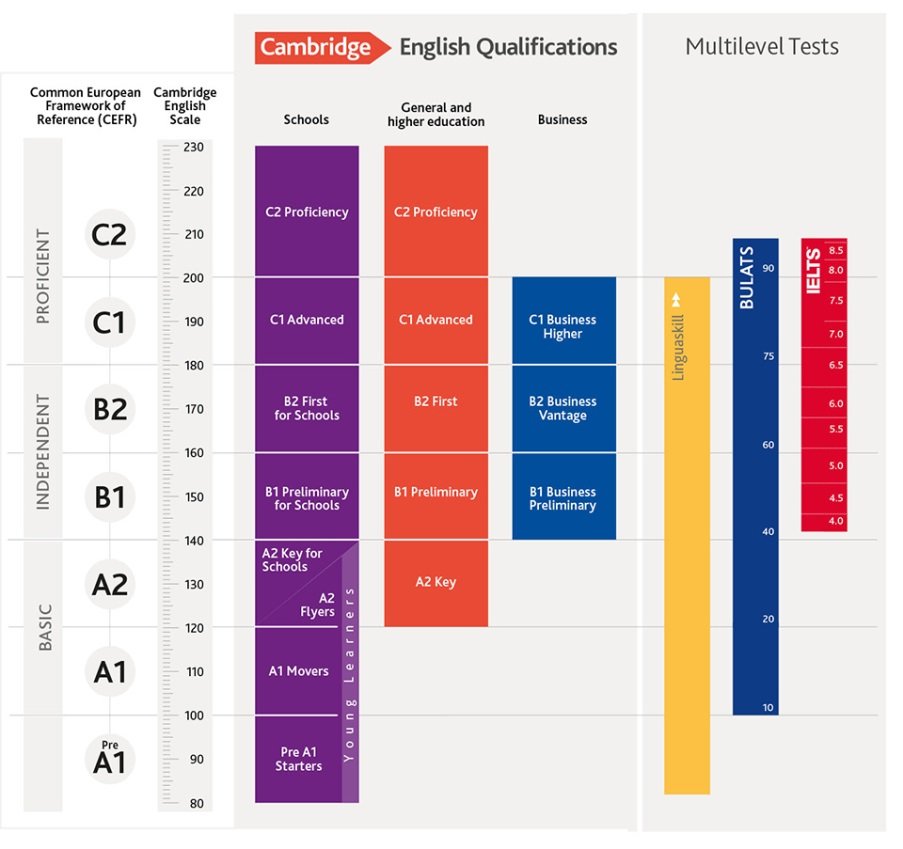 So when you pass your Cambridge exam, you'll receive your score on the Cambridge English Scale e.g. 170 which means that you have achieved B2 level. Now you have an internationally-recognised score which is really important in the job market of today, for university entry, for travel or visa purposes, to strengthen your CV. Of course it's also a great reward for all your hard work and study!
There are many Cambridge Exams to choose from and sometimes people call them by different names so let's clear things up – after all if you don't understand the exams how could you ever choose the right one for you!
The Cambridge exams that we offer in our school are the following:
Cambridge Advanced (C1 level exam) some people also call this CAE. If you are ready for this exam, you've already reached the stage where you can communicate with ease and daily life in English is quite easy for you. This exam can be an excellent motivator to push yourself on to an even higher level.
Cambridge First (B2 level exam) some people like to call this FCE. This is not the first exam you have to do – it's just the name! This exam is a great confidence builder. If you have been studying English for a while and now want the extra motivation to polish up all areas of your English this is for you! GCI students say that this exam made a huge difference to their confidence with everyday English and they could really feel and see the improvements in all areas of their English – reading, writing, speaking, listening and use of English. This exam is, of course, a great starting point if you want to progress to the Cambridge Advanced C1 in the future.
Cambridge Preliminary (B1 level exam) you will also hear this being called PET sometimes! It is the English language exam that shows you have mastered the basics and is an excellent starting point for many students who are quite new to English.
What are the different Cambridge Exam Preparation Courses?
Cambridge English Exam Preparation – 12 week course
The 12 week course for CAE or FCE offers more time for you to improve. Having more time allows you a more stress-free experience. Some GCI students take this option as it also allows them to keep their part-time jobs here in Galway. With the 12 week preparation course, you have 15 hours of class time a week. This will allow you the afternoon time for study and of course to enjoy our vibrant Galway City and its surrounding areas.
This 12 week course offers the benefit of total immersion - being totally surrounded by English in school, during your free time and even at home. This provides essential opportunities for putting what you are learning into practice!
Another benefit of the 12 week course is that you'll have plenty of time to get the answers to all those little grammar and vocabulary questions that have been keeping you awake at night! You will have lots of time to develop and improve your English gradually, time to review and repeat what you study and, importantly, time to relax!
Simply put, if you just prefer to study without too much pressure or stress or simply want to improve your level with the motivation of getting an internationally-recognised certificate to your name, this is the course for you!
Cambridge English Exam Preparation – 6 week course
The 6 week course CAE, FCE & PET offers sufficient time to boost your self-confidence and to further develop your skills of reading, speaking and listening. Your day is a little longer on the 6 week course with 22.4 hours of class time a week – though you'll certainly still have time to study on your own and explore Galway. You'll have plenty of class time to revise the target vocabulary and grammar. You will be introduced to useful exam tips and techniques.
Stand out from the crowd and prove that you can study and work in English, it only take six weeks. A Cambridge qualification on your CV shows that you reached a certain level of English but also that you dedicate time to improving professional skills.
One thing to remember on shorter courses is that it's best to enter this course at or very near to the target level e.g. you should be at B2 level for Cambridge First, you should be at C1 level for Cambridge Advanced.
Cambridge English Exam Preparation – 4 week course
With 4 weeks of exam preparation, these courses are the most intensive of the three options. We would generally advise that you start at the target level- so you should be at B2 level if you want to take Cambridge First (B2) and so on.
If your level is quite a bit lower than the target level of the exam, you should really think about the 12 week course - a much better option with more time for you to practise and develop your language skills.
So, what are the benefits of the 4 week exam preparation course? It's just perfect for those on a tight schedule – if you only have 4 free weeks from school or university this would be ideal for you! If you are already fairly confident in your abilities, the 4 week course for CAE or FCE is your fast-track to exam success. Another group who may benefit from taking this course are the home birds - if you're a home bird that is a person who misses home easily, this is a much shorter time away and the whole experience will fly!
Galway Cultural Institute is an authorised exam centre for Cambridge exams.

Study in the heart of Galway, Ireland
Choose to study English in Galway from a range of English courses, from exam preparation to General English and tailored courses
Explore more English courses