This is Why 2022 Will Be the Year to Learn English in Ireland
English Language
2022 Will Be The Year to Learn English In Ireland: This is Why
Posted 06 January
If you've been planning to learn English in Ireland it's safe to say, globally, it's been a difficult time lately – the last eighteen months in particular have been huge in terms of disruption and change, with the Covid-19 pandemic bringing the world to a near-standstill for lengthy periods.
Lockdowns and social distancing have interrupted business, education and social lives which is why we are so proud that we've been able to continue offering you our English courses in Galway through this challenging time.
Here at Galway Cultural Institute we are perfectly placed to welcome you as part of a new generation of students seeking to study English in Ireland. The Institute is skilled at online and in-person tuition – or a mix of both – and can offer inspiring language experiences for you as a discerning modern student.
Coupled with our fantastic location – at the heart of vibrant Galway City on Ireland's west coast, with all that the region has to offer – we believe 2022 will be the year for you to learn English in Ireland.
Jump to
"Why Ireland in 2022"for a list of the upcoming social and cultural events in 2022, particularly on the west coast around Galway.
Reasons to Learn English in Ireland in 2022
With the world opening up again, you may be looking to travel, broaden your horizons or simply improve your life skills, whether for personal or professional growth. For 2022, Galway Cultural Institute is ideally positioned to assist you to learn English in Ireland – we are brand leaders in this field, with over thirty years of experience in providing English courses plus, there are some lovely cultural events coming up in 2022 which will add to the fun of coming to Ireland to improve your language skills.
Our campus on the promenade at Salthill provides a warm, exciting, state-of-the-art learning environment, with impressive views across Galway Bay. Nearby Grattan Beach is a very popular spot with students during the summertime. The Institute is as friendly and welcoming as Galway – and indeed Ireland – itself, and we offer a range of courses suitable for everyone from absolute beginners to advanced students seeking to develop skills in professions as varied as teaching, marketing and entrepreneurship.
Travel to Ireland from around the globe is straightforward (albeit within Covid-19 guidelines), and Galway Cultural Institute can assist you with different types of accommodation during your time with us, from official residences to a 'homestay' with a local family, where we hope you will come to feel completely at home while you learn English in Galway.
Once here, you are free to explore and enjoy all that the city and beyond has to offer – Ireland is a stunning country, with scenery that will take your breath away, culture which will amaze, and people you will very quickly learn to call good friends.
The Best of Both Worlds
After nearly two years of disruption you may be keen to return to some sort of pre-pandemic normality, especially in terms of being free to seek out new experiences, learn and travel. Despite lockdowns the world has become more open and more connected, but in different ways – increasing amounts of interaction is conducted online through Zoom, Skype and other methods of video conferencing. What has not changed, however, is that English is as important as ever in academia and business. The language is still the most widely spoken in the world.
In 2022 at GCI we are in a position to provide you with the best of both pre- and post-pandemic worlds, with comprehensive English teaching, up-to-the-minute technical support through Zoom and Moodle, along with the opportunity to travel to Ireland and reside in carefully selected, safe accommodation either with host families or in residences located in the city of Galway.
Why Galway Cultural Institute?
At Galway Cultural Institute we offer programmes to students from over thirty countries around the globe annually, and have been doing so for three decades. If you have decided to learn English in Ireland you will find that GCI has a fantastic selection of courses designed to improve your English language skills and abilities.
For 2022 we are offering more than forty modules, from four week evening English online classes to intensive courses of thirty-six lessons a week that will see you gain a Cambridge Advanced Certificate upon completion. Course prices are designed to suit every pocket, and the Institute provides you with a safe, welcoming learning environment in the centre of Galway.
At GCI we are mindful of your ever-changing needs, and our facilities and services are carefully considered with your wellbeing and growth at the forefront of our decision-making. Wi-Fi is freely available throughout the Institute building, while our thirty classrooms are spacious, modern (each contains interactive whiteboard technology) and make for a comfortable learning experience.
Staff at GCI are all skilled, fully-qualified native English speakers who are dedicated to providing you with excellent English language training, and deliver ongoing, continuous support when you choose the Institute to learn English. At GCI we also use Zoom for online learning, and the education platform Moodle where you can find and follow details of your class, store copies of your completed work, use resources for research and information, plus find links to events and additional courses that may be of use to you while you study.
Our building is ideally located for you to enjoy Galway, and also has a library, café, student spaces for relaxation, as well as bike rack storage and, of course, the beach looking out at Galway Bay just a short hop across the promenade.
What to expect living as a student in Ireland
Your student life as you learn English in Galway is guaranteed to be full of fun, with the city a terrific backdrop to your studies, just like Midori who travelled from Japan to study English abroad in Ireland.
And even though the number of people travelling is increasing, 2022 is unlikely to be as busy as the pre-pandemic era so during your time at GCI there will be fewer on-site students which means you will get more one-to-one time with staff. As a student living in Galway you will also have the benefit of in-place language learning, top tips to improve your English skills and better for your studies.
The city of Galway is a busy, exciting place to live in, with a huge cultural calendar and tons of things to see and do, while away from the bars and clubs and shopping malls you can find some wonders of nature within an hour's drive. GCI offers complete accommodation packages for students who travel from abroad to learn English in Ireland – you can choose from three or four star residences, as well as placements with hand-picked host families, so your stay with us feels like a home away from home.
And why should you choose Ireland for 2022? Let's take a look…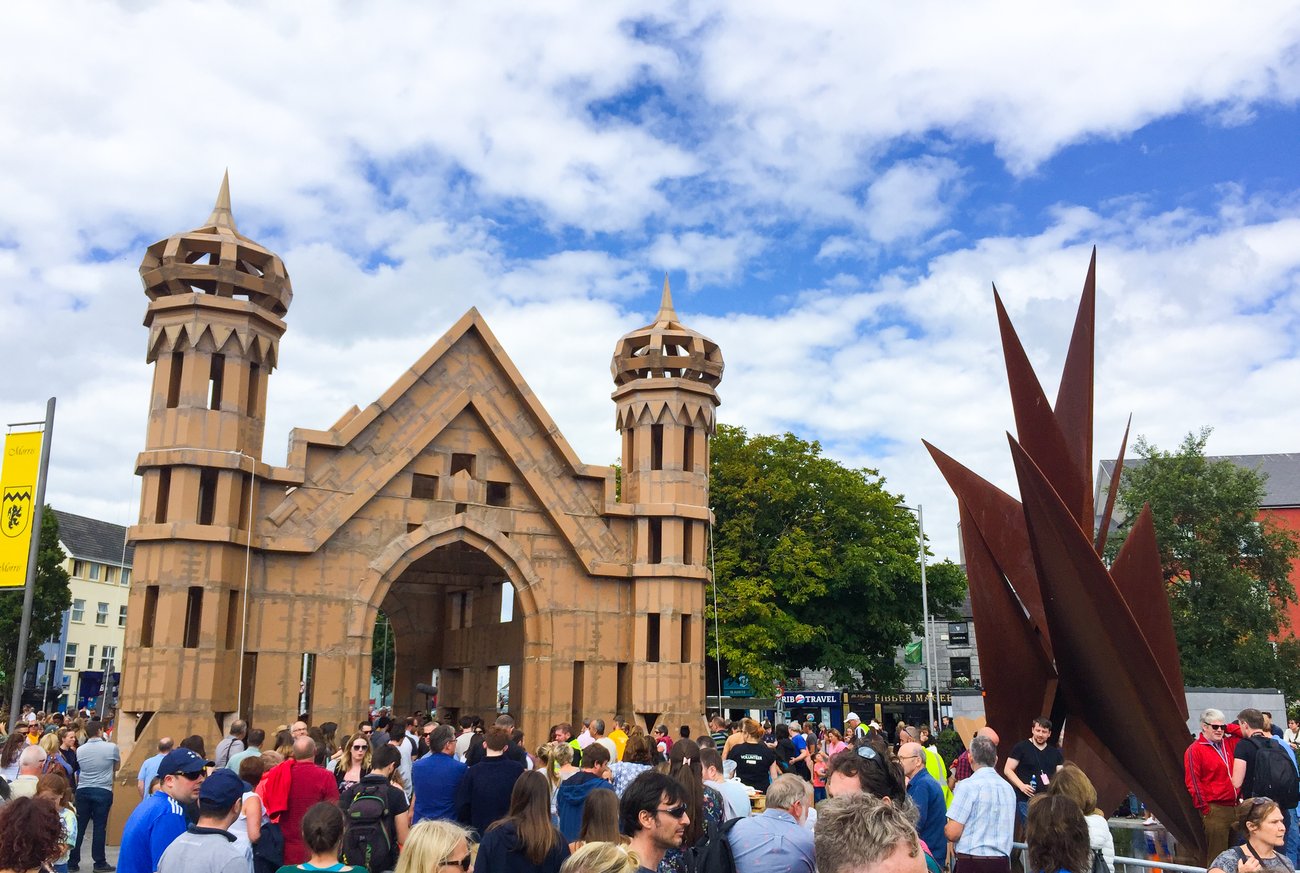 Why Ireland in 2022?
Ireland is truly beautiful: a country of breathtaking contrasts in its landscape, incredibly welcoming locals and a thrilling cultural scene. As the Irish poet W. B. Yeats put it, 'the world is full of magic things', and no more so than on this fabulous island.
It boasts history in abundance, from the Neolithic monuments of Brú na Bóinne to the UNESCO World Heritage site of Skellig Michael on its southwestern tip – made famous in the recent Star Wars sequels. Its Wild Atlantic Way tourist trail snakes 2,600 kilometres from Malin Head – Ireland's most northerly point – to Kinsale on the Celtic Sea coast, taking in thousands of attractions and activities along the route, along with countless picturesque villages and lovely towns such as colourful Dingle and Westport with its leafy walks and 18th century architecture.
But it's not all sleepy fishing harbours and towering cliffs in Ireland – its larger towns and cities are alive with pubs, bars and restaurants, offering a cultural scene to match any cosmopolitan city. Everything from live music, theatre and literature to incredible festivals pepper the island's cultural calendar, providing ample choice for visitors and locals alike.
And at the midpoint of the Wild Atlantic Way, on Ireland's west coast, lies Galway– where the Galway Cultural Institute has its home. Galway's nickname is Croí Cultúrtha na hÉireann - Ireland's Cultural Heart. The city is a bustling, bohemian focal point for tourists, artists and students looking for a modern, multicultural experience. The city itself is a joy to explore, with its cobbled streets and brightly-painted shopfronts, the buskers and performers entertaining passers-by, its busy cafes and host of shopping destinations, including farmer's markets, artisan stores and commercial malls.
As well as the nearby Aran Islands, The Burren and Connemara, the city is awash with festivals and events – 2022 has a huge amount going on, so while you're with us you will have so much to see and do when you're not studying. Here are a selection of not-to-be-missed events each month:
January
February
March
April
May
With the weather warming up a little there's tons going on, but highlights include:
June
July
August
September
October
November
December
Our Home is Your Home
Ireland is a warm, welcoming, friendly place, and at Galway Cultural Institute we like to think we are exactly the same. After such a difficult period for all of us we are incredibly excited for 2022 and the prospect of you, as one of our new students, arriving in our classrooms overlooking Galway Bay to learn English in Ireland.
And don't forget we'll keep you as safe as possible – if your country's advice is that it's fine for you to travel to Ireland, and our country is happy to welcome you from your country, then we'll continue to follow our COVID guidelines to make sure you are safe and well whilst you're here.
We are proud to call Ireland, and the beautiful city of Galway, our home, and – no matter how long your stay – we hope you come to feel the same way too.
Study in the heart of Galway, Ireland
Improve your English skills in Galway and gain an internationally recognised certificate with our Cambridge English exam preparation courses. The Cambridge English Certificates are the world's most preferred and widely-endorsed series of English language
Explore more English courses